It isn't just the soft sands, the cerulean waves, or the breathtaking scenery you'll remember about your Caribbean getaway. It's also the hotel or resort in which you chose to stay. In fact, many vacationers determine which island to visit based on lodging options. After all, this is where you'll likely spend the majority of your time--this is where you'll eat, sleep, and play. Whether you're planning your honeymoon, your family getaway, or a wanton escape, you cannot afford to overlook the importance of finding the perfect hotel.
Don't worry, we're here to help. Based on an unbiased methodology that factors in the aggregate opinion of both travel experts and guests, U.S. News Travel has scoured the Caribbean in search of the best hotels. To take some of the guesswork out of booking a room, our editors scrutinized guidebooks, magazines, and review-based websites to find properties that consistently receive well-rounded praise.
The properties that appear on our first annual Best Hotels in the Caribbean rankings range from expansive all-inclusive resorts to intimate boutiques. They can be found anywhere from popular spots like Jamaica and Punta Cana to more exclusive destinations like St. Barts and St. Lucia. While each hotel features a distinct sense of style, they've all earned a prominent place on our 2013 roundup of the Best Hotels in the Caribbean thanks to their inspiring ambiance, luxurious amenities, and spectacular service--all qualities that not only lead to a memorable vacation, but a good night's sleep.
10. Seven Stars Resort
Turks & Caicos
Overlooking Grace Bay's white sands and fringed by the protected lands of Princess Alexandra National Park, Seven Stars Resort has earned numerous accolades from reputed sources like Condé Nast Traveler and Frommer's. It's easy to see how this resort--perched on the northeastern coast of Turks & Caicos' main island, Providenciales--captures the attention of major travel publications. After all, this small resort boasts Provo's only heated salt-water pool, not to mention a spa and complimentary outdoor activities, including sailing, kayaking, and windsurfing. Guests are consistently impressed by Seven Stars' facilities, but even more so by the resort's customer service. "All of the staff members are encouraged to make guests feel like family," said Ken Patterson, the resort's managing director. "Staff members also routinely step outside their own job descriptions to ensure that guests are taken care of."
See the full list of the Best Hotels in the Caribbean»
9. Amanyara
Turks & Caicos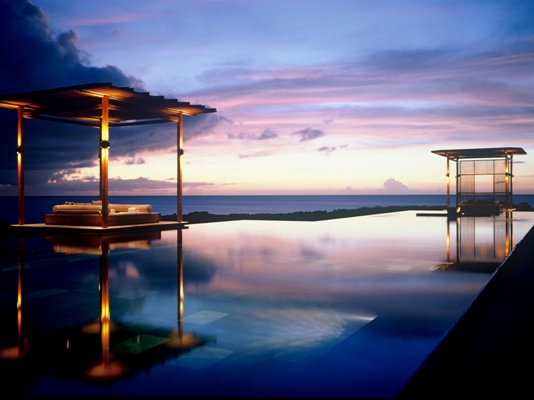 When searching for a serene hideaway, discerning travelers turn to Aman Resorts. Like its award-winning sister properties in the U.S.--Amangani in Jackson Hole, Wyo., and Amangiri in Big Water, Utah--the Aman group's Turks & Caicos resort offers a luxurious experience accompanied by a breathtaking natural setting. Amanyara, meaning "peaceful place," overlooks the lily-colored shores of Northwest Point Marine National Park from Providenciales' northernmost coast. The resort's design takes full advantage of the surrounding scenery: The accommodations feature sliding-glass walls that open to the elements and create the illusion of limitless space between you and the Caribbean. If you're looking to soak up the sun, sand, and surf, this is a picturesque place to do it.
8. Jumby Bay, A Rosewood Resort
Antigua
Picture this: a 300-acre private Caribbean island comprised of powdery beaches, rustling palm trees, and salty sea air. That's where you'll find Jumby Bay--just two miles off the northeast coast of Antigua. Guests describe this Rosewood resort as paradisiacal. Jumby Bay's 40 guestrooms all overlook the sugary shores of the Caribbean Sea, with wrap-around terraces and wall-to-wall windows affording sweeping views. Meanwhile, the resort's secluded sands and open-air spa, Sense, provides the ideal setting for you to do exactly what you came here to do: Catch up on some rest and relaxation. "As one of the only places in the world where cars and motorized vehicles are not allowed, Jumby Bay Island exudes relaxation and a welcoming atmosphere in every sense," said MaryAnne De Matteo Diamante, Jumby Bay's director of sales and marketing. "With 24-hour concierge services and a staff that knows every guest's name, the resort's services are designed to allow guests to truly unwind and disconnect from their everyday lives."
St. Lucia
If having the leafy palms, calm waves, and powdery shores right outside your door is one of your top criteria, reserve your room at Anse Chastanet. But for a more exclusive and intimate escape, head higher into the hills of western St. Lucia to Jade Mountain. Designed by famed architect Nick Troubetzkoy, the resort's "sanctuaries" are contemporary and colorful with an open fourth wall facing the dramatic Piton Mountains and the bright blue Soufrière Bay, not to mention a private infinity pool. Recent guests who spent their honeymoon at Jade Mountain say that the resort caters to romance with amenities like private whirlpool tubs (designed to fit two) and spa treatments created especially for couples. And if you and your partner grow restless after such a concentrated dose of relaxation, the resort provides the equipment you need--free of charge--to go snorkeling, biking, sailing, or all of the above.
6. Nisbet Plantation Beach Club

St. Kitts & Nevis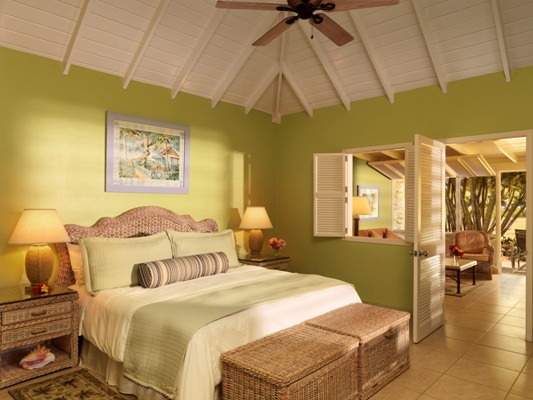 Surrounded by 30 acres of crystalline sand and tropical foliage along Nevis's northeastern corner, Nisbet Plantation Beach Club is the Caribbean's only historic plantation hotel with a beachfront seat. Although the property dates back to the 1700s and maintains its plantation-style décor, the hotel does not show its age. Guests describe this property as a hidden gem full of character, something general managers Andrew and Lori Hall attribute to Nisbet Plantation's employees: "The staff at Nisbet Plantation, who are Nevisian, take great pride in welcoming guests to their island home and ensuring guests experience the very best Nevis has to offer." Sure, Nisbet Plantation Beach Club may not be as large as other Caribbean resorts, but you'll still find luxurious amenities like an oceanfront pool, a beach bar, and a full-service spa.
St. Kitts & Nevis
If you're looking to stay in the lap of luxury, you can't go wrong with booking a room at a Four Seasons. This brand is renowned for its sumptuous accommodations and impeccable customer service, and this branch is no exception. Flanking the golden sands of Pinney's Beach, the Four Seasons Resort Nevis earns rave reviews from guests for its beautiful location and ample amenities. The plush and colorful furnishings in the guestrooms exude a homey atmosphere, while the private balconies provide an excellent venue for watching the sunset. But you didn't travel all the way to Nevis just to admire the view: While here, you'll find plenty of ways to experience this popular vacation spot, including coral reef tours and water skiing, as well as 18 manicured fairways designed by Robert Trent Jones III. To top it off, travelers claim they were treated like royalty from the moment they arrived to the time they checked out.
Ocho Rios, Jamaica
Jamaica boasts its fair share of big-name, all-inclusive resorts, but discerning travelers and experts routinely overlook them in favor of the Jamaica Inn. While those other properties offer unnecessarily flashy amenities, this intimate hotel has been proving that size doesn't matter since 1950, winning guests over with personalized service and an immaculate attention to detail. "Some people say they feel the difference in the environment as soon as they arrive," said Nicole Henry, the Jamaica Inn's director of sales and marketing. "If we take care of everything that our guests would need or want, it leaves them free to truly relax and enjoy their stay." Every suite comes elegantly appointed with antique furniture, deep soaking tubs, and private verandahs overlooking northern Jamaica's honey-hued shoreline. Make the most out of the inn's prime location with an oceanside massage at the KiYara Spa or an intimate dinner along the beach.
St. Barts
Overlooking one of the most picturesque bays in the Caribbean, Eden Rock has to please the most fastidious travelers--and it does so with grace. Sitting on the Baie de St. Jean on St. Barts' northern coast, this Relais & Châteaux resort features bright, modern décor, stunning sea views, and a peaceful atmosphere only disturbed by rolling waves and palm trees swaying in the breeze. Eden Rock holds numerous awards from top travel publications like Condé Nast Traveler and Travel + Leisure, but just as impressively, this Caribbean hideaway consistently garners rave reviews from guests. Visitors describe everything about this resort as ideal, from the bright, breezy guestrooms to the spa treatments to the cuisine served at the lauded restaurant, On the Rocks. But what ties it all together is the customer service: Eden Rock's staff is frequently praised for its friendly demeanor and attention to detail.
2. Hotel Saint-Barth Isle de France
St. Barts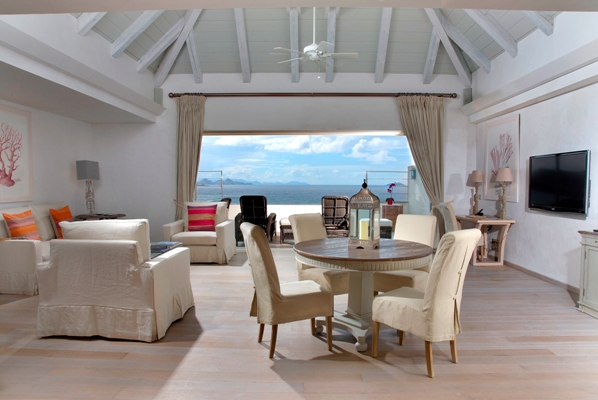 On an island as beautiful as St. Barts, the competition between luxury hotels is steep. Yet despite a valiant effort put forth by other resorts--especially Eden Rock--Hotel Saint-Barth Isle de France has managed to come out on top. "St. Barts isn't really a Caribbean Island; it's a little piece of France in the Caribbean, and we help guests experience the island," said Elodie Miyet, the hotel's director of sales and marketing. "Clients really feel like they're part of a club--part of a family--when they stay here." Overlooking the pearly white sands of Flamands Beach, this five-star hotel combines the relaxing aura of the Caribbean with a hint of European decadence. Inside, the property's crisp white and blue décor feels cool in the Caribbean heat, while private terraces and floor-to-ceiling windows allow you to bask in the salty sea air. And if you need an extra dose of relaxation, you can spend some time in one of the Natura Bisse and Intraceuticals SPA's open-air treatment spaces.
Tortuga Bay
Punta Cana, Dominican Republic
In a destination known for its luxurious, all-inclusive resorts, you'd think a boutique property would be overpowered. But in Punta Cana, tiny Tortuga Bay has won the hearts of travel experts and guests alike. Sure, it may not have as many pools as there are days of the week or more dining options than you know what to do with, but previous travelers describe their stay here as total bliss. A part of the Puntacana Resort & Club complex, Tortuga Bay's villas--designed by fashion icon Oscar de la Renta--face golden sands, turquoise waters, and one of two golf courses. Guests can't help but exalt the lavish décor, but what earns Tortuga Bay the title of Best Hotel in the Caribbean is its customer service. Returning travelers rave that that they were remembered by name, while first-timers say that the staff's attention to detail is what sets Tortuga Bay apart from other luxury hotels.
-- Miriam B. Weiner