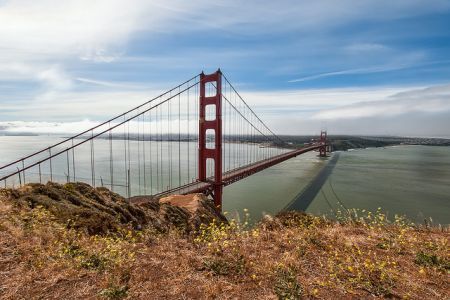 U.S. News released its annual roundup of fall rankings on August 19 to help travelers start planning their autumn escapes. With the help of reader votes and opinions from travel experts, we determined the best vacation destinations for fall. Now that you know where you're going, what should you do when you get to town? Whether you're interested in city adventures, vineyard-hopping, a hiking vacation (or something else entirely like ultimate relaxation or shopping galore), here's how to make the most of your time spent in these prime fall locales.
In Pictures: Make the Most of Your Fall Vacation
Best Fall Getaways

The top fall trips for 2014 include San Francisco, Chicago and Paris. Visitors to San Fran will enjoy the pleasant weather (temps hover in the 60s and 70s) at some of the city's outdoor attractions like the verdant Golden Gate Park and the lively Union Square. Plan a getaway in September to experience the San Francisco Fringe Festival (Sept. 5 to 20), which features dozens of musical, comedy and theater performances. Or spend some time at the Ghirardelli Chocolate Festival (Sept. 13 and 14), where you'll be treated to chef demonstrations, ice cream eating contests and -- of course -- plenty of chocolate to sample.
Capitalize on a Chicago trip with an October visit, when the foliage is on full display in Millennium Park and the Chicago International Film Festival (Oct. 9 to 23) celebrates its 50th anniversary. A top shopping spot in the USA, Chicago also boasts a variety of boutiques citywide and name-brand stores along the Magnificent Mile.
Meanwhile, budget-minded travelers who want to jet to Europe will find Paris a much more affordable option during the fall months than in the summer. You'll have to throw on a light jacket to combat the chilly 50- to 60-degree temps, but you'll be rewarded with fewer tourists, lower hotel rates and easier access to the city's top attractions. Another bonus? The months-long Festival d'Automne -- which showcases Paris' artistic side with dance performances, musicals and film screenings -- starts September 4 and lasts until late December.
Best Places to Hike in North America

Fewer bugs, lower humidity and cooler temps make for perfect hiking conditions come September, October and November. National parks Yellowstone, Yosemite and Banff are a hit for obvious reasons (unbelievable scenery, ample photo opportunities and various trails for hikers of all skill levels), earning them top spots on the Best Places to Hike in North America ranking this year.
But don't forget about spots like Hawaii and Arizona. Novices and experts alike can explore Kauai's Waimea Canyon and Koke'e State Park, then get in touch with nature and like-minded locals at the Satsang meditation and potluck (held the last Saturday of every month, August through December). On Hawaii's Big Island, hikers can head to Akaka Falls State Park to view the tumbling waterfalls and set time aside to see the two impressive volcanoes within Hawai'i Volcanoes National Park.
If you prefer a red and orange hued landscape to green forests and blue falls, Sedona, Arizona, is your ticket. Home to more than 100 different hiking trails and striking rust-colored rocks, Sedona has something for everyone. Affordable flights, budget-friendly campgrounds and cultural events like the Fiesta del Tlaquepaque (Sept. 13) and the Sedona Plein Air Festival (Oct. 18 to 25) offer even more incentives to visit in autumn.
See: World's Best National Parks
Best Wine Vacations

Does relaxing in an Adirondack chair with a full glass of pinot noir sound like a nice escape? If so, you'll be a fan of U.S. News' list of the Best Wine Vacations. Tuscany takes the top spot, thanks to charming cities like Florence and Siena and a variety of countryside vineyards. Enjoy a first-rate experience at Castello di Verrazzano, where you can take the three-hour lunch tour and try authentic Italian food and wine. The family-run Castello del Trebbio is another acclaimed venue with customizable tours and wine tastings that can include dinner and samplings of the farm's homemade olive oil. Budget-friendly bed-and-breakfasts and agreeable temperatures in the 60s and 70s round out your fall trip to Tuscany.
But Italy isn't the only European retreat for wine lovers: The grapes of the Loire Valley in France produce some of the best vintages in the world. Apart from visiting dozens of vineyards, take some time to see the region's beautiful chateaus and historic villages -- part of the reason the Loire Valley holds UNESCO World Heritage status.
Stateside, Napa Valley and its top-notch wineries, Frog's Leap and O'Brien Estate, beckon to oenophiles with friendly tour guides and unique wine blends. Fall is also the perfect time to catch a ride on Napa's Wine Train, which snakes through the region's valleys, or hit the Harvest Celebration (Sept. 20) for the annual grape-stomping competition. What's more, there are plenty of budget friendly accommodations and activities that help complete the Napa experience without breaking the bank.
Best Nightlife Scenes in the USA

The top nightlife spots in the USA should be no surprise as all of these destinations boast larger-than-life personalities. In the No. 1-ranked Miami Beach, you'll find less-crowded beaches, ideal weather conditions (hovering around the mid-80s) and clubs still bumpin' through the wee hours of the morning. The region also holds its own Carnival celebration (Oct. 12), a street-party parade complete with colorful costumes and musical performances. South Beach is chock full of dance clubs, where you may even spot a few celebs partying the night away.
Speaking of celebrities, you might also see some frequenting the pool parties, epic clubs, big-name concerts and delicious restaurants of Las Vegas. (Good thing normal revelers can -- and do -- enjoy the same venues.) With neon lights and a buzzing atmosphere, the Las Vegas Strip is an attraction in its own right. Plus, fall is a prime time to visit Vegas as the scorching triple-digit summer temperatures drop to the more comfortable 70s and 80s.
And with a nickname like the "City That Never Sleeps," New York City fits right in to the top three. The Big Apple is home to scores of bars, concert venues, comedy clubs, Broadway shows and dance venues, making it easy for all types of travelers to find something entertaining. Foodies will especially enjoy the New York City Wine & Food Festival (Oct. 16 to 19), where visitors can attend dinners and presentations with food prepared by top chefs like Daniel Boulud, Rachael Ray and Emeril Lagasse.
Visit our rankings section to read more fall lists, including the Best Relaxing Getaways in the USA and Best Golf Destinations, and vote for your favorites to help determine the top destinations for next year.
In Pictures: Make the Most of Your Fall Vacation

Erin Shields is a Travel Editor at U.S. News. You can follow her on Twitter, circle her on Google+ or email her at eshields@usnews.com.