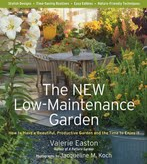 Anna Wintour, the venerable editor of Vogue, announced last spring that this is not the time to be "too Dubai." Like fashion, our gardens are overdue for the ease and simplification Wintour is calling for.
I had my own epiphany a few years ago, when I realized that my beloved garden had worn me out. For 15 years I'd worked a plant-rich, oft-published and toured garden north of Seattle. As a garden columnist for the Seattle Times, the garden was my laboratory. My enthusiasm for it was boundless. And then it wasn't. The spring I felt more jaded than inspired, I realized with a sinking heart that while my passion for plants and gardens was perpetual, my inclination to spend most waking moments working outdoors was not.
And when I took a moment to look up from my complex, over-planted garden I realized that water had become scarcer and more expensive. There's no getting away from the fact that gardens grow larger, shadier and needier while those of us who care for them grow older. The new ethos of eating local invites us to use our garden space to grow food as well as flowers. Our reverence for the earth grows stronger as we realize how human impact, including gardening practices, have brought on scary climate change. Who better to show reverence for the earth than we gardeners who tend it?
Gardening, like everything else worthwhile in life, comes down to time and resources. Our passion for plants and nature too often obscure this basic truth. But we ignore the time and resource part of the equation at our peril.
New generation gardeners are leading the way toward lower-maintenance, environmentally-conscious gardens. Twenty-and-thirty-somethings don't have the time to spend cosseting plants and devoting their weekends to yard work. Most grew up going to farmer's markets and know fresh when they taste it. Many younger gardeners are determined to grow vegetables and fruit in however much garden space they can eke out, be it on a deck, balcony, courtyard or neighborhood P-patch. They're savvy about organics and food safety concerns. Luckily, there's no trade off involved -- you can have your garden and eat it too with all the beautiful edible plants available now.
I learned so much from these inspiring new generation gardeners while researching my book The New Low Maintenance Garden: How to Have a Beautiful, Productive Garden and the Time to Enjoy It (Timber Press, 2009). I ended up selling my overwhelming garden and making a smaller, more productive and utilitarian garden on Whidbey Island, an hour north of Seattle.
I suggest that cutting down and cutting back in consideration of your own energies as well as the earth's resources, is the route to truly enjoying your garden again. A simplified garden, thoughtfully planned, can be every bit as rewarding and satisfying as a more complicated, labor-intensive one.
Growing edibles that are as beautiful as they are tasty is an easy, effective way to simplify your garden and make the most of every square inch. Breeders have created a whole new palette of gorgeous edibles that can be grown in mixed borders, raised beds or containers; here are a few especially beautiful, easy-to-grow choices:
Cherry tomatoes are the bon-bons of the garden; 'Sweet Baby Girl' is a new dwarf cherry tomato on half-sized vines. 'Sungold' has yellow pop-in-your-mouth fruit so sweet that it delights children.
The above-ground foliage on 'Bull's Blood' beets is as glowingly burgundy-colored as the deep-hued beets themselves.
Rainbow chard is rich in anti-oxidants, so easy to grow, and comes in an array of luminous colors like scarlet, orange and brilliant yellow.
The citrus-scented leaves of lemon basil are great for grilling, in salads or pastas.
The heirloom Italian eggplant 'Rosa Bianca' has creamy, mild flesh, is appealingly shaped, with pretty, gray fuzzy leaves and purple flowers.
Artichokes are tall, beautiful plants with bold, silvery leaves. They lend height and structure to the garden, as well as delicious fruit.
Strawberries make a pretty groundcover, and the day-neutral types like 'Seaside' and 'Tristar' bear fruit over several months.
'Gold Rush' zucchini has big yellow flowers and bright golden yellow fruit.
Blueberries are sturdy, 3-season landscape plants, with spring flowers, nutritious summer fruit, followed by brilliant fall color. You can harvest bowls of fruit from dwarf 'North Blue' which is hardy enough to live through a Minnesota winter and small enough to be grown in a pot. 'Sunshine' blueberries make a great edible hedge, for they are evergreen and grow about four-five feet high (hardy to zone 7).
Next: The Simplified Sanctuary Garden
SUBSCRIBE TO & FOLLOW THE MORNING EMAIL
The Morning Email helps you start your workday with everything you need to know: breaking news, entertainment and a dash of fun. Learn more