Got chickens? Fowl in the garden is only one of a torrent of trends on display at the country's third largest garden show. Starting tomorrow and running through February 7 in the Convention Center in downtown Seattle, the Northwest Flower and Garden Show injects a little color and excitement into the waning days of winter.
I got a preview of the show Tuesday afternoon as designers rushed to put the final touches on their gardens before the judges made their rounds, and vendors scurried to stock their booths before the crowds descend on opening day. I was there as part of a team judging gardens for "Pacific Horticulture" magazine, and after we finished I sat around with fellow judges discussing how the future of gardening was on display as clearly as the tulips and daffodils.
Blasts of color abound, in paint, pots, fabrics, trimwork. There was nothing shy about the cacophony of shades which enliven many of the gardens. Chartreuse, yellow and orange predominate, in far brighter shades than in past years. These colors are used not to compliment flower color, but to compete with it, and the effect was sometimes fresh and fun, other times garish.
Hardscapes are creative, from patios made of repurposed stone cobbles to gabion walls. If you haven't seen these metal cages stuffed with stones used to retain slopes, garden beds, or as accents in the garden, you soon will. They were used in every height and size for a pleasantly sturdy and practical effect. Solar panels, recycled metal, old tools and repurposed wood is used throughout the show, lending a patina to gardens that live for only a few days.
Very few gardens had lawn, and the little I saw was more meadow-like than groomed. While most gardens had some water in them, not as much of it was loud and gushing; most gardens made do with a little stream, bubbling pot or quiet pond. Many had an urban vibe; intimate, paved, with pots and comfortable furnishings.
Just about every garden had food growing in it, from walls sprouting strawberries to rooftop salad gardens. Even the most highly designed and paved city gardens had a pot or two of lettuce, tomatoes, or herbs. Edibles were everywhere, including an old Mazda pick up truck turned into a container for a vegetable garden. A mini-orchard sprouted from its hood, the bed held a salad garden, and the bumpers sprouted ruby chard.
My favorite garden, and the "Pacific Horticulture" magazine award-winner, is a tiny homestead garden packed with clever and beautiful ideas for urban sustainability. A collaboration by designer Jessica Bloom of NW Bloom EcoLogical Landscapes and Seattle Tilth, this is a utilitarian garden fashioned for a family and so attractive you forget its earnestness. The garden feels real, personal, with water catchment, a covet-able outbuilding, a hogwire fence, gabion walls, stream, cob oven, edibles, cold frame, tiny cobbled patio and dining table with high chair...it's really an inspiration of an organic garden, and right on trend.
If the Seattle show is a barometer of garden design today, utilitarian is in and glamorous is out, as shown by all the repurposed materials, and intimately scaled gardens, let alone all the chickens scratching about.
This moss chair was one of my favorite details from the show -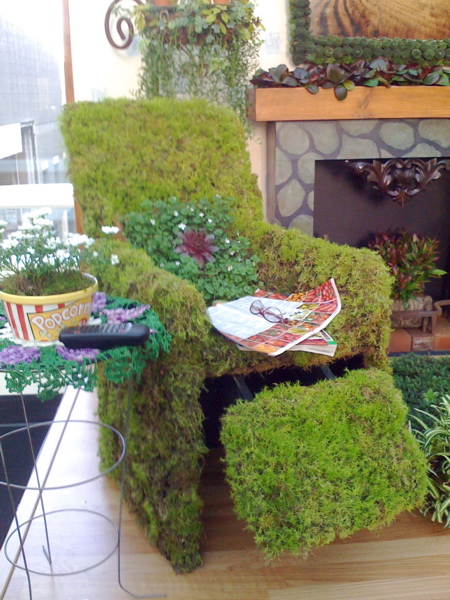 This Blogger's Books and Other Items from...
SUBSCRIBE TO & FOLLOW THE MORNING EMAIL
The Morning Email helps you start your workday with everything you need to know: breaking news, entertainment and a dash of fun. Learn more