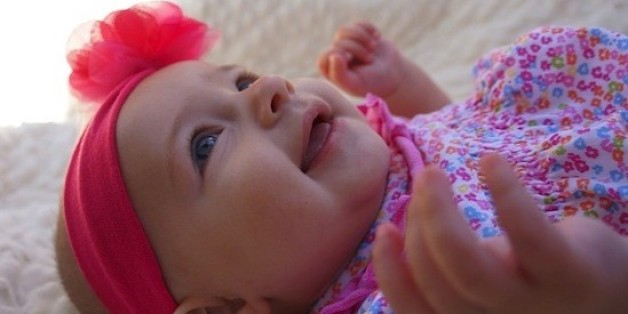 Diaper genies. Burp cloths. Bottles. Strollers. These are words you won't find in many non-parents vocabularies -- unless, of course, they have a friend with a baby.
I recently wrote a story for The Bump called, "7 Reasons Why Having A Baby Makes You Sexier," aiming to celebrate the beauty and sexiness of new mothers. Getting to speak with different moms for this piece was a great reminder of why I like to keep my friends with children close -- sometimes even closer then my non-parent friends.
Though am I not a parent, I find caring for a child to be the most honorable, enduring and respectable job in the world. Plus, getting to spend time with their adorable little bundle of joy is an added bonus that I will never pass up.
So, to all you parents, here are a few reasons why every non-parent needs a friend like you.
1. To Remind Us That, "It's Not All About You."
One of the things I love about being friends with a mom is it's a great reminder that life is not all about you. Once you have a baby, all selfishness goes out the window. Your child becomes your first priority -- which is not necessarily a bad thing.
As a non-parent, it's easy to get wrapped up in yourself on a daily basis, so being reminded from time to time that you are not the center of the universe is welcomed and beneficial.
2. To Show Us How To Be Silly
Playing with toys. Reading books in a baby voice. Clapping your hands and making funny faces. When you're in the presence of a baby, all your pride needs to go out the window, and I love that! Sometimes, us non-parents tend to take ourselves too seriously, so learning to embrace this "silly side" is not the worst thing in the world.
3. To Remind Us To Let The Little Things Go
I love talking to my friends who are parents about their lives after having a baby. The little things that used to drive them crazy don't seem to bother them so much anymore -- mainly because they don't have the time to focus on such petty things. Learning to let things slide and focusing on the positive is something that we should all do more often, and is a great attribute we can learn from parents.
4. To Appreciate Every Moment
For most parents, their baby smiles and the whole world stops. This ability to find joy in every moment is one of the things I really admire about moms and dads. It can be so easy to get wrapped up in meaningless things, instead of appreciating what is right before our eyes. So this ability to celebrate all things from potty training to a first word is very admirable.
5. To Prove That You Can Have It All
If you think life stops after children, think again. The kids, the job, the perfect partner -- the world is your oyster! Being friends with parents is a great reminder that if you want to have it all -- you can! And I truly believe more non-parents need to hear that message.
So for me, sure, there are days when I crave a night out with just the girls -- no kids allowed. But for the most part, I'll take the spit-up, the crying and talk of teething over anything else, because I feel honored to share in my friends new phase of life with a baby on board.
This Blogger's Books and Other Items from...
SUBSCRIBE AND FOLLOW
Get top stories and blog posts emailed to me each day. Newsletters may offer personalized content or advertisements.
Learn more