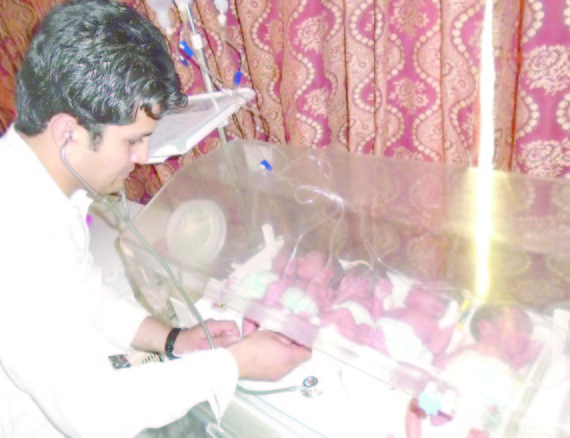 On Sunday, a woman gave birth to quintuplets in a private hospital in Lower Dir, a district 150 miles northwest of Islamabad, Pakistan. According to hospital sources, mother and children were in good condition. As reported by Pakistan Today:
Sources said a woman, a resident of Kadh Maidan was brought to the Musarat Shaukat Medical Complex Timergara in a critical condition. The gynecologist Dr Musarat Ali suggested a major operation to her to which the family and relatives agreed...
[T]he operation took half an hour and the woman gave birth to five children — three boys and two girls at a time.
Quintuplets were once incredibly rare — an estimated one in 60 million conceptions will spontaneously split, in some form (five identical twins, five fraternal twins, or a mix thereof). But with assisted reproductive techniques (e.g., fertility enhancing drugs, in-vitro fertilization), they're less unusual, statistically speaking. According to Statistic Brain, the U.S. welcomed 69 sets of quintuplets (or higher!) in 2011. In 2015, a Texas family became the first to bring all-girl quints into this world since 1969.
According to reports, the couple had been childless "for the last few years." No word on whether or not they had sought treatment for infertility.
In any case, Van Winkle's wishes the lucky family all the best. We're sorry we're unable to provide any concrete advice for sleep-training quintuplets. At the least, we recommend against co-sleeping when it's a party of seven.
SUBSCRIBE TO & FOLLOW PARENTS
HuffPost Parents offers a daily dose of personal stories, helpful advice and comedic takes on what it's like to raise kids today. Learn more