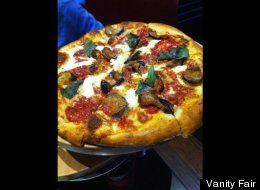 Even as she's busy launching mom-friendly iPad apps, caring for her award-winning Chow Chow, and preparing for her forthcoming PBS cooking show, Martha Stewart still finds time for a little culinary adventurism, whether that means enjoying a grilled-eel breakfast on her recent trip to Tokyo, Japan, or indulging in her favorite salty vanilla fudge sundae on Little Cranberry Island in Maine. Here within, foodie close-ups from Stewart's camera phone of everything from sweet Japanese egg omelets to almond-crumble crisps filled with blueberries from the homemaker's garden.
Introduction by Alyssa Bereznak, Vanity Fair.
Photographs and captions by Martha Stewart.
FOOD PORN: What Martha Stewart Eats Around the World
Dentsu Executives Bento Box lunch at a meeting in Tokyo.

Best breakfast I ever had in Tokyo at Tsukiji fish market at seven a.m. Grilled eel, rice, and oshinko.

Tamago at the market in Tokyo—egg omelet freshly made.

Dinner at a tiny restaurant in Tokyo was utterly superb. Reservation required, Yamada Chikara in Minato-Ku.

Wine on my flight.

Great pizza at Michael White's new restaurant Nicoletta. Opening night.

For lunch at my house we created a giant salade Niçoise with amazing ingredients from the garden and farmer's market.

We also served a blueberry crisp with an almond crumble top—the blueberries from my garden!

My favorite Maine dessert is at Islesford Dock on Little Cranberry Island—hot fudge, salty caramel brittle, and vanilla ice cream.
More from Vanity Fair:

Natalie Portman, Angelina Jolie, and Jennifer Aniston: Vanity Fair's Nude Portraits


The Value of TV's Most Famous Houses


Exclusive: Celebs Making Out in Vanity Fair's Oscar Party Photo Booth


Lady Gaga's Most Talked-About Looks


Follow Vanity Fair on Twitter: www.twitter.com/vanityfair