Priya Rao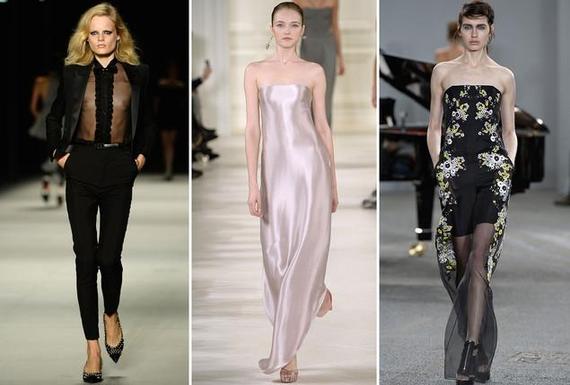 When Prince William attended the BAFTAs a few weeks ago, it was a major moment. British royalty had collided with Hollywood, and our heads nearly exploded. It reminded us of when Princess Diana cut a rug with John Travolta at the White House in 1985, and we longed for Kate Middleton to have an equally dashing moment.
SEE MORE: Pippa Middleton: My Bridesmaid's Dress May Have Fit "A Little Too Well"
So what better opportunity than this Sunday's Oscars? Couldn't you just imagine Kate being entranced by Matthew McConaughey's Southern twang or talking models with Leonardo DiCaprio? Certainly, the princess would have plenty to talk about with Cate Blanchett, but what would she wear?
SEE MORE: Kate Middleton's Hair is Under Attack!
While she could certainly turn to her rotation of designers such as Sarah Burton for Alexander McQueen, Temperley London, or Jenny Packham, but some American tastemakers had different thoughts. "Kate needs to wear something British and gorgeous," says Barneys' Simon Doonan. "I am seeing her having an Erdem moment." Thus, Doonan selected a strapless, sheer floral number from the designer. "It's a little more fashion-y than the kind of frock Kate might wear at home, but I think she could take a risk or two on the Oscar red carpet."
SEE MORE: Looking Back: What 10 of This Year's Nominees Wore to Their First Oscars
Stylist Kemal Harris chose a more conservative pink gown from Ralph Lauren, saying, "Look number 33 from Ralph Lauren fall 2014 would be beautiful on Kate!" But it was her colleague Karla Welch's selection from Saint Laurent that really threw us for a loop-an Angelina Jolie loop. "Kate should wear a tuxedo by Saint Laurent," says Welch. "I love this look. Of course, the blouse would be lined and the royal jewels added!" Now, that's the kind of Oscar moment we would die for.
See more from Vanity Fair:
Celebs Bare All: Lady Gaga, Angelina Jolie, Jennifer Aniston Go Nude
The All-Time Greatest Movies About Love
Oscar Babies: See Adorable Sisters Recreate Stills from This Year's Best-Picture Nominees
SUBSCRIBE TO & FOLLOW LIFESTYLE
We're basically your best friend… with better taste. Learn more