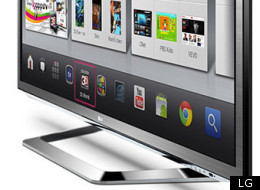 Your colleague sitting across the conference table from you -- the one with the laptop -- said he's taking minutes in Evernote. But it's entirely possible he's got one eye on an NBA shot clock. Over the past few years TV has left the living room and gone on walkabout. It's on our smart phones, our tablets, our laptops; in our in-flight cabins; and on demand. It appears that 2012 will be the first year that sales of flat-panel TVs have declined, and last month it was announced that owners of Microsoft's Xbox console now spend more time watching entertainment content than playing games. VF.com explores 10 essential ways to tune in today. See the full slideshow at VanityFair.com.


-- Hamish Robertson, Vanity Fair


The flat-panel is far from dead, as Samsung proves with its latest 8000 Series L.E.D. HDTVs. Impressive even before you've plugged it in -- thanks to a skinny profile, micro-thin bezel and elegant stand--it's something else altogether when you fire it up with its simplified "Smart Touch" remote control. Already lost the control? The sets also boast voice and gesture control, meaning next time you lose your remote you'll be up in arms in a good way. It even sports a built-in camera for your Fahrenheit 451-style Skype fantasies and recognizes your face to expedite logging in to your favorite apps, plenty of which come standard, including Hulu Plus, Netflix, YouTube and ESPN ScoreCenter, to name a few. From $3,000, samsung.com.

Upon realizing that the successful adoption of their Xbox gaming console had placed a powerful Internet-enabled device in millions of living rooms, Microsoft smartly evolved its console into a multidimensional entertainment hub where users reportedly spend an average of 84 hours each month. Subscribers to the Xbox LIVE service have access to Netflix, Hulu Plus, ESPN and most recently MLB.TV, streaming every game of the season in H.D. Add on Microsoft's Kinect accessory and control your setup with voice commands and even pause, rewind, and fast-forward with hand gestures. From $300, xbox.com.

More gadgets and more remotes often add up to more headaches. Logitech's Harmony 900 aims to deliver on its name and alleviate the stress of multiple multifunction device controls. Similar in size and shape to a typical cable set-top-box remote, the Harmony 900 features a large backlit touch screen customizable to your most frequent commands. Programmable via user-friendly software on your P.C. or Mac, the remote records handfuls of commands to mimic multiple functions in one click, such as "Watch a Blu-Ray" or "Watch Cable." As a bonus, this model comes equipped with a radio transmitter and receiver, allowing you to hide your devices in a closet or cabinet yet still control them as if they are directly in front of you. $350, logitech.com.

Roku's second generation of streaming entertainment players pack a lot into a tiny package. At a little over three inches square and less than an inch high, Roku's flagship XS player connects to your home network over WiFi or ethernet and delivers more than 400 channels of on-demand entertainment, from big hitters like Amazon Instant Video, Netflix, and HBO GO to official sports channels dedicated to N.B.A., N.H.L., and M.L.S. Our favorites: nasa TV and a whole station dedicated to ted talks. $99, roku.com.

Cable providers have had to play catch-up to compete with Internet- and mobile-based offerings, but so far they're not totally out of contention. Established relationships with entertainment networks ensured that a monthly cable subscription is required to use mobile or online services such as HBO GO and ESPN, and the cable companies have some great offerings of their own. Verizon's excellent FiOS TV service boasts multi-room D.V.R.'s, a well-designed on-screen guide, and apps for iOS and Android to manage your D.V.R. on the go and transform your smart phone into a remote control. FiOS TV Online allows browser-based viewing of CNN, MTV and Showtime, among others. Both DirecTV and Time Warner Cable now offer apps to stream dozens of live channels to mobile devices on your home network. Streaming your recorded shows from your D.V.R., outside of your home network, is still on our wish list.

While perhaps not boasting the bells and whistles of tablet devices and cable providers, Virgin America's onboard entertainment system is accessible through a touch-screen L.C.D. screen in every seat on every plane. With its selection of on-demand episodes from HBO and Showtime's lineup and 24 live satellite-TV channels, you're less likely to miss the big game and may even discover a new favorite show. Still nothing on? The in-cabin WiFi will at least let you connect your laptop or tablet to stream from your network or app of your choice. virginamerica.com.
More from Vanity Fair:

Natalie Portman, Angelina Jolie, and Jennifer Aniston: Vanity Fair's Nude Portraits


The Value of TV's Most Famous Houses


Exclusive: Celebs Making Out in Vanity Fair's Oscar Party Photo Booth


Lady Gaga's Most Talked-About Looks


Follow Vanity Fair on Twitter: www.twitter.com/vanityfair