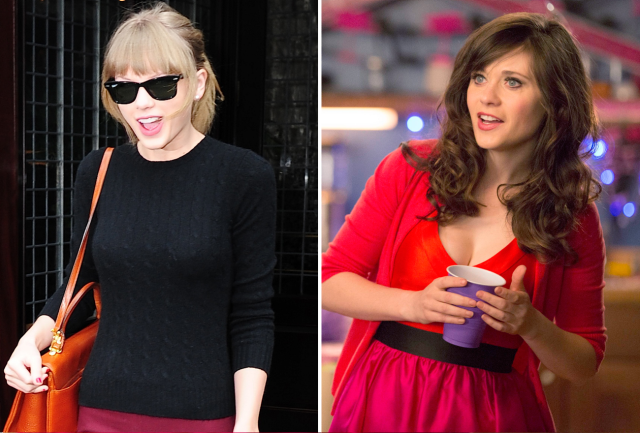 (Photos: left, Courtesy of FilmMagic; right, courtesy of FOX)
Thrilling news for those who have not yet given up on New Girl, the adorkable Zooey Deschanel comedy and reliable generator of what some call the "worst episodes ever": the season-two finale this May will feature a very special guest appearance by V.F. cover star Taylor Swift. The Hollywood Reporter notes that the pop singer will play a character named "Elaine" who is "an 'important guest' at the wedding of Cece (Hannah Simone) and Shivrang (Satya Bhabha)." ("Important guest," meaning that she cuts Jess off in the middle of a rambling toast to her best friend before performing an acoustic set for the new couple? Or "important guest" meaning that she comforts Schmidt in his time of need at the singles table? Submit your best casting guesses below.)
As of now, all we know about the episode is that it is titled "Downton Abbey Christmas Special (Part II)"--really--and will also guest star a "living, breathing, out-of-control badger." Perhaps we can expect that the New Girl's writers will place Winston into an old-timey convertible at the tail end of the episode, and finally put the character out of his misery and irrelevance on the show. . . the fatal collision coming courtesy of an incoming badger rather than a delivery truck. The episode will air on May 14.
SUBSCRIBE AND FOLLOW
Get top stories and blog posts emailed to me each day. Newsletters may offer personalized content or advertisements.
Learn more