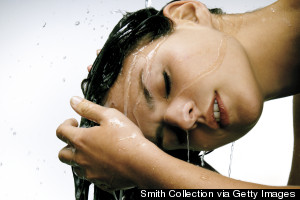 In a world where Dry Bars dot every other block, you rarely see someone enter an airport with wet hair on purpose. They always appear rushed and frustrated. Wet hair can be considered a fashion faux pas, like packing snow boots for Malibu. Those who venture out with water droplets clinging to every strand of hair are viewed as lazy, unprepared and inept.
So what do you do when the alarm clock failed to sound and you only have enough time to take a shower and throw on clothes before rushing out the door with wet hair? Or when your carry-on is packed to capacity with necessities, and you have no room for a hair dryer? Or when the survivor in you decides against bringing the generator for an adventure-filled vacation in the wilderness, and that hair dryer that was present at home is relinquished?
Alas, there is a solution for wet hair and the inability to dry it in times of travel and dream vacations; a hair dryer alternative, if you will. Be intentional this traveling season and transform your rush into style.
Wet hair needs only subtle motivation to become a coiffure inspiration. Dare to inspire with these hints from the experts at Vayable. Add some glamor and ease to the rush of traveling with these tips:
1. Know that wet hair is not always a last resort. The runway this fall was filled with thoughts of the beach as models intentionally took to the catwalk in wet waves and slicked back ponytails. If you carry your wet hair with purpose, then others will see it that way.
2. Try an easy updo with a few twists or braids and secure with bobby pins. The twists give your hairstyle purpose and could have an added bonus later when your hair dries with flowy waves.
3. Add a touch of hair gel to long wet hair and gather into a low ponytail. For extra flair, incorporate a side part.
4. Be adventurous and try a straight, slick-backed look using only some hair gel and a brush. The look is effortless but looks high fashion and edgy.
5. For optimal ease, run your fingers through wet hair, gather it at the top of your head and twist until it forms a bun. Your look will go from frazzled to graceful in seconds.
- Article written by: Lauren Hunter, Vayable