When Ray Cullom, executive director of the Queens Theatre, heard a hint of skepticism in the voice of an interviewer about his certainty that theatergoers would trek from all over New York to see new productions on his stage in Flushing Meadows-Corona Park, he was quick to explain.

He pointed out the window of his office -- past the giant steel Unisphere erected for the 1964-1965 World's Fair -- to the Queens Museum, where he recently visited the Panorama of New York City, a detailed diorama of the five boroughs. "If you look at where Queens Theatre is, it's right in the middle of everything," he said.

Cullom, who came to Queens in March from the Long Wharf Theatre in New Haven, Conn., wants to change the Queens Theatre from a venue that mainly booked touring performing arts shows into a staging ground for new productions.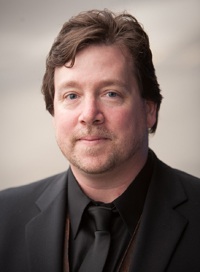 (Ray Cullom, Photo Credit: Queens Theatre)
Its central location and relative proximity to Broadway and the high-quality talent it attracts are among the reasons that Cullom believes he can be successful. "As time goes on, we are going to transition from being a presenting house to being almost completely a producing and co-producing house," he said.
Already this fall, Cullom brought to the theater a production of CHIX 6, a rock musical, written by Queens native Lourds Lane, with Broadway aspirations. He said it went over surprisingly well with the theater's audience base, an older crowd used to tamer, revue-style musicals.

"We got more positive comments on that show," Cullom said, adding that it also attracted many people who had never been out to the theater before, which is the whole point of Cullom's plan for its future.

Cullom sees the Queens Theatre -- a round, concrete relic also built for the World's Fair -- as a "gold mine" for its potential as a place to develop new works.

Instead of taking new productions to Boston or Chicago for pre-Broadway runs, producers and directors could work out the kinks on the stage of its main 472-seat theater, he said. New York-based performers would work in the city and "everyone could sleep in their own beds," cutting the cost of the production, he explained.
"I see our niche as being a regional theater within the bounds of New York City," he said. "And the interest we've had so far from commercial ventures, from producers looking for places to develop shows, it seems we're on the right track."

Its next big original production is The Jack Cole Project, which Cullom described as a "theater piece built around dance." Playing May 3-20, it tells the story of Cole, the famed jazz dance choreographer best known for his Hollywood work on films such as Gentlemen Prefer Blondes and There's No Business Like Show Business.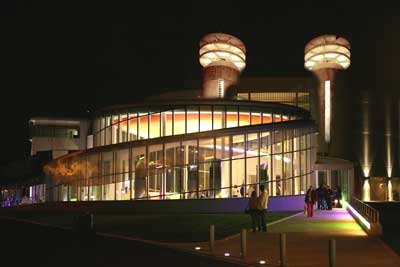 (Queens Theatre, Photo Credit: Dominick Totino)

Tapping into his deep contacts in the business, Cullom is partnering on Jack Cole with his friend, the choreographer/director Chet Walker, whose WALKERDANCE company is the theater's first dance company in residence.

"This project, which he's had in his head, happened to work very well with our existing audience base," Cullom said. "With the success of CHIX 6, it became a very logical next step for us to do."
He is using a second stage in the building -- a 99-seat black box space called the Studio Theatre -- to institute other changes. The Studio Theatre will be used to develop and showcase new plays and musicals, especially from the first- and second-generation immigrant communities in Queens, he said.

"There's a whole great hotbed of creativity that we're trying to tap into," Cullom said. He hopes to add a translation service, which is still to be worked out, to that stage so that plays written in Spanish or other foreign languages can be performed for an English-speaking audience.

He also is bringing in new material from outside the city. In February, the Studio Theatre will present Spent, a Canadian play Cullom saw at the Edinburgh Fringe Festival.

"It's a beautiful, poignant piece of theater that I thought needed a bigger audience," he said. "It's about the financial crash of 2008 and its ongoing effects on two 'any-men.' It's just two brilliant performers -- one who is very reminiscent of Charlie Chaplin and one who is very reminiscent of Buster Keaton."

Cullom is not daunted by the theater's location in the middle of a park in the middle of Queens. In the New Year, he plans to open a free trolley service from neighborhoods such as Astoria and Forest Hills as a way to get people to the theater on performance nights.

He said the Brooklyn Academy of Music did something similar when it started -- offering bus service from Manhattan to its performance space -- amid similar skepticism that anyone would ever venture to Fort Greene for a cultural experience. And while he said he was not trying to recreate a BAM in Queens, he did see a parallel.

"I think they were very successful at harnessing the energy of that neighborhood and that borough and reflecting it on their many stages," Cullom said. "And that's our mission, to bring the eyes of the world to Queens and to bring Queens to the rest of the world."

SUBSCRIBE TO & FOLLOW THE MORNING EMAIL
Start your workday the right way with the news that matters most. Learn more