Hello all and greetings from Denver! The Living page has temporarily relocated to the Huffington Post's Oasis - it's the place to be (and unplug and recharge), after all - and your friendly HuffPost Living editor (which would be me) is here to keep you apprised of all the ins, outs, and happenings going on in this fine lounge of ours.
So keep coming back or check out our live video feed where the illustrious (and ever so Green) Dave Burdick will be giving you a continuous stream of visitor commentary, VIP interviews, and all around awesomeness. (That starts tomorrow. The handy link will appear then.)
And, while we hate (read: love) to state the obvious: if you're in Denver, come on by! We're offering complimentary yoga classes, massage, facials, as well as energizing (and healthy!) snacks, drinks, and smoothies (the ultimate snack / drink combo.)
And on that note, here goes nothing.
8:05AM: We've been open for business for just over an hour and things are running smoothly. Speaking of smooth, I've been handed a steady stream of smoothies, Pom juice, and organic and raw chocolate truffles. Apparently they're so healthy and choc (ha!) full of antioxidants that you're allowed to eat them for breakfast! Who knew?
8:54AM: The first appointment of our day just finished up and it was HuffPost contributor and environmental activist Laurie David. I snagged 5 minutes of our time to get her thoughts on Denver, unplugging, and re-charging.
You obviously have a very busy schedule - how do you find time to unplug? What do you do to relax and recharge?
The summer, I've been gardening - when I need to recharge I go in and pull weeds - and you'd not believe how fulfilling that can be!
My facial was great - and I'm very excited to be sitting right now on a sustainable chair that looks like it was made from an old garden hose!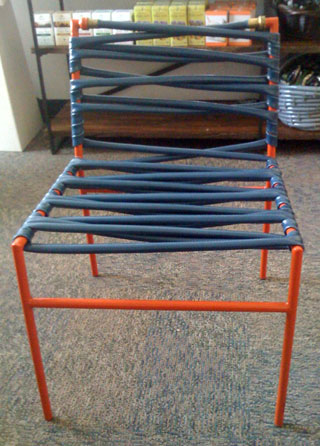 The chair, which is made from an old garden hose. By local Denver designer Chase DeForest.
What are your plans while you're in Denver?
I'm producing the concert tonight - Green Sunday at Red Rocks - we are celebrating the fact that the DNC is the first green convention ever! And a whole host a speakers and artists have donated their time - including Sheryl Crow, Dave Matthews, SugarLand, Bobby Kennedy Jr, Bill McDonough, and, of course, all the top politicians here in Denver.
Today's facial was done with Pangea's all organic and eco-friendly facial products - what sort of eco-friendly products to you use?
I try to do as much as I can, including the cleaning supplies in my house. See, my thing is: it's not about every person doing everything, its about every person doing something. That's my motto.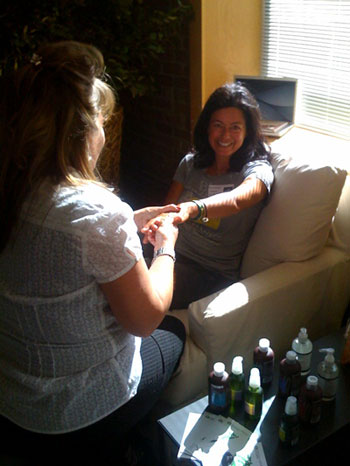 Laurie David enjoying the follow-up to her facial, an aromatherapy hand massage.
9:40AM: I just had a little visit (and a sip of her smoothie) from Kari Nelson of Green Source, who stopped by to check her e-mail and flight status. I asked her to stay for a yoga session but she told me she was running off to do a vision quest in California. She explains, "Its kind of more of a personal journey. Living on nothing but the land for 7 days you have to learn to be more efficient and leave no trace - so hopefully that will translate into bright ideas for the future."
How very Oasis-appropriate!
10:25AM: Arianna has arrived!
11:12AM:: We've just had our most adorable visitor of the day and his name is Leo. He liked our smoothies. This is Leo and his mother Nancy Waltzman, a fellow blogger.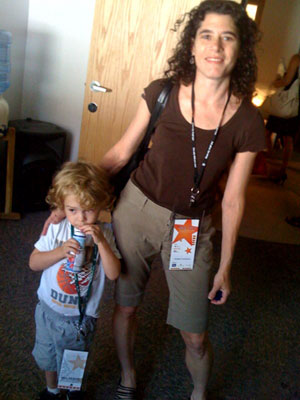 11:23AM: So, this is kind of turning into a photo blog but I'm OK with that because I just got the iPhone and seriously can't get enough of it. This is the aforementioned Business and Green editor Dave Burdick hard at work (or hardly working?) and sipping away at an appropriately green drink.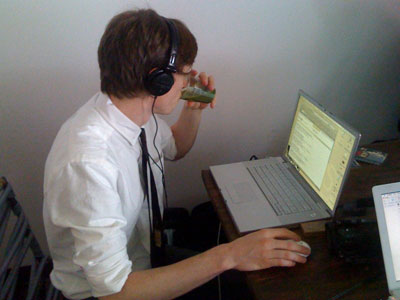 11:46AM: Off to interview the smoothie guy! His name is Kipp. But his smoothies totally trump his name so, for now, he's the smoothie guy.
12:35PM: Lunchtime! The interview with Kipp and Amrit (of Essential Living Foods) to come. (But shhhh...don't tell them that I'm off to eat one of Illegal Pete's infamous and incredibly delicious beer-battered fish burritos. It's not very raw of me...)
1:40PM: Lunch was delicious, but now I'm extra sleepy. I may have to partake in one of the Mate Eco Teas just to keep from falling asleep on my keyboard. I'm sure Kipp and Amrit would offer that had I eaten a big lunch of leafy green super foods, I'd probably be feeling a lot better right now. They're probably right. More interviews now and then time to take advantage of a free facial and hand massage. The altitude is doing bad, bad things to my skin.
2:43PM: Essential Living Foods interview is complete! [Read it here.] Also, I should mention that while I'm normally terrified of all things green, the smoothie that Kipp and Amrit made is absolutely delicious. While their version had all these crazy additions like goji berries and rainbow chard - here's the recipe theirs is based on. They swear it's just as good.
Blend Well:
1 cup apple juice
1 banana
1 mango
1 small piece of aloe
5 leaves of kale
2 cups water
Yields: 1 quart of smoothie
2:54PM: Kendra Sandoval, the Outreach Director for the Alliance For Sustainable Colorado stopped by to talk to Dave Burdick about greening the DNC. He's got a great interview with her (which will be up soon and I'll link to accordingly), but in the meantime, here's an inspiring quote on collaboration and what it means to make a change:
I think an important, important piece is this collaboration thing and I think we toss this word around, but I think the actual engagement of collaboration and really really creating sustainable paradigms and sustainable society is about each one of us. I'm talking about business, government, non-profit...I'm talking about schools...This is collaboration and this is what it looks like. Figuring out how to come together on issues that we believe in and move them forward together.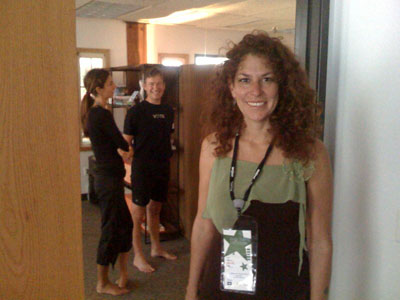 3:14PM: Don Hazen, executive editor of Alternet.org and blogger extraordinaire just sat down and joined me for a smoothie.

How was your massage?
Amazing. I had a 45 minute massage. I had the real thing. I took my clothes off - I had oil.
Do you practice yoga?
[Laughs] I wish I did. More, at least.
So you do practice yoga?
Yes, I used to. I need to get back into it.
How long are you in Denver?
Till Friday.
And what are your plans?
Get overwhelmed, I guess. Hear many smart people talk about many wonderful things. Go to parties and events and make political change.
[Amrit comes by to hand Don a tall glass of green super-food smoothie.]
That's scary looking...[takes a sip]...and yet delicious!
What's your signature way to de-stress?
I breathe. Concentrate, focus on your breathing. Breathe out more than I breathe in. Do breathing exercises to get the CO2 out of your system.
[And this is where he all of a sudden started interviewing me about the re-tooled Living section. So, really, we were multi-tasking, killing two birds with one stone, etc.]
3:30PM: HuffPost's own Eat The Press editor Rachel Sklar and Media Bistro's Glynnis MacNicol arrive! They go for massages. Upon return, Rachel massages me. She says it's because she's competitive, I tell her to keep going.
4:40PM This is what's currently going on in the HuffPost Oasis. Seriously.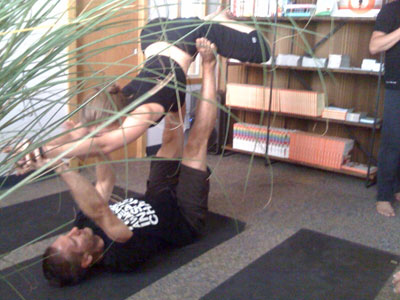 And in case you're confused, here's a view from the front: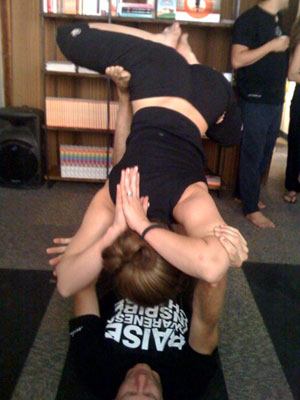 5:07PM: This is David Corn getting a verrry personal yoga lesson. 'Cause that's how we roll at HuffPost.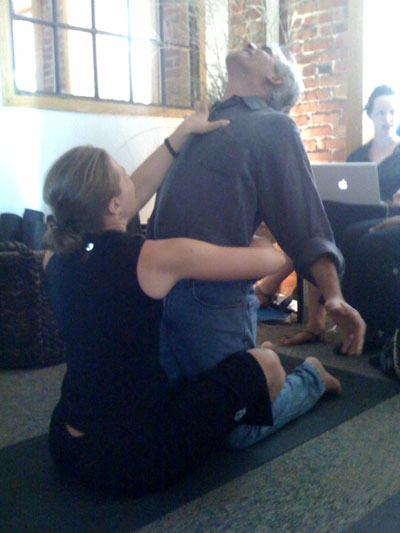 5:23PM: Arianna is currently getting interviewed by the New York Times' slightly disheveled-looking David Carr. (Can't really blame him though, he just had a one-on-one yoga sesh with Seane.) He thinks the green smoothie is a "little weird" but definitely feels "like a changed man."
I think this photo says it all...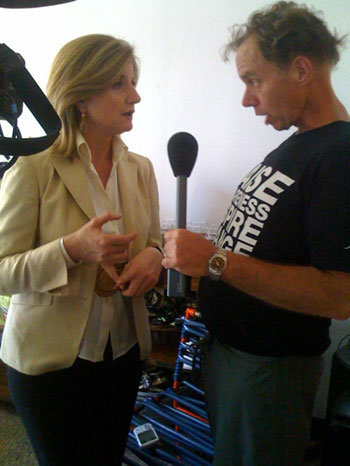 6:00PM: I'm signing off. And I'm doing so with a photo of Rachel. Because she looks fabulous! Cheers to a wonderful day, all. And I'll see you back here (or more specifically, same box, different post) tomorrow.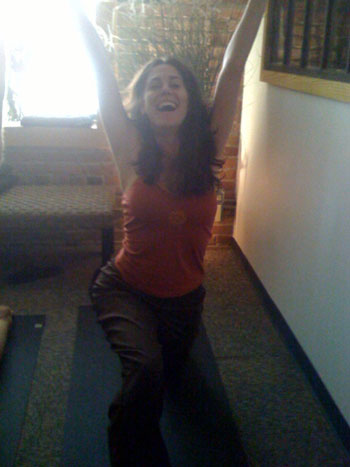 SUBSCRIBE TO & FOLLOW LIFESTYLE
HuffPost Lifestyle is a daily newsletter that will make you happier and healthier — one email at a time. Learn more