Hello all and greetings from Denver! The Living page has temporarily relocated to the Huffington Post's Oasis - it's the place to be (and unplug and recharge), after all - and your friendly HuffPost Living editor (which would be me) is here to keep you apprised of all the ins, outs, and happenings going on in this fine lounge of ours.
So keep coming back or check out our live video feed where the illustrious (and ever so Green) Dave Burdick will be giving you a continuous stream of visitor commentary, VIP interviews, and all around awesomeness. (That starts tomorrow. The handy link will appear then.)
And, while we hate (read: love) to state the obvious: if you're in Denver, come on by! We're offering complimentary yoga classes, massage, facials, as well as energizing (and healthy!) snacks, drinks, and smoothies (the ultimate snack / drink combo.)
To catch up on everything you missed yesterday, click here.
And on that note, here goes Day Two!
10:34AM: I arrive! It's a later start for me today - as much as I'd love to, liveblogging from 7AM to 7PM is a stretch and, in any case, it wouldn't be very Oasis-y, now would it? - but the lounge is already hoppin'!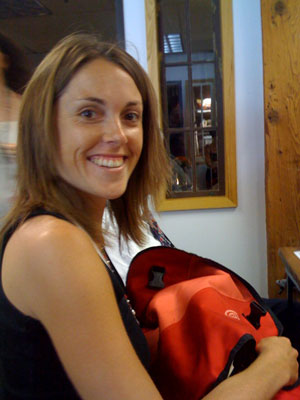 11:36AM: Just finished my first green smoothie of the day. Yum! Did you know that I didn't even eat dinner last night? That's how much food is being passed around this place. And I have to admit - for a liquid, those smoothies sure are filling. (Then again, I did eat that monster-sized fried fish burrito for lunch - a move which I will hopefully repeat today.)
12:22PM: Sorry for the long pauses. We're so popular today that we're running out of internet! I'll be chugging along as fast as I can.
12:27PM Russell hard at work.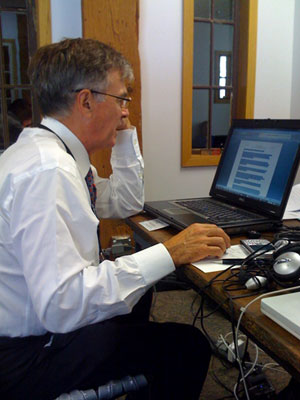 12:55PM: After Dave Burdick called and personally threatened the family and friends of whatever wireless modem / router / doohickey we are trying to use, it decided to start behaving itself so I think we're back on solid internet ground.
1:05PM: And here are the beautiful ladies of Off The Mat, Into The World - who I had the pleasure of working with at the Omega Institute.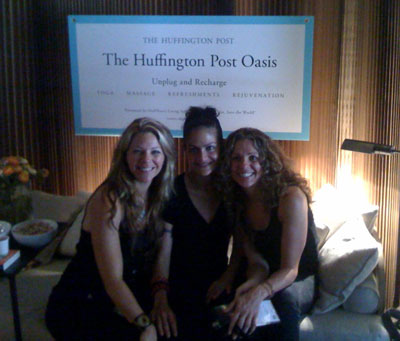 1:36PM: I've been trying to be good and not stuff myself with those delicious "good for you" truffles, but every time I put them back, two more appear next to my computer. Who are you, truffle fairy godmother? And why must you taunt me?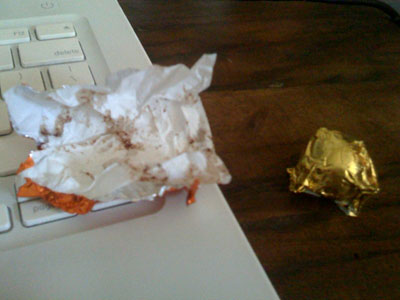 2:51PM: I left for lunch (yes, another fish burrito) and came back to an absolutely sardine-packed Oasis. We are that popular.
3:00PM: Okay, so while we are verrry popular, it turns out that Daryl Hannah and Robert Kennedy Jr. had also stopped by for a quick visit.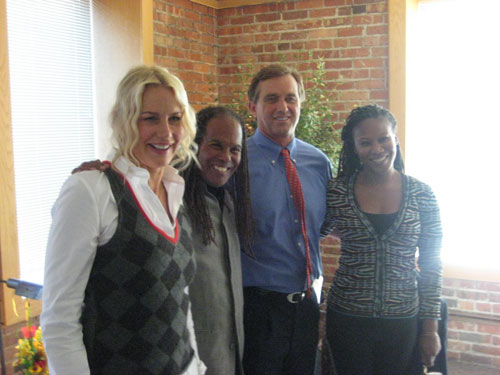 Photo taken by the intrepid Rachel Sklar.
3:45PM: It's really amazing the difference between yesterday and today. While we were definitely busy on Sunday, there's a palpable buzz in the air now that the convention is officially in full swing.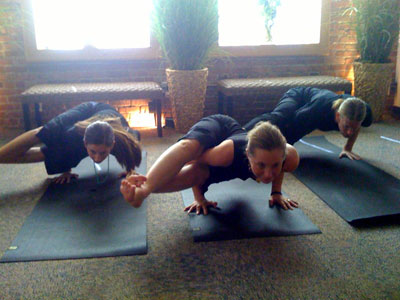 5:20PM: Marlena is here! Marlena - also known as Dierdre Hall - is, of course, the iconic star of the daytime staple, Days of Our Lives.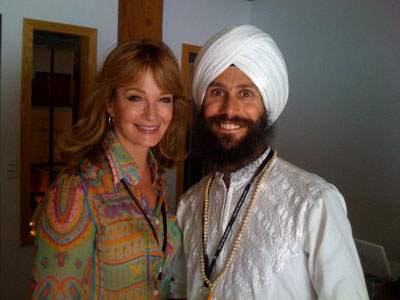 Marlena (OK, fine, Dierdre Hall) and Amrit
5:53PM: Russell just finished up an interview with Barbara Marx Hubbard and is now doing a little sit down with Marlena (Deirdre Hall). Interviews to be posted tomorrow!
6:07PM: Gotta run! But I'll be back for plenty more tomorrow.
SUBSCRIBE TO & FOLLOW LIFESTYLE
HuffPost Lifestyle is a daily newsletter that will make you happier and healthier — one email at a time. Learn more