The winners were announced at the 4th Annual Green Schools Alliance Spring Conference & Resource Fair, "Green Schools NYC 2011 (GSNYC)" on April 9th.
The Martin Luther King Jr. High School, where the event took place, took first prize. During a time of severe budget cuts, the winning schools have a clear advantage. "Saving energy translates into saving money. It's terrific to be able to make that linkage tangible. We were thrilled that some of the schools' savings was able to be returned to those schools to reinvest into more green programs," said John Shea, CEO Division of School Facilities, DOE.  
The Green Cup Challenge® is a  national student-driven interschool energy Challenge that asks schools to measure, reduce and report back their energy reductions over a one-month period. In keeping with PlaNYC's goal's to reduce energy in NYC facilities by 20% by 2030, The Green Cup Challenge® raises awareness in school communities and ask students, faculty and staff to identify ways to use less energy and reduce their carbon footprint by doing simple things like, light turning off lights in unused rooms.
GSA Founder, Peg Watson:
"Many schools who participate in the Green Cup Challenge® find that a significant percentage of their reductions are permanent based on new awareness and changes in behavior during the one month intensive Challenge."
The GSNYC is hosted annually by The Green Schools Alliance (GSA) and the NYC Department of Education and is the only green school event sponsored by the NYC DOE. Opening and Closing Ceremony Speakers included Deputy Chancellor Kathleen Grimm, Manhattan Borough President Scott Stringer, and Majora Carter, environmentalist, eco-entrepreneur and GSA board member.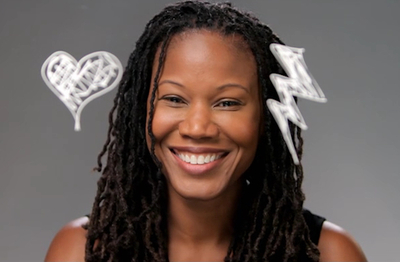 Approximately 800 students, school administrators, business officers, facility managers, teachers, parents, community leaders and elected officials, green businesses, NGOs and environmental groups convened to share best practices, discover ways to reduce our impact on the environment, and support New York's Green Schools Community. Exhibitors from 90 companies, non-profit and governmental organizations, and schools  shared resources and greening experiences, explored sustainable, energy-smart solutions and sampled green products. 
The Opening and Closing performers included the Grand Falloons Earth Science Circus, singers and dancers from the Manhattan Theatre School of the MLK Complex who received a standing ovation, and 11th grade Renaissance School student, c.j., who performed an original Recycling anthem which, as a result of her performance at GSNYC, debuted on Clear Channel's Z100 and is going viral on YouTube. Chris Collins, Executive Director of Solar One spoke about S1 Programs in NYC schools, and Vernard Williams of the Alliance for Climate Education (ACE) thrilled the crowd with an exciting interactive presentation on the impact of Climate Change. 
In addition to training for school sustainability coordinators, GSNYC also offered innovative green workshops: Green Schools 101-The Dollars & Sense; Student Action-The Power of One; Sustainability Education-quantifying Success; and  Overcoming Obstacles to Improving School Food. 
GSNYC Sponsors included The Hains Celestial Group, Earth's Best, Terra Chips and Walnut Acres, Butter Beans, Eli's Bread, Equal Exchange, Honest Tea, Le Pain Quotidien, Mama Gyros, Starbucks, 'WichCraft, Yura, Aardvark Amusements, Activeion, Building Maintenance Service, Good Energy, Green Depot, Manhattan Chamber of Commerce, The O Group, Urban Green Council. 
The Green Schools Alliance is a global network of schools guiding schools working together to solve 21c. environmental and climate challenges through the implementation of sustainable and energy-smart solutions. Launched in NYC in October 2007, the GSA is uniquely created "by schools for schools" and currently has a network of more than 2,000 schools in 37 states and 10 countries. 
NYC Schools who have hosted past GSA resource events: Town School, United Nations International School, Spence School, Collegiate School, Dalton School, Nightingale-Bamford School. 
Veronique Pittman is on the Board of Advisors of the Green School Alliance.
-------------------------
GSNYC 2011 Exhibitors: PS 149, PS 57, PS/IS 298, Academy for Environmental Leadership HS, Allen-Stevenson School, Blue School, CCNY, Convent of the Sacred Heart, Dalton School, Discovery High School, District 3 Green Schools Group, Ethical Culture Fieldston School, Fordham University, Manhattan Comprehensive Night and Day High School, New Horizon's Middle School, Nightingale-Bamford School, Teacher's College Columbia University, Town School, Trinity School, Urban Assembly School For Green Careers, Urban Assembly New York Harbor School  Activeion, BASF Corporation, BMS: Building Maintenance Service, Big Apple Edibles, Butter Beans, Con Edison, EcoPlum, Enervation Lighting, Good Energy, Green Depot, Honest Tea, InterfaceFLOR, Iron Will Health, JC Food & Veggiecation, Jonathan Rose Companies, Laser Plus, Mina's Green Cleaning, National Water Services Inc, Philips Lighting, Progressive Products/Nature Plus, Red Rabbit, THINKECO, TRC Solutions, Tri-State Biodiesel, Vokashi, Walt Disney Studios Motion Pictures  NON-PROFITS: Alliance For Climate Education (ACE), Bailey's Cafe/LUG Your Share, Brooklyn Children's Museum, Children's  Environmental Literacy Foundation (CELF), Center For Architecture Foundation, CityScience,  Community Vision Council, Earth Day NY, Educating Tomorrow, Equal Exchange, Getting Tools To City Schools, Grand Falloons, Green Apple Kids, Green Schools Alliance, Grow NYC, Harlem Recycling Project, HealthCorps, Horticultural Society of NY, ioby, Junior Energy, Kids Think Big, Manhattan Chamber of Commerce, Middle College National Consortium, MillionTreesNYC, National Audubon Society, National Green School Energy Purchasing Consortium, Natural Resources Defense Council, NY Coalition For healthy School Food, NY Solar Energy Society, NY Sunworks, Pennies for the Planet, Rainforest Action Network, Riverkeeper, Safe & Healthy School Food Group, Science Friday Initiative, Solar One, Styrofoam Out Of Schools, Sustainable Food Systems, Urban Green Council, Wellness In The Schools, The WildLab  GOVERNMENT: NYC Department of Education (DOE), DOE Division of Schools Facilities, DOE School Construction Authority, NYC Compost Project in Manhattan at Lower East Side Ecology Center, NYC Department of Sanitation Bureau of Waste Prevention Reuse & Recycling, NYS Department of Conservation Region 2 (NYSDEC Region 2), New York Power Authority (NYPA), NY State Energy Research and Development Authority (NYSERDA), U.S. Environmental Protection Agency, U.S. Department of Agriculture

SUBSCRIBE TO & FOLLOW THE MORNING EMAIL
Start your workday the right way with the news that matters most. Learn more