10 Of The Best Summer Music Festivals Around The World (PHOTOS)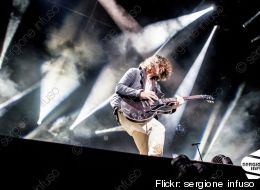 It's that time of year again, when music concerts swap sticky dive bar floors for well-tramped grass and enormous open-air stages. 2012's festival season is finally upon us and to get in the mood, here are 10 of the world's best.
From America to Australia via Europe and Japan, just about every artist you can think of, is bringing their music to the great outdoors this year and the only question is, which one do you go to first?
-- Zoë Smith for Viator
Planning a trip? Browse Viator's Europe tours and things to do, USA tours and things to do, Australia tours and things to do and Asia tours and things to do.
Britain's annual mud-baths-cum-music-festivals are as notorious for their riotous performances as they are for their unfortunate abundance of rainfall. The hippie haven of Glastonbury might steal the prize for England's most popular festival, but with the biennial festival off the calendar for 2012 (put your names down for the 2013 festival now), the crowds will be descending upon the Leeds & Reading Festivals instead. Held simultaneously at two venues in the North and South of the country over the final bank holiday weekend of the summer (24-26 August), with a rotating cast of bands, the two festivals have quickly reached legendary status among world rock fans. The audiences, renowned as one of the craziest festival crowds, make the festival, with the last evening routinely turning into a chaotic display of alcohol-fueled debauchery, as the festival campsites turn into one enormous party with campfires, fireworks and impromptu mud sliding. This year's line-up includes Paramore, Foo Fighters, At the Drive-in, The Cure and Angels & Airwaves, with dozens of acts still yet to be announced. Read more about things to do in England Photo credit: Sam Saunders via Flickr

Unashamedly meshing the mainstream with the indie, the bill for Chicago's renowned Lollapalooza Festival reads like the ultimate record collection, with everything from little-known gems to major acts joining the party. Started up back in 2005, what Lollapalooza lacks in history it makes up for in sheer popularity with music fans from all over the country descending on downtown Chicago from the 3-5 of August to sate their musical appetites. 2012 looks set to be typically eclectic, as Black Sabbath fans descend on the venue to catch the bands much anticipated reunion, mixing with indie-pop kings The Shins, DJ of the moment Calvin Harris and chill-out kings Sigur Ros. Read more about Chicago Photo credit: tacvbo via Flickr

Northern Europe's largest open-air festival, Roskilde in Denmark has been running annually since 1971 and attracts over 90,000 music lovers over its four-day run. A mere 30 km outside of Copenhagen, the festival brings fans from Europe and all over the world to enjoy the mix of rock, pop, hip hop and electronica, mixing local bands with world renowned artists playing over seven stages. The festival has played host to everyone from Bob Marley to Nirvana over its 40 year reign, and this year's headliners are set to continue making history with Bjork, Bon Iver, Jack White and Bruce Springsteen all taking to the stage. The 2012 festival ran between 5-8 of July. Read more: Tips for Attending Roskilde Festival in Denmark Photo credit: Wouter Kiel via Flickr

It may be winter in Australia, but the sun is bound to be shining for the annual Splendour on the Grass festival, a short trip from hippie haven Byron Bay and one of the world's largest eco-friendly festivals. The New South Wales concert stretches over three days and draws fans from all over the country for possibly the most chilled out rock concert known to man. It's not just about the music here, there's a natural beauty spa onsite, a kids relaxation area and a shopping area nick-named the "very small mall." The 2012 event runs from the 27-29 of July and features indie and rock favorites like Gossip, Smashing Pumpkins, At the Drive in and The Shins alongside newcomers like Lana Del Ray and homegrown artists like Wolfmother, Missy Higgins and Angus Stone. Read more about things to do in Australia Photo credit: Vinni123 via Flickr

Claiming the title of the biggest music and entertainment event of all time, the Rock in Rio festivals have been held alternatively in Portugal, Brazil and Spain. (Next year's festival is set to run in Argentina.) It's one of a growing trend of events using music to inspire change in environmental and social issues around the world. This year's Rock in Rio takes place in Lisbon, Portugal and is set to draw in crowds of over 300,000. With Metallica, Lenny Kravitz, Stevie Wonder, Bryan Adams and Bruce Springsteen all taking to the stage over the festival's two weekends, the event bill reads like a who's who of the music industry, pitting legendary stars against more recent favorites like Linkin' Park, Maroon 5 and Joss Stone. Read more about things to do in Portugal Photo credit: alvizlo via Flickr

From the 12-15 of July, Spain's East coast became a hub of international music, as the Festival Internacional de Benicassim (FIB) descended on the unassuming coastal region. Attracting a massive 50,000 festival-goers over its four days, this is one festival that covers all bases when it comes to music genres. This year's line-up offers up one of the world's most diverse festival line-ups, with the world's best in folk (Bob Dylan), pop (Jessie J, Katy B), dance, (David Guetta), hip hop (Tinie Tempah, De La Soul), indie (The Strokes, Noel Gallagher), alternative (At the Drive-in, Arcade Fire) and rock (The Stone Roses, New Order). Need we say more? Read more about things to do in Spain Photo credit: Rafael Tovar via Flickr

The Southern cousin of Lollapalooza and another favorite on the U.S. festival roster, Bonnaroo in Tennessee pits itself as more than just a music festival, with a vast array of arts and cultural programs. There's certainly no shortage of entertainment over the festival's four days, with 150 acts performing, an adjourning film festival, a silent disco, art installations and live comedy capturing the attentions of over 80,000 campers. There are even free yoga classes, a complimentary hair salon and the Broo'ers mini festival celebrating micro-brewed beers from all over the country. This year's line-up brings a veritable summer soundtrack of The Beach Boys, Radiohead, Bon Iver and dozens of the world's best loved bands spanning rock, pop, country and even some hip hop and electronica thrown in for good measure. Read more about Tennessee Photo credit: Jason Anfinsen via Flickr

Musicians have long pegged Japan as one of their favorite places to perform, due in no small part to the wild enthusiasm of the crowds. Held simultaneously in Osaka and Tokyo over the weekend of August 18-19, the Summer Sonic Festival is the biggest event on the calendar for Japanese music fanatics. There are no bounds to great music here, with a roster of rock, punk, hip hop and pop keeping the crowd bopping well into early hours. The 2012 line-up looks like its been lifted from the Billboard chart with Rihanna, Nelly Furtado, Adam Lambert and Ke$ha all set to blast out their hits, alongside some of rock's finest like Green Day, Lost Prophets and Death Cab for Cutie, who are sure to send the crowd into a frenzy. Make sure you catch some of Japan's own rock bands too -- legendary for their craziness. Read more: Things to Do in Tokyo in Summer Photo credit: LuxTonerre via Flickr

Eastern Europe's coolest music festival, the Sziget Festival in Hungary has rapidly risen to the ranks of festival stardom, becoming one of the most exciting dates on the European calendar. Running from the August 6-13, the mammoth seven-day extravaganza leaves few left standing by its close. Hosted on an island on the River Danube in the center of Budapest, the festival is nothing if not unique -- pitch your tent on the riverbank, stock up on €1.50 beers and head to one of the infamous Hungarian bathhouses to spruce yourself up in between acts. As for the entertainment, expect to be spoilt with variety -- around 60 stages feature everything from rock to classical and there are film showings, art exhibitions, sports, all-night parties and even a fairground; you can even learn to belly dance or go bungee jumping. This year's headliners include Korn, The Killers, Placebo and LMFAO. Read more about things to do in Budapest Photo credit: opethpainter via Flickr

Belgians might be better known for sipping beer and whipping up some of the world's most delicious chocolates, but these rock fans know how to get down and dirty in the mosh pit come festival season. Forget the cultural and artistic ethos of modern festivals; the Rock Werchter Festival in Belgium has been all about the music since it started up in the 1970s, so expect some sweaty, beer-fueled crowds connecting over a shared love of all things loud. It's not all rock 'n' roll though -- the festival features everything from indie, pop and rock, to hip hop and dance, so there's something for everyone. 2012's festival pits newcomers Lana Del Ray and Alabama Shakes against veterans like Cyprus Hill, The Cure and the Red Hot Chili Peppers, and throws plenty of up and coming acts into the mix too. Read about more festivals around the world Photo credit: Antonio Zugaldia via Flickr
Follow Viator on Twitter: www.twitter.com/ViatorTravel