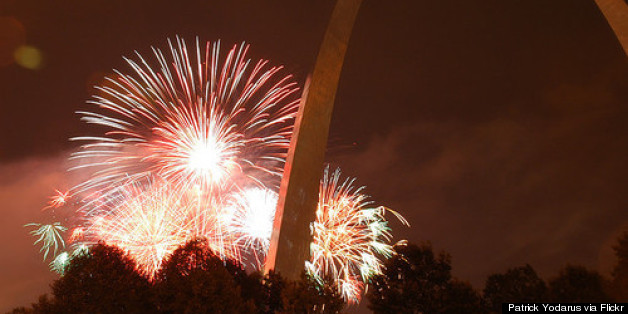 For many Americans, July 4th is a family holiday -- it involves backyard barbecues, maybe a parade through town, and a local fireworks show. Some people, however, have dreams of celebrating the nation's birthday with more pizzazz. Thankfully, there are plenty of options around the U.S. that deliver Fourth of July festivities worth traveling for.
These 11 places around the U.S. each offer something special for July 4th , whether it's a stunning backdrop for fireworks or a party that makes you forget the fireworks altogether.

Philadelphia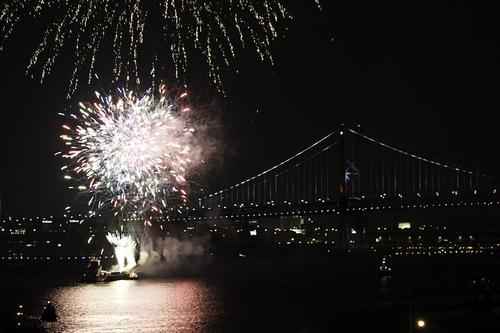 Photo credit: Jim Cairns via
Flickr
What better place to start a tour of excellent places to celebrate July 4th than in the city where the country was born? The Philadelphia festivities run from 5-11 p.m. and include a parade through the historic city center and a concert on the Parkway. Got a few days in Philly? Tour national landmarks like Independence Hall to really get an appreciation for the holiday. The city's fireworks display is over the Philadelphia Museum of Art, which is a reminder that this is the city that gave rise to another independent spirit -- Rocky.
Read about what to eat in Philadelphia

Boston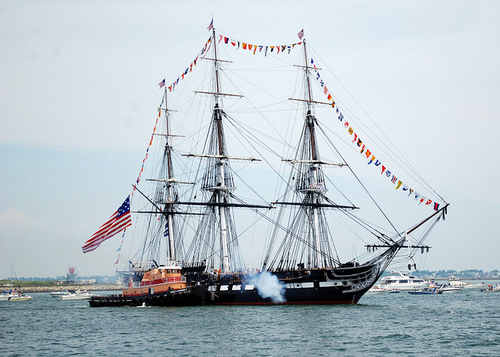 Photo credit: Official U.S. Navy Imagery via
Flickr
Boston may be more famous for the whole tea party aspect of the American Revolution, but this city celebrates July 4th with a couple different kinds of bangs. The fireworks display, which takes place over the Charles River, is the obvious one -- the other bang is a musical one, with the Boston Pops providing live musical accompaniment to the pyrotechnic show. Not content to camp out on the riverbank all day for a good view? Hop on a dinner cruise of Boston Harbor -- you'll get a meal, an up-close peek at the historic tall ships in the harbor, and a prime viewing location for the fireworks show.
Read more about things to do in Boston

Washington DC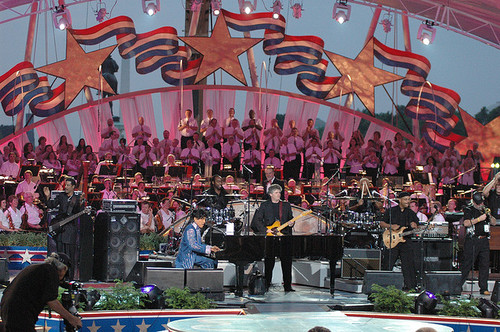 Photo credit: John Athayde via Flickr
Not to be outdone by Boston, the nation's capital puts on a pretty spectacular July 4th celebration, too. Washington D.C.'s "A Capitol Fourth" starts with a parade on the National Mall, continues with a performance by The National Symphony Orchestra (and plenty of famous invited guests), and finishes with a flourish as the orchestra plays along while the fireworks display lights up the sky over the city's monuments. Forget about arguing politicians for a moment and you'll feel pretty patriotic.
Read more about things to do in Washington DC

New York City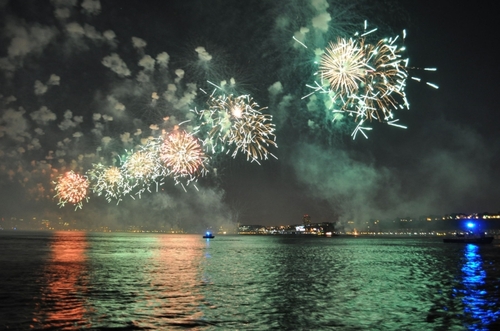 When you hear "Macy's" and "New York," you might automatically think of the Thanksgiving parade -- but did you know Macy's is also behind the city's July 4th celebrations? The fireworks show takes place over the Hudson River, and there are plenty of places on the West Side of the river from which to get a good view, and you can certainly have a memorable evening with a great view of fireworks from a New York dinner cruise - but it's hard to beat overlooking the whole city while the fireworks are going off. This special July 4th VIP ticket takes you to the rooftops of NYC for an unforgettable view of the fireworks display. Be prepared with someone to kiss.
Check out more 4th of July tours in New York


Bristol, RI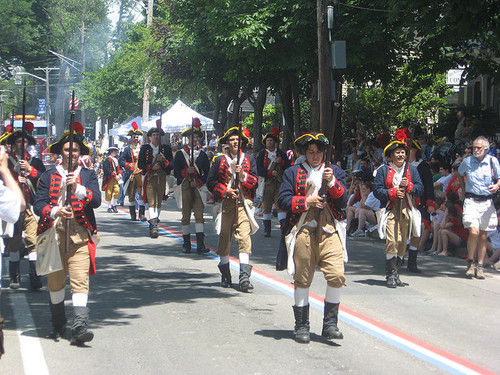 Photo credit: H.C. Williams via Flickr
Take part in a little bit of American history by joining the throngs in Bristol, Rhode Island, the scene of the oldest continuous July 4th celebration in the country. The first parade was held in 1785, and they haven't missed a year since -- in fact, they've increased the size of the celebrations. Technically, the kick-off is roughly three weeks earlier on Flag Day on June 14, with a series of public events (such as baseball games, concerts, and fun runs) held right up until July 4th. The fireworks are on July 3rd, but the historic July 4th parade is really the centerpiece of this celebration.

Las Vegas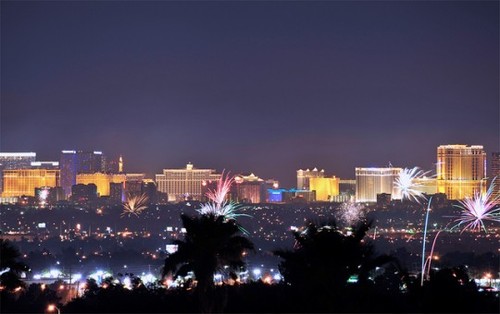 Photo by Andrew via Flickr
If there's any city that will take advantage of any excuse to party, it's Las Vegas -- and July 4th is no exception. There are special July 4th parties throughout the city, sure, but feel free to take your pick of any of the world-class shows or events that Vegas is known for already. There are a few fireworks displays to choose from, and although none is terribly long, let's be honest -- that's not why you came to Vegas for July 4th. No, you came for things like the pool parties, which are an excellent way to celebrate the 4th without overheating. Pick up a pool party pass for July 4th and get into nine pool parties, 13 lounges, and 16 nightclubs throughout the city. Fireworks? What fireworks?
Read about the Best Pool Parties in Las Vegas

San Francisco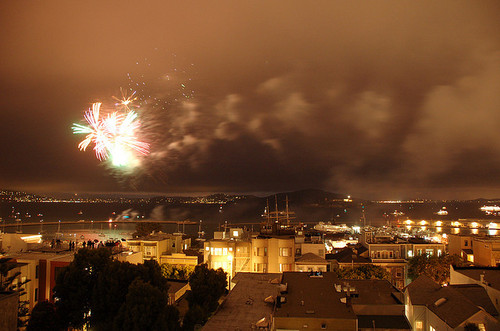 Photo credit: Brad Coy via Flickr
The states on the West Coast may not have been part of the country back in 1776, but that doesn't mean they don't know how to party on July 4th. San Francisco's Independence Day celebrations take place at Fisherman's Wharf. There's a free concert starting at 4 p.m., with the fireworks being launched not far from Pier 39. Locals may tell you there are more interesting areas of the city in which to spend your stay than Fisherman's Wharf, but on July 4th there's no better place to be.
Book a San Francisco Fourth of July fireworks cruise or San Francisco Fourth of July dinner cruise

Gatlinburg, TN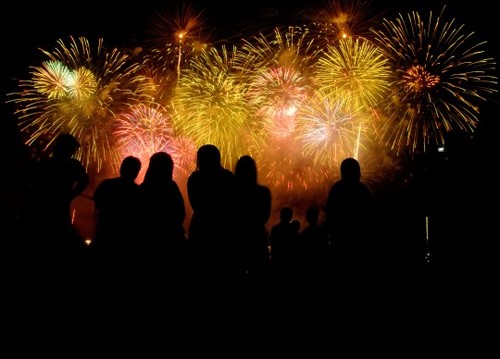 Want to get a head start on celebrating July 4th? Then you'll want to be in Gatlinburg, Tennessee, home of the country's first Independence Day parade each year. The parade kicks off at midnight, as it has since 1976, and this small town attracts people from far beyond its zip code. You might need a brief nap after the parade to be sure you're bright-eyed and bushy-tailed for the River Raft Regatta at noon (you can enter "anything floatable") and the fireworks display over downtown Gatlinburg.

Honolulu, Hawaii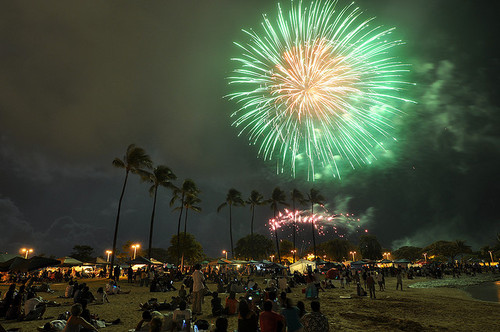 Photo credit: Kyle Nishioka via Flickr
Spending July 4th in Hawaii may make you feel like you're light years away from the country's independence celebrations, but most Americans don't get to brag about snorkeling or surfing by day and watching fireworks that night. To make friends and family even more jealous with your holiday travel tales, book a spot on a luxury Oahu dinner cruise for July 4th -- you get a lavish seven-course dinner, live jazz music performances, and a great view of the fireworks over Oahu.

Key West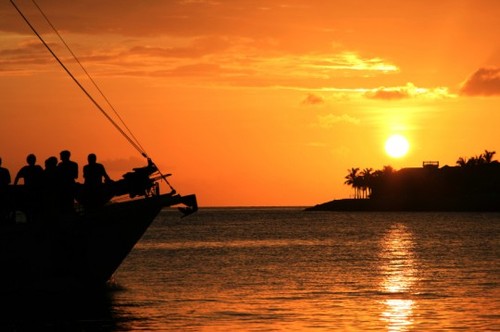 Key West is a known as a great party destination all year round, and the small island gets even more festive for the 4th of July holiday. The day starts with the 5k run, and in the afternoon there's an annual Harbor Walk bar crawl or the annual picnic on the beach to choose from. But of course, the real action starts once the sun goes down, and fireworks light up the night sky over the blue waters of the Caribbean.

St Louis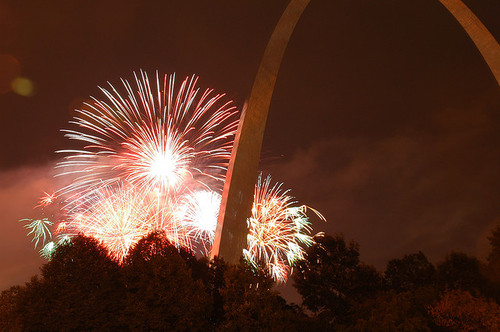 Photo credit: Patrick Yodarus via Flickr
You'd expect a city the size of St Louis to have an all-day party on July 4th that culminated in a fireworks show, but they take it a step further, extending the celebrations for several days after the 4th. It's a party you may need some stamina to survive. The festivities kick off with a fun run, and other activities on the 4th include an air show and music concerts. The fireworks display caps off the evening of the actual holiday, but pyromaniacs take note - St Louis repeats the evening fireworks show twice more during the three-day party.

Mount Rushmore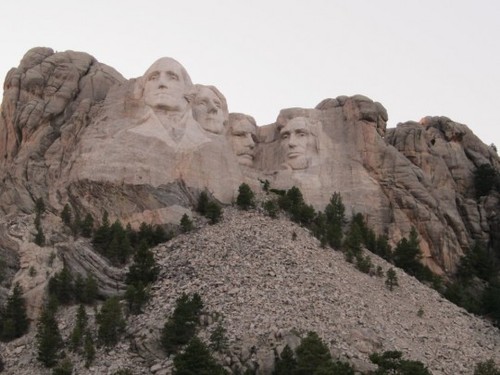 For a more subdued Independence Day, consider Mount Rushmore. With some of the nation's founding fathers serving as a backdrop, the Independence Day celebration at the Mount Rushmore National Memorial (which primarily takes place on July 3rd) includes ceremonies honoring U.S. military veterans and POWs, impressive military flyovers, and cultural celebrations of American heritage. Due to the risk of wildfire, there aren't any fireworks at Mount Rushmore - but that doesn't make the celebrations any less impactful.
Read more about holidays around the world
- Jessica Speigel for Viator