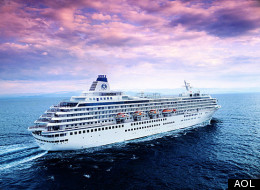 Cruises: you either love them, or you hate them. The lovers appreciate the luxurious amenities, round-the-clock pampering and experiencing multiple new (and often exotic) destinations without having to deal with a plane, train or automobile.
As for the haters, many who claim cruises aren't for them have probably never actually taken one, thinking cruises aren't their style or don't allow for a true experience of the local cultures in the various ports of call.
But ask any avid cruiser and they'll tell you that none of this is true. While you could easily spend all your time on board the ship, enjoying all the comforts of home (and way more), the only thing stopping you from having incredible, unforgettable experiences in port are your own misconceptions about cruise travel.
And so, here's the real story behind five common myths about cruise travel.
Five Common Myths About Cruise Travel
False! According to the Cruise Lines International Association (CLIA; www.cruising.org) the average cruiser is 49, with more than 25% of all cruisers age 40 or younger. It's easy to do a little research and find the cruise that's right for you: different cruise lines, ships and even different routes can attract varied groups of travelers. Some will be more popular with families while others may attract a younger singles crowd. A little pre-trip planning can ensure the right fit.

False, again! Shuffleboard and bridge have been replaced (or at least joined) by rock climbing, ice skating, skeet shooting, cooking lessons, wine tastings and even golfing. And then there are ports of call and shore excursions (the ships are great but the destinations are the real reason we travel). Like liquor and gambling, shore excursions are a real money maker for the cruise lines, and they want you to believe they're the only game in town. But in fact, there are alternatives to booking excursions with the cruise ship that you can -- and should -- consider when planning your shore excursions. Booking a tour on the dock can save you some cash in certain instances, but it's a riskier option as nothing is guaranteed (from service to experience to getting back to the ship in time). Booking with a reputable travel site is a better bet, giving you more control of what you'll do in port and how much you'll pay for it, as well as access to reviews and photos. From traditional excursions to private guides, there are great options to the cruise ship fare.

The sardines are in the water, not packed tightly onto the ship. Staterooms typically accommodate anywhere from four to eight people -- enough for an entire family to stretch out and relax comfortably. If the mega-ships don't appeal to you, there are small ship cruises that can accommodate a few hundred people or just a few dozen, and many can go where the big ships can't, leading to a more intimate experience in port as well.

While the all-you-can-eat buffets are tempting, spas, gyms, yoga classes and workout groups are just as plentiful on the open seas as on land these days, not to mention the opportunities for active experiences in port to stretch the legs and challenge the body. Depending on the destination, anything from hiking the coastal cliffs of Italy or the rainforest trails of Puerto Rico to ziplining, horseback riding, glacier walking and scuba diving will burn plenty of calories. But then again, no one would blame you for indulging in a pizza making class in Florence.

When the old "traveler vs. tourist" debate begins, the "traveler" will often cite the cruise ship as the domain of the "tourist" -- the person who doesn't truly experience the authenticity of a country or culture, and who prefers the company of his own countrymen and the food of the ship. Others worry that one day in port won't allow them to really experience a destination. While there's a grain of truth to these criticisms -- how much can you really experience of the local culture while you're crammed on a crowded bus or hurrying through a tourist area -- the reality is you can have the experience of a local if you plan well. If the major attractions are on your "must-see" list, take advantage of excursions with "skip-the-line" access, then head away from the crowds to see another side of the destination. On a private or small-group excursion you could go wine-tasting in Bordeaux, take a culinary tour of Athens or snorkel on a deserted island in the Caribbean. Even with a short amount of time in your destination, you can learn about the local culture and make memories that will last a lifetime.
Follow Viator on Twitter: www.twitter.com/ViatorTravel