Before Rosa Parks refused to give up her bus seat in 1955, before Brown vs the Board of Education of Topeka, Kansas, in 1954, before Truman desegregated the armed forces in 1948 and before Jackie Robinson broke the color barrier in Major League Baseball in 1947, there was a group of 50 African American sailors in Port Chicago, California who made a stand for fair treatment in the segregated US Navy and were punished for it. Their story is connected to a massive explosion that occurred at 10:18 PM on July 17, 1944, killing 320 men, including 202 black sailors. The blast was so large that some thought it was a test of the atomic bomb. Its source was the huge cargos of ammunition, including 650-pound incendiary bombs, which the black sailors had loaded into the holds of two ships that would be heading out to the Pacific theater.
Obviously something had gone terribly wrong. The job of loading the ships was done by only African-American sailors who suspected the dangers but had no way to voice them to their superiors: They had received no special training in the handling of munitions and the supervising (white) officers made bets with each other as to whose crew could load faster. The sailors knew it was a recipe for disaster. After the accident, a core group of 50 black sailors refused to continue loading ships because it was so unsafe. They were accused of mutiny and faced a military trial where they were found guilty. One interested observer of the trial was Thurgood Marshall, then lead attorney for the NAACP. What followed was a story that would not die (particularly in the black press) despite the Navy's attempts to keep the lid on it to avoid embarrassment. But it added to the pressure on the U.S. military to desegregate. Four years later Truman gave the order to integrate the armed forces, the first institution in the United States to do so.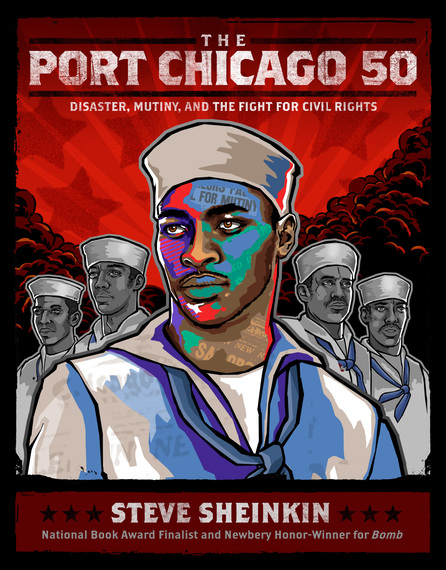 This story, in all its riveting detail, is told by master storyteller, Steve Sheinkin, in his new book, The Port Chicago 50. It's aimed at kids age 10 up but adults would enjoy it as well. Steve Sheinkin once wrote textbooks. He quit because they clipped his wings. His previous books, The Notorious Benedict Arnold and Bomb! won numerous awards including Yalsa, Boston Globe-Horn Book, Sibert, Newbery Honor and National Book Award Finalist. Like his other books, The Port Chicago 50 is a huge departure from the usual dry reading for young people studying American History. Kids need to read books like this to put humanity into the basic principles of America and how we have struggled to live up to them. It can make them thirsty to learn more. February is Black History Month. Reading The Port Chicago 50 is one great way to observe it.
You can read starred reviews of The Port Chicago 50 here and here. This is the kind of nonfiction the Common Core State Standards mandate children read.