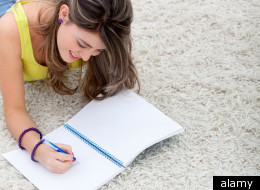 Love it or loathe it, the memoir is thought of by many readers and critics as the most popular and relevant book genre of our time. Depicting life's messiest moments, memoirs provoke strong feelings; just mention the M-word at a dinner party and watch the sparks fly. Now writing a memoir has become all the rage--whether written one blog post at a time, or offline, page by page. Unfortunately, many would-be memoirists stumble on the same writing hurdles: if only it wasn't so tough to begin, figure out a plot line, recreate conversations you had five months or five years ago, and keep it all interesting until arriving at "the end."
So, to demystify the process, let's forget for a moment that you're aiming to fill 200-plus pages. Refrain from comparing the aftermath of your divorce to that of Elizabeth Gilbert. And, wait before visualizing your baby picture splashed on a book cover or I-Pad screen. Start by thinking of your memoir as a lower-stakes hobby, like, say, furniture refinishing. If your memoir was a piece of furniture, it would be grandma's antique rocker. You've been saving that old piece in the attic so that one day you can restore it to its former glory. You've never restored anything before, but how hard can it be? You've even bought the tools on E-bay. Meanwhile, the rocker accumulates more dust; waiting for you to mean it when you say it: "Okay, today I do it."
If that doesn't work, here are ten secrets for getting started and finishing--gathered for The Complete Idiot's Guide to Writing a Memoir [Alpha, $15.95]. They come from some famous memoir writers and revered memoir teachers. Use their advice to write the true story only you can tell.
"The scariest moment is always just before you start. After that, things can only get better," wrote Stephen King in his inspirational "On Writing, A Memoir of the Craft." Here's a secret. That sense of dread King speaks of, the one that bubbles up as you stare at a blank page or screen is totally familiar to every writer, no matter if it's his first chapter, or, like King, book number fifty-something. The trick, writers soon learn, is to tell that icky feeling to go wait outside while you simply begin writing--putting one word after another just as you put one foot down and occasionally fell on your ass before getting that walking thing right. You should definitely not worry about the quality of what goes on the page, at least not yet. The second secret known to every successful writer is that all first drafts are terrible. They're supposed to be that way, so you can get past the warm-up stage to the better stuff--without giving up.

Your goal is to find the universal in the particular. Case in point: every daughter is mortified by her mother's behavior at some point in her life--usually during the teen years. For gossip columnist Jeannette Walls whose mother became homeless and showed up in the same Manhattan neighborhoods where her adult daughter lived and worked this experience was taken to the max. And yet, as Walls describes it in her memoir, this unexpected encounter between a homeless mother and her dressed-to-the-nines daughter is both accessible and poignant. Perhaps that's why The Glass House remains at the top of the bestseller list after three years.

According to most religions, before gaining admission to paradise, every human soul must pass through a steely locked gate manned by a gatekeeper. His job is to help the recently deceased carry out an exhaustive review of the life just completed. This review is said to include all your good and bad deeds, which fly by as if in a movie, each action or omission up for discussion. Another term for this conjectured experience is judgment day. Writing a memoir is like stealing some of the gatekeeper's thunder by doing at least part of your life review while still alive and well. It's an empowering process of taking random events and putting them into a plot line of your own making--thus giving your life the meaning you believe it deserves. Even if, like little Colton Burpo author of the world wide memoir sensation, "Heaven is for Real" (as told to his pastor father Todd Burpo), your judgment day (at least the dress rehearsal) arrives before you've made it to puberty.

It's your book, so you can write what you want to; right? To a point, yes, absolutely. Athletes, actors, heads of state, and plenty of nobodies have published memoirs to put their own spin on something untoward or controversial that happened in their lives. Bill Clinton, who wrote a 1,056-page autobiography titled simply "My Life," hoped his account of two contentious terms in the White House would set several records straight. About his memoir, Clinton quipped, "They say a lot of presidential memoirs are dull and self-serving. I hope mine is interesting and self-serving." Wanting to settle a score or make an apology are perfectly valid motives for writing a memoir. But, take care, settled scores and apologies don't necessarily translate into engrossing reads.

It may seem odd for me to take this moment to define the word "true" and differentiate it from "false," at least for readers who are presumably over the age of six. However, book-ended as we are by reality TV and the recent high profile antics of some fiction writers posing as memoirists, here is my golden rule for writing "the truth" in a memoir. First and foremost, don't deceive your reader. Specifically: don't add things that never happened; don't combine two events into one; don't make up conversations or exaggerate what you did or what happened to you. If you are speculating on any of the above based on your own incomplete memories, simply tell your readers what you're up to. They will stay with you--if you're honest.

Psychotherapist and memoirist Linda Joy Myers, who is also president of the National Association of Memoir Writers, wrote in "The Healing Power of Memoir," "Deeper knowledge and forgiveness of yourself and others through writing can lead to a lightening of past burdens." She adds, "This, of course, can be beneficial and healing for the writer." And she's absolutely right. Myers points out that the verb "re-member" means to bring together different parts of oneself to become whole. Once you start writing a memoir, she says, particularly if you set a daily time and stick to it, the act of writing becomes a habit, which many writers ritualize and further dignify by thinking of as a time for daily emotional and spiritual renewal. The benefits then multiply over the months and years of maintaining your practice. A finished book of memoir is only one of many positive results that will derive from such a practice.

Most families hold in their histories at least one emotionally explosive secret. Not always completely hidden, sometimes it's hiding in plain sight. Usually a family secret concerns a perceived scandal or person banished from the fold--an illegitimate child or deserted spouse, a stolen inheritance, a crime committed but not reported, or, as happened in my family, a mentally ill family member who is banished from sight. As I tell in my memoir, "A Lethal Inheritance," some secrets, such as a loved one's suicide misrepresented as a tragic accident, can be deadly. This is true when, as was the case with my oldest son, a child suffers symptoms of a serious mental disorder and needs a complete and honest mental health history in order to get the right treatment. Once revealed, such a secret can free the living from the burden of an illness that runs in the family and enable recovery. No matter what the secret or hidden tragedy, a memoirist whose story is multi-generational must be prepared to dig through many layers of silence, obfuscation and sometimes outright lies to get at the truth, and tell her story.

The essence of what every writer does is revise and rewrite. Some writers do this every day, while others wait until they finish a complete chapter or book draft to hack or trim their work. Author of the memoir classic, "An American Childhood," Anne Dillard unsentimentally compares revising a manuscript to processes involving sharp tools such as a wood carver's knife, the coal miner's pick, and a surgical scalpel. In The Writing Life she envisions the author's instrument as an axe at a woodpile, advising those who are revising their work to "Aim for the chopping block. If you aim for the wood, you will have nothing. Aim past the wood, aim through the wood; aim for the chopping block." Some writers find it useful read their pages out loud while revising, while many share a chapter at a time with members of a writers' group, seeking feedback to discover what others are and aren't getting from their writing.

For the past three decades, millions of self-help readers have defined the turning points in their lives through Gail Sheehy's landmark 1989 book, "Passages." In it, Sheehy tells her legions of readers "The power to animate all of life's seasons is a power that resides in each of us." Her advice has special meaning for memoir writers will who get the most bang for their buck when writing about a single life passage: coming of age; settling into or breaking out of marital commitments; reaching midlife and weighing life's wins and losses. In her latest book, "Passages in Caregiving," Gail Sheehy demonstrates this by writing about her husband Clay Felker's long illness and her trials and personal growth as she becomes his caregiver. With irony, Sheehy describes herself before and after she got the bad news about Felker's turn for the worse: "What was I thinking in that beauty salon just before Clay's surgeon called to announce, two years after the fact, that we had a new visitor in our lives--cancer? A profound issue: whether I could fit into last year's theater suit. That night, we were joining friends for Zubin Mehta's farewell concert at the New York Philharmonic. As I hung up numbly, I remember thinking, "We will never be carefree again." Such is the everyday stuff of engrossing memoirs.

This one comes from Adair Lara whose no-nonsense approach to writing personal narrative, as hilariously recorded in her latest book, "Naked, Drunk and Writing," reflects her career as a newspaper columnist for the San Francisco Chronicle and author of the best-selling mother-daughter memoir, Hold Me Close, Let Me Go. On the first day of a memoir workshop she taught, Lara stunned our group of aspiring memoirists when she told us that a decade was the minimum amount of time we should let pass between the experience of a traumatic event and any attempt to depict it. She immediately drew fierce objections from several students who had already begun excoriating their last boyfriends on the pages of their memoirs. Lara's point is on target: without sufficient time to reflect, a memoirist might deliver plenty of drama, but her writing will lack the answer to the all-important question: So what?
Follow Victoria Costello on Twitter: www.twitter.com/VCpsych