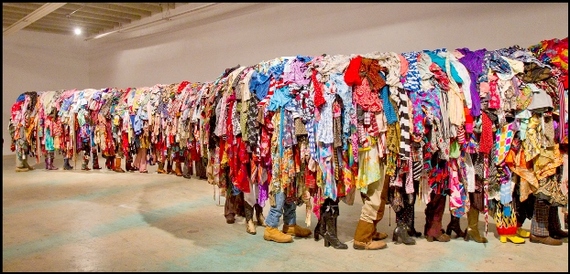 Wynwood, one of Miami's historically troubled neighborhoods, is now an art destination. The area's transformation can be credited in large part to developer Tony Goldman. His idea was simple: Buy some buildings, put up a restaurant and create an outdoor street art museum. The neighborhood now boasts at least 50 galleries and dozens of murals in addition to those at Wynwood Walls.
This slideshow explores the area, which was thronged with art lovers from around the world Dec. 5-8 for Art Basel Miami Beach.
For more about the slideshow, check out the Traveldudes story at VISITFLORIDA.com.
15 Awesome Ways to Experience Art in Miami
Eleanor Elgart (left) and Susan Mildworm take in the art at the Zadok Gallery in Wynwood with a piece by Chuck Close of Brad Pitt looking over their shoulder. The women were on Susana Baker's Art Experience tour, which traverses the Wynwood, Midtown and Design District neighborhoods of Miami. Photo by Patrick Farrell for VISIT FLORIDA

Cigar roller Selvin Ferrera smokes in front of a mural by Diana Contreras at the Wynwood Cigar Factory. Photo by Patrick Farrell for VISIT FLORIDA

Norma Moskowitz peers into a work by Rashid Johnson while on the Miami Art Experience tour. Photo by Patrick Farrell for VISIT FLORIDA

A visitor looks at art hanging in the Zadok Gallery in Wynwood. Photo by Patrick Farrell for VISIT FLORIDA

Musician Otto Von Schirach was filming a music video in front of a mural in Wynwood as the Miami Art Experience, a tour of art in the Wynwood, Midtown and Design District neighborhoods of Miami, happened by. Photo by Patrick Farrell for VISIT FLORIDA

A piece by Guerra De La Paz at the Center for Visual Communication in Wynwood, a stop for the Miami Art Experience, a tour of artworks in the Wynwood, Midtown and Design District neighborhoods of Miami. Photo by Patrick Farrell for VISIT FLORIDA

A group, led by Susana Baker, on a tour of the De La Cruz Collection. The Art Experience exposes participants to a variety of art within the Wynwood, Midtown and Design District neighborhoods of Miami. Photo by Patrick Farrell for VISIT FLORIDA

Cigar roller Belinda Ortez puts rings on cigars in front of a mural by Diana Contreras at the Wynwood Cigar Factory. It's just one small part of what can be seen via The Miami Art Experience, a tour through the Wynwood, Midtown and Design District neighborhoods of Miami. Photo by Patrick Farrell for VISIT FLORIDA

Photographer Odalis Valdivieso rides her bike past a mural in Wynwood, one of the stops the Miami Art Experience tour through the Wynwood, Midtown and Design District neighborhoods of Miami. Photo by Patrick Farrell for VISIT FLORIDA

Craig and Michelle Goldstein walk out of the Cartier store in the Design District. Photo by Patrick Farrell for VISIT FLORIDA

Tour guide Susana Baker walks past a work by Gabriel Dawe at the Zadok Gallery in Wynwood. Baker leads The Art Experience tour, which introduces participants to the exploding arts scene in Miami's Wynwood, Midtown and Design District neighborhoods. Photo by Patrick Farrell for VISIT FLORIDA

Karen Salup peers into a work by Rashid Johnson at the De La Cruz Collection in the Design District. Photo by Patrick Farrell for VISIT FLORIDA

Esther Percal enjoys Cuban coffee she makes at Las Tias, her vintage store in Wynwood. Photo by Patrick Farrell for VISIT FLORIDA

A group tours the The Art Experience by Susana Baker at the De La Cruz Collection. Photo by Patrick Farrell for VISIT FLORIDA

Craig Corbin (in cowboy hat) talks with staff at the Egg and Dart restaurant in the Design District. Photo by Patrick Farrell for VISIT FLORIDA
Follow Visit Florida on Twitter: www.twitter.com/VISITFLORIDA