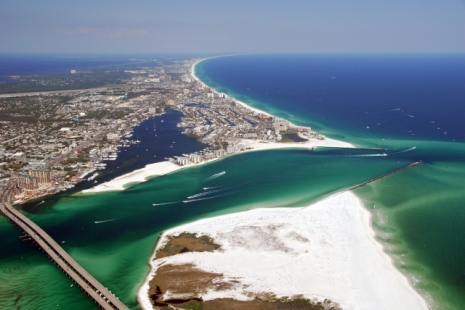 Photo courtesy of Emerald Coast CVB
Beaches. Bikinis. Sand. Surf. The more Florida changes, the more summer in the Sunshine State blissfully stays the same. We fly here, we drive here, we live here for fun and frolic and stories both wild and wistful. We come for that first whiff of coconut Coppertone as we step onto a seaside paradise. None of that has changed over the years.

But the music has.

Our summer soundtrack in Florida -- the party songs, the sunset songs, the songs that remind us of that one time in Destin (above), in Miami, in love on St. Pete Beach -- has shifted with the times just like the top of pop charts.

So here's an epic Visit Florida playlist to celebrate not just our state, but our sonic state of mind over the years. Some of these 60 tracks were born in Florida; some were born elsewhere but feel like July in Daytona Beach, in Sarasota, in a spinning teacup at Dizzy World. Some songs are fun. Some are bawdy. And some always seem to make us cry.

Now let's hop in the time-traveling jukebox, shall we?

1950s
Stagger Lee, Lloyd Price
Aw yeah! How good is this? Let's hit the beach and do the shag, surfer girls and boys!
Tutti-Frutti, Little Richard
Summertime Blues, Eddie Cochran
Sh-Boom, the Chords
Low and slow, everybody.
Sea Cruise, Frankie Ford
Smoke Gets in Your Eyes, the Platters
Tequila, the Champs
The Stroll, the Diamonds
Red River Rock, Johnny & the Hurricanes
See You Later Alligator, Bill Haley & the Comets
Come on, you knew this one was coming.

1960s
Follow That Dream, Elvis Presley
Filmed in Citrus, Marion and Levy counties, 1962's Follow That Dream had a swingin' title track with a groovy road-trip vibe. Per usual, the King sings the hunka-hunka heck out of it, too.
Beach Blanket Bingo, Frankie Avalon & Annette Funicello
Louie Louie, the Kingsmen
Thanks to Animal House, this is a spring-break must, especially if you pledged Delta House. "Seven years of college down the drain."
Sunshine, Lollipops and Rainbows, Lesley Gore
Fun for the first three listens -- then the very definition of madness.
All Day and All of the Night, the Kinks
Brown Eyed Girl, Van Morrison
From the Gainesville college bars to the wine bistros of Palm Beach, this one remains a happy-hour classic.
Under the Boardwalk, the Drifters
Fun, Fun, Fun, the Beach Boys
Twist and Shout, the Beatles
(Love Is Like a) Heat Wave, Martha Reeves & the Vandellas

1970s
Ev'rybody Wants to Be a Cat, Phil Harris, Scatman Crothers and more
Walt Disney World officially opened on Oct. 1, 1971 -- and officially changed everything. So we pick this swingin' feline jam from 1970 Disney 'toon The Aristocats.
Sunshine on My Shoulders, John Denver
Tissue, please.
Time in a Bottle, Jim Croce
Yikes, this is getting brutal. Let's pep things up here.
Summer Nights, Olivia Newton-John & John Travolta
I'm Alright, Kenny Loggins
You Are the Sunshine of My Life, Stevie Wonder
Changes in Latitudes, Changes in Attitudes, Jimmy Buffett
American Girl, Tom Petty & the Heartbreakers
There, that enough home cookin' for you?
Flirtin' With Disaster, Molly Hatchet
The last time I did a playlist for Visit Florida, I left off these Jacksonville scruffs and, wow, did I hear about it. So here you go.
Gimme Three Steps, Lynyrd Skynyrd
More Florida boys
You Shook Me All Night Long, AC/DC
Chances are good that if a beach bar plays this song, a wild night out - and possibly bail money -- is not far behind.
Pour Some Sugar on Me, Def Leppard
The Tide Is High, Blondie
Love Shack, the B-52s
It Takes Two, Rob Base & DJ E-Z Rock
Jack & Diane, John Mellencamp
Perfect for thinking about all those summers ago... and the one guy or girl that got away.
Watching the Wheels, John Lennon
Girls, Girls, Girls, Motley Crue
"The Dollhouse in Ft. Lauderdale." Is that a toy store? Sounds delightful!
Let's Go Crazy, Prince
Bust a Move, Young MC

1990s
Everybody (Backstreet's Back), Backstreet Boys
Gotta represent the Orlando boy-band machine. Or not.
Baby Got Back, Sir Mix-a-Lot
Friends in Low Places, Garth Brooks
Greatest last-call sing-along of all time? Discuss!
Champagne Supernova, Oasis
The line about the "summer" destroys me.
Gonna Make You Sweat (Everybody Dance Now), C+C Music Factory
Buddy Holly, Weezer
Good Riddance (Time of Your Life), Green Day
Good Vibrations, Marky Mark and the Funky Bunch
Because I used the Beach Boys' Good Vibrations last time, and because, well, there was a lot of cheeseball music in the '90s.
The Rockafeller Skank, Fat Boy Slim
Summertime, DJ Jazzy Jeff & the Fresh Prince

The 21st Century
Stick With Me Baby, Robert Plant & Alison Krauss
Here's what you do: Share an iPod with a paramour. Both of you get an ear bud. And play this duet as you stroll, hand in hand, down the beach.
Summertime, Kenny Chesney
Boys From the South, Pistol Annies
Yeah, Usher
Produced by Lil Jon, and featuring that booty-smack rap by Ludacris, this Usher smash is one of the hottest club-bangers of all time. Gotta have it on here.
Working on a Tan, Brad Paisley
Teenage Dream, Katy Perry
All Night, Damian "Jr. Gong" Marley
This slammin' reggae goodness is my gift to you. Trust me. Get thee to iTunes.
Vaporize, Broken Bells
This one will sneak up and break your heart.
You're So Cool, Hans Zimmer
It's Five O'Clock Somewhere, Alan Jackson & Jimmy Buffett
Here's to you and another great summer in Florida. Cheers, everybody!
Sean Daly is the pop music critic at the Tampa Bay Times. Follow @seandalypoplife on Twitter. Daly is an occasional contributor to Visit Florida.
SUBSCRIBE AND FOLLOW
Get top stories and blog posts emailed to me each day. Newsletters may offer personalized content or advertisements.
Learn more