The Just Like My Child Foundation family has unfortunately lost one of our most treasured and significant team members on the ground. Sadly our Construction Supervisor, George William recently passed on from complications after surgery at Malogo Hospital in Kampala from an obstruction in his intestines. This has been a shocking and tragic loss for everyone who knew this incredible man. Our JLMCF on the ground team attended George William's burial and extended all of our condolences. They celebrated his fascinating life and unwavering dedication to helping the people of Uganda in true Ugandan style with his family and friends.
George William
Construction Supervisor
George William was the fabrication Genius behind JLMCF's Universal Education Program. He worked with our project coordinators to create school building plans and then transforms those creations into safe and shining learning environments where eager and knowledge hungry Ugandan children can thrive.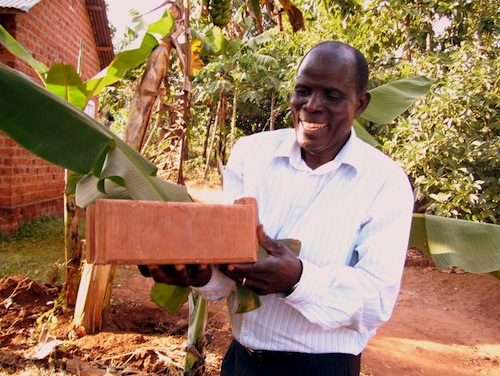 Photo by Vivian Glyck
George William was a person whom you would never hear gloat, but we will not hesitate to brag about the wealth of experience that this accomplished man brought to our team. A moment in his presence told the story of an individual with a steady and true wisdom that comes with years of life and building experience. He was well known and respected within the communities we serve and came highly recommended by our project coordinators. Before joining us on our first ever school building project, George William worked for decades in building schools with Plan International. He never failed to continually design feasible and appropriate blueprints, budgets and plans that incorporate JLMCF's methodology and vision. He commanded a quiet respect within every community he worked with, while at the same time setting an essential standard for ethical building practices.
George William had a knack for transforming perceived community constraints and limitations into opportunities for creative building solutions. He acted as a professional mentor and guide to both skilled labor and unskilled volunteers, who were contributing to the building process with an aim to achieve capacity building, community ownership and participation. Since joining our team as construction supervisor in 2008, he had proven an efficient builder, maintaining quality and safety, while still coming in under budget, which allowed for JLMCF to spread our resources across a larger population of communities in need of school buildings. George William had a gift for turning our big ideas and inspirations into real life sanctuaries for learning. Our favorite grandfather who certainly got the job done will be greatly missed and always honored.
George William's capacity building contributions to our programs and his expert building plans will continue to be drawn upon by JLMCF. Our school building projects are currently being carried out by his skilled apprentice, Mr. Akwong Janan Wilson, who has now graduated to Construction Supervisor through George William's guidance and support.