The news of Bin Laden's death has captured world attention, and it's made me wonder, as civilians, how can we create our own counter-terrorism efforts? Here's my story:
A few weeks ago I told my 8-year-old boy that I was going back to Uganda in May to work "on the ground." Usually, he's pretty matter of fact about it because it gives him extra time with Dad at home and I'm gone and back in a flash. This time though, he got thoughtful and seemed sad, he said, "I didn't know you were going back to Africa."
My heart sunk a little bit as it usually does whenever I feel his disappointment, so in the next breath I said, "You can come with me and then we'll be together." Now this is a conversation that's been going on for several years. I've raised this boy on images and video of the issues on the ground in Uganda. He's spent afternoons sitting on my lap as I sort through photos of the children we've grown to love and their parents whose burden we have begun to lighten.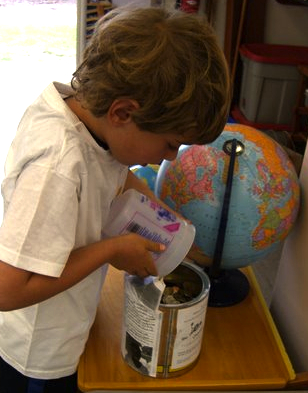 He's heard many stories about how deadly malaria is and he's even raised money at his school to buy insecticide-treated bed nets. Understandably, he's been a little nervous about coming with me to Uganda and has always said "Maybe next time" when I've invited him in the past!
So when he answered this time, "Yes, I want to come with you, Mama," it was evident that he had carefully thought it through and he knew he was ready.
My love for my son inspired me to start Just Like My Child Foundation five years ago to help mothers and children who were in desperately vulnerable circumstances. There's nothing I wouldn't do to keep my child alive, healthy, and educated and I wanted to do whatever I could to help other mothers do the same for their children.
And, as a civilian, there's no better counter-terrorism approach than to educate and feed the minds of children who are in situations that we just wouldn't stand for in this country. As my hero Bono once said, "If you don't do it for the humanity, then do it for the security."
I've witnessed extreme poverty create extreme desperation. Either "we" get there first with education and a way to help families be self-sufficient, or terrorists do with hate education and big payments to families when one of their children becomes a suicide bomber.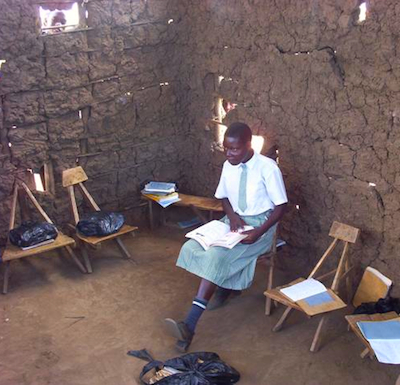 I told my son about the many schools we have built in Uganda and how the government of Uganda doesn't have the money to support the schools with basic necessities like desks, chairs, books, pencils, paper, chalk, etc. As a result, many of the students barely own a pencil, let alone a place to sit and study. If a child doesn't have the right tools, it's nearly impossible for them to learn. And when they're not educated, the desperation just deepens because there's no possibility for a compelling future.
My son is very committed to bringing as much as he can to equip these schools. So from now through May 12 when we leave, he's hoping to raise $5,000 in donations to bring school supplies to children who dream about having what they need to learn and thrive.
Not only will we be doing our part to bring our values of education and justice to children half a world away, but my son will feel better knowing he can actually make a difference (it will also help him stop worrying about malaria).
Please help my son reach his goal by supporting Just Like My Child on our homepage, click here. Select 'School Supplies' or choose your own amount (only $10 provides a student school supplies for the whole year).
SUBSCRIBE AND FOLLOW
Get top stories and blog posts emailed to me each day. Newsletters may offer personalized content or advertisements.
Learn more