Before our recent Just Like My Child Foundation journey to Uganda, my time was spent helping my son count money and add up the pencils and crayons he raised in school supplies for the trip. We also had time for his school's Science Fair, which brought a ton of excitement as parents and students donated more money to his cause. Just before he went to bed that night, he said, "I know why all of these people gave so much money, Mama. It's because they listened to their hearts."
It was a very proud moment for me to hear those words of compassion. Last month I had the extreme honor and pleasure to see His Holiness XIV the Dalia Lama at UC Irvine. He spoke about compassion and global leadership, the role of ethical leadership, personal responsibility, and the opportunities for fostering global leadership qualities in our community.
I also had the pleasure of attending the Living Peace Series' pre-show in Orange County hosted by Kimberly Smith. The meet and greet during the Living Peace series was an inspiration in itself -- being in a room of like-minded individuals who share the same passion as I do but with different foundations or capacities to give, overjoyed me. To see Living Peace involve young adults in the giving process and engaging them in the ways they can create "living peace" was motivating.
Another highlight of the afternoon was meeting CNN Hero, Bruno Serato of the Anaheim White House. This man not only feeds the elite at his restaurant but he feeds nearly 300 homeless motel kids pasta dinners every night of the week! Just this past Tuesday Bruno and his restaurant (the only man and restaurant that does this nightly) reached 300,000 free dinners.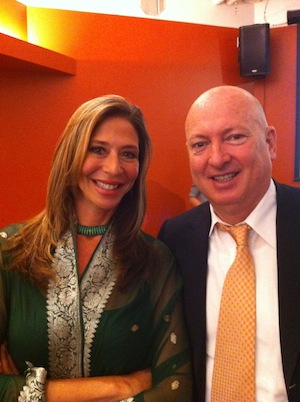 Photo by Vivian Glyck
So when my son tells me, "It's because they listened to their hearts," and I've listened to His Holiness' words of compassion and global leadership, and met Bruno Serato, I realized there is a world of compassionate heroes out there who listen to their hearts every day. And I know that an open heart breeds gratitude -- the greatest cure for our own and our world's woes.