One of the overwhelmingly joyful things about being in Uganda in May is that millions of mangoes are ripe! The trees are so heavy with ripe fruit, it's like a sweet bachanal. Men, women, children beat the trees with long sticks to coax the fruit down from nearly 50 feet high! Their reward is the sweetest, most perfect mangoes in the world. Every street vendor is selling them and you catch glimpses of everyone from grandmas to little kids, sticky with the juice. It is seriously mango fever in Uganda in the month of May. 2006 was the last time I was in Uganda in May. On every other visit, I just look longingly at the hard, green, tasteless fruit hanging growing in the trees. But this time we arrived right in time, and, it was a real treat to share that experience with my family.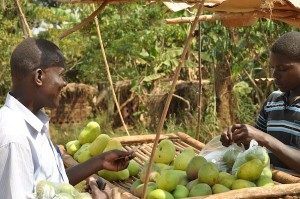 Photo by Vivian Glyck
Besides all the mango madness, we had some serious business to attend to at the Asili Dental Clinic. My son got to make friends and play soccer the real way - barefoot and with a deflated ball - that's what breeds the tenacity in the great African soccer players. He also delivered school supplies from his fundraiser to over 60 orphans and vulnerable children and to four of our six schools.
It was also the first time the Just Like My Child team members were all in Uganda at the same time. We had so many great discussions, long and fun evenings with some Nile beer (because as the Nile slogan goes, "You've earned it!" and we certainly did). We had to install a dental chair; Dr. Puja Shah and Lidia had a lot of dental practicing both with and without the new dental chair.
Photo Courtesy of JLMCF Volunteer, Photo by Lidia Trainer-Domagalska
So, my Huffington Post readers and wonderful supporters of the Just Like My Child Foundation be sure to stay tuned because we have a lot to share with you, especially with the many upcoming project updates, events, news from abroad, volunteer spotlights, and quite possibly a little more mango madness.
If you want to continue to see amazing change in rural Uganda donate here or check out our website for more information.

SUBSCRIBE AND FOLLOW
Get top stories and blog posts emailed to me each day. Newsletters may offer personalized content or advertisements.
Learn more