When 15-year-old Jillian was pressured by her father to marry too young to a much older man, she pushed back. Unlike many young girls in rural Uganda, Jillian knew that she had legal rights and couldn't be forced to marry against her will.
Many in Jillian's community in the Luwero district north of the capital of Kampala have long given up of the hope of any justice. They assume that the laws only exist to protect the wealthier in Kampala, where 95 percent of Ugandan attorneys live.
But Jillian's wiser and more empowered. She knew about her rights because her community had participated in our game-changing, groundbreaking Project Justice program.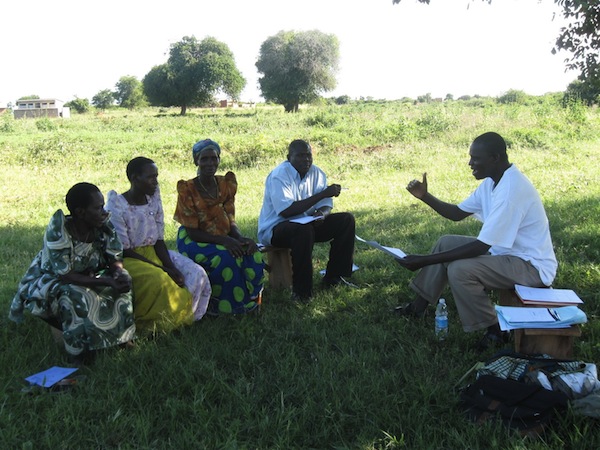 Photo by Vivian Glyck
Project Justice provides rural Ugandans with greater knowledge of and access to judicial information and processes to strengthen the legal safety net, especially for vulnerable women and children, like Jillian (not her real name). Now she is protected, no longer living at home and has escaped an early marriage -- if not much worse.
In rural Uganda, most people remain ignorant of most criminal and civil laws and how to uphold them. Couples don't even know if they are legally married. They view their children as "property", yet do not know if they even legally own their land and homes. They lose hope and are vulnerable to crime, anarchy, and terrorism.
We demand and work for change. With the African organization FIDA, weaving in legal and medical personnel and community members, we've helped people protect themselves from crime, fraud, and abuse by investing in:
Paralegal training of legal and medical personnel (more than 1,000 trained so far in 50 rural communities)
Processes that allow people to immediately access counseling, medical and legal intervention, and report all crimes to the legal authorities
Practices that allow the expedition of the collection of proper medical evidence, reporting, documentation, and legal prosecution according to Ugandan laws
Personal training so people feel empowered, confident and secure in seeking legal help
It's hard for us to imagine the legal and human atrocities that constitute daily reality in Africa. Yet they also represent an opportunity for widespread cultural change. Where rape is often not considered a crime or women are tossed out of their homes for not cooking well, we have to stop looking away. Where children are often viewed as property, or forced as young as 12 into prostitution -- we have to act now.
The world won't change and people won't claim and exercise their rights if the legal system and widespread access to it doesn't. Help us fuel this justice movement at Just Like My Child Foundation.
Follow Vivian Glyck on Twitter: www.twitter.com/justlikemychild