An Uplifting Story for a World in Financial Crisis! The multi-talented Phyllida Lloyd, director of Mamma Mia!, the highest grossing film ever made by a woman (and a team of women at that) has attached herself to the development of a feature fiction film based on the spread of microcredit around the world. She is also a highly regarded theatre director and her current production of Schiller's Mary Stuart on Broadway has been nominated for multiple Tony awards.
Muhammad Yunus won the Nobel peace Prize in 2006 for his pioneering work of loaning tiny amounts of money to the poorest women in Bangladesh and now the UN reports the system has spread to over 100 countries, lifting over 100 million out of poverty.
"Yunus has thrown down the gauntlet to all of us," Lloyd said." How to live our lives. If the poorest of the poor can transform their worlds, what excuse is there for the rest of us? This is an astonishing story of not taking 'no' for an answer."
The film was initiated in Paris, by producers Christian de Boisredon, Vivian Norris de Montaigu (yep, that's me) and Nicolas Jourdier, who began working closely with Prof. Yunus prior to his winning the Nobel. Dr. Yunus decided to work with the trio because they had international backgrounds working with microcredit and social business and women living in poverty. They also plan to make sure that the film is distributed even in the poorest countries of the world where microcredit can do the most good and are in talks with several organizations to assure that this happens.
"This is not just a film, it is about believing that everyone has the potential inside him or herself to create their own world, to empower themselves, and live a life of dignity as a human being. There is no reason for people today to live in such dire poverty when there is such great wealth in the hands of such a small amount of individuals and companies. Microcredit allows women to be part of the change taking place in the world today towards creating a more just society. When my daughter took me to see "Mamma Mia!" I knew that this kind of uplifting quality of joyful celebration of women had to be part of the film about Muhammad Yunus", stated Vivian Norris de Montaigu from Cannes.
David Thompson, the former head of BBC Films, came onboard with his newly formed Origin Pictures (which is behind the Cannes competition film by Jane Campion "Bright Star") to co-produce the feature. Francesca Marciano is to work on the screenplay. A first draft was created by Nicolas Meyer.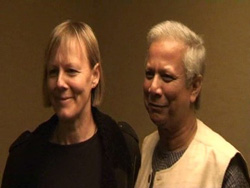 SUBSCRIBE TO & FOLLOW ENTERTAINMENT
HuffPost Entertainment is your one-stop shop for celebrity news, hilarious late-night bits, industry and awards coverage and more — sent right to your inbox six days a week. Learn more