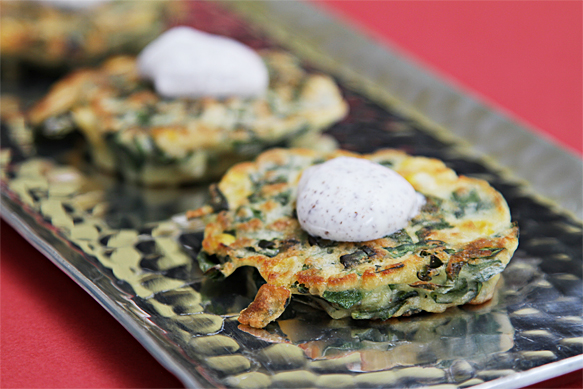 I think of collard greens as the most muscular member of the leafy green family. Indeed, even after being exposed to heat for a good period of time, the leaves remain quite firm. This, of course, makes collard greens an unusually versatile green veggie!
For these bite-sized pancakes, though, the texture of the collard greens needs to be more refined. So I resorted to cutting them in super-thin slices. This way they yield their wonderful crunch without compromising the delicateness of the tiny pancakes.
Moreover, the collard greens acquire a distinct mineral flavor when sautéed. Both the buttermilk and the sweet corn come to balance that a bit, and to add a delightful sweetness to the cakes. The dollop of sour cream infused with the tangy sumac adds a marvelous touch.
These savory pancakes are delectable as an hors d'oeuvre or finger food. But served with the sumac-infused sour cream on the side, they make a wonderful appetizer too.
Who says your collard greens should only be eaten stewed?!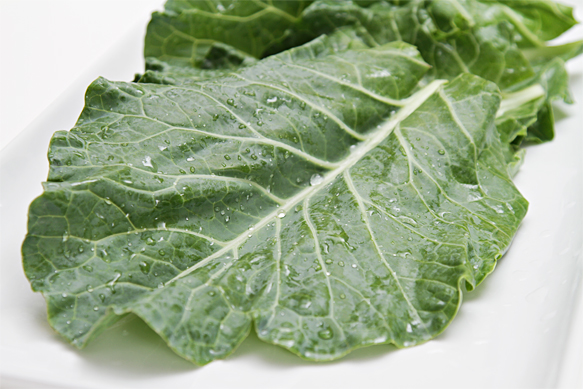 Collard Greens and Sweet Corn Buttermilk Cakes with Sumac-Sour Cream
Makes 16 bite-sized pancakes or serves 4
Active time: 40 min
For the sour cream
1/3 cup sour cream
1 teaspoon ground sumac
For the collard greens
8 oz (225 g) collard greens (5 large leaves)
2 tablespoons extra virgin olive oil
1/8 teaspoon ground cayenne
2 garlic cloves - skinned and finely chopped
1/4 teaspoon sea salt
For the cakes
1/2 cup unbleached all-purpose flour
1/2 teaspoon baking powder
1/4 teaspoon sea salt
freshly ground black pepper to taste
2 extra large eggs
1/2 cup cultured buttermilk
1 large ear fresh corn - husk removed and kernels shaved off the cob
1 1/2 tablespoons unsalted butter
Step 1: Place the sour cream and sumac in a small bowl. Stir well and refrigerate until ready to use.
Step 2: Rinse the collard leaves and pat them dry. Cut stalks off at the base of the leaves. With a paring knife, cut the leaves off along each side of the center stalk. Stack the leaves together, roll up tightly and cut in 1/4" slices. Then cut crosswise in 1/4" slices. Transfer to a bowl and set aside. Heat a large heavy-bottomed skillet to medium-high heat. Add the olive oil, cayenne and garlic. Sauté for 30 seconds until the garlic releases its flavor but doesn't take on any color. Add the greens and toss until well coated with the oil. Sauté for 2 to 3 minutes until wilted, tossing frequently. Sprinkle with the salt, toss again and continue to sauté for another 2 to 3 minutes, until the greens turn a darker shade. Transfer to a bowl and set aside.
Step 3: In a small bowl, mix flour, baking powder, salt and pepper. Set aside. Place the eggs in a separate bowl and whisk until well blended. Add the buttermilk and whisk again until well blended. Add the dry ingredients and, using a wooden spoon, mix until well incorporated. Stir in the corn kernels and the collard greens and set aside. Heat a large heavy-bottomed non-stick frying pan over medium-high heat. Add 1 tablespoon of butter. As soon as the butter is melted, spoon 2 tablespoons of batter (for each pancake) into the pan. Reduce heat to medium/medium-high and cook the pancakes for 2 to 3 minutes, until the bottoms are golden. Flip the pancakes and cook for an additional 1 to 2 minutes until the bottoms are golden. Add the balance of the butter to the pan and repeat with the balance of the batter as above. Place the pancakes on a large serving platter. Garnish each pancake with a dollop of sour cream and serve warm.
Can't find sumac? No worries... Substitute the sumac for 1/2 teaspoon of finely grated lemon zest and stir it in the sour cream. It adds a delicate lemony note to the savory cakes.
SUBSCRIBE AND FOLLOW
Get top stories and blog posts emailed to me each day. Newsletters may offer personalized content or advertisements.
Learn more