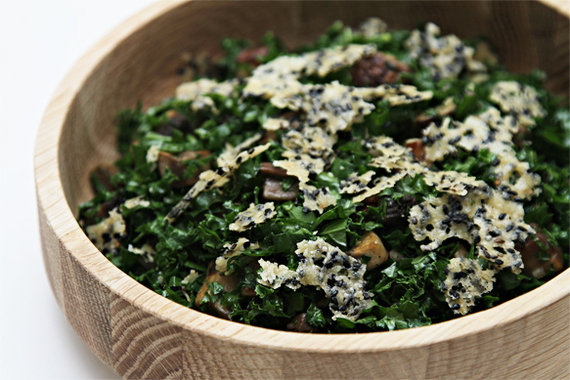 Kale leaves are a bit tough to eat raw, but chop them up and they suddenly become tender! Here the chopped kale is tossed with pan-roasted Portobello mushrooms that have also been cut in small pieces -- thus infusing every forkful of the salad with their robust flavor. The salad is then topped with savory bits of Parmesan and black sesame crisp.
The result is a chopped salad that's spunky and chock-full of flavor!
Kale Chopped Salad with Pan-Roasted Portobello and Parmesan-Sesame Crisps
serves 4
active time: 30 min
For the vinaigrette
2 tablespoons finely chopped shallots
1 1/2 tablespoons aged sherry vinegar
1/8 teaspoon sea salt
1/8 teaspoon ground cayenne
2 tablespoons extra virgin olive oil
For the crisps
1/2 cup finely grated Reggiano Parmesan
1 1/2 teaspoons black sesame seeds (or regular sesame seeds)
For the mushrooms
1 tablespoon unsalted butter
2 tablespoons extra virgin olive oil
12 oz (340 g) Portobello mushrooms (2 medium) -- cut in 1/2″ cubes
1/4 teaspoon sea salt
freshly ground black pepper to taste
6 oz (170 g) regular/curly kale -- leaves torn off the stems and medium chopped (6 cups)
1 large jelly roll pan (14″ x 17″) -- lined with Silpat or parchment paper
Step 1: To make the vinaigrette -- Place all the ingredients in a small bowl and whisk until well blended. Set aside.
Preheat oven to 350°F (190°C).
Step 2: To make the crisps -- Place the Parmesan and sesame seeds in a small bowl and stir with a fork until well blended. Spoon one heaping tablespoon of the parmesan mixture on the prepared jelly roll pan. Repeat to make 6 crisps. Flatten with your fingers to spread into a 3″ circle. Bake for 10 to 12 minutes until the Parmesan has melted and the crisps are golden. Transfer to a plate to cool to room temperature.
Step 3: To make the mushrooms -- Heat a large non-stick skillet over medium-high heat and add the butter. As soon as the butter is melted, add the oil and mushrooms, toss well and spread evenly over the whole surface of the pan. Sauté undisturbed for 2 minutes until the mushrooms begin to brown. Toss again and continue to sauté until the mushrooms are golden-brown, about 4 to 6 minutes, tossing only from time to time. Add the salt and pepper, toss again and remove pan from heat.
Step 4: To assemble the salad -- Place the kale in a large bowl and add the warm mushrooms. Toss well to coat the kale with the oil from the mushrooms. Add the vinaigrette and toss again until well coated. Transfer to a large serving platter or individual bowls. Garnish the salad with the Parmesan crisps, breaking them in medium-sized pieces, and serve immediately.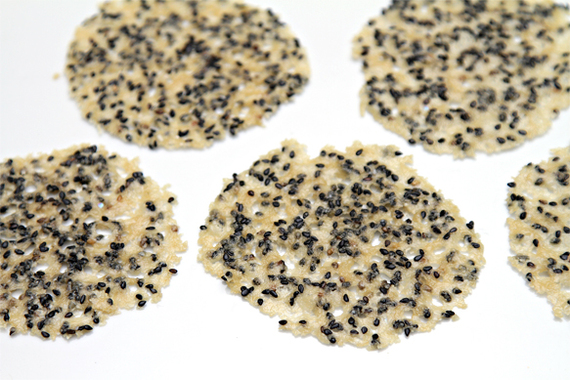 * * *
Here's another appetizer that's perfect for the colder months of the year: Balsamic-roasted baby beets with feta and pistachios.