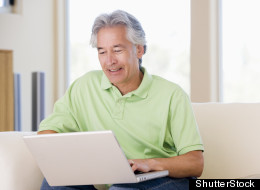 Are you one of the tens of thousands of men looking for a woman on an online dating site? Don't you wish you had the magic answer that would make finding a woman easier?
We all want that magic answer, but there isn't one. However there are things you can do to attract a woman -- if you know what women want from a man.
If you're looking for a woman who's over the age of 50 it helps to know a little something about us. Whether you're 35 and trying to find an older woman or you're 70 years old and want a younger woman, you need to follow some basic rules.
Women pay attention to the way an email is written and what it says. Take a few minutes to carefully compose that first email. Make sure you check for misspelled words. Do not use sentences like, "U R cute wanna go out?" You can be the hottest guy on the planet, but women want to know you can use complete sentences. Write at least one full sentence, one that helps start a conversation. Give her a reason to want to write you back. Personally, I'm not interested in dating a man who can't take the time to spell the word "you." Show me you've got some brains.
DO NOT send pictures of your penis. At all. Even if you're interested in sex, you don't need to show us your anatomy. Women are not as visual as men; your penis isn't going to turn us on this early in the game, it will just gross us out. The early part of any dating relationship is about deciding if we have anything in common. Sex comes later.
In the email or the phone call or first date, take the time to ask us questions. Don't go on and on about yourself. Show that you want to learn a little about the woman you're talking to. No woman wants to date a guy who's completely self-centered and talks too much.
If you look at profile pictures of a woman you probably won't see a photo of her car or house. Women don't show off their "toys" as much as guys do. And, we're not really interested in seeing your new motorcycle. She might move on before they've had a chance to figure out what you're like. Some women do like bikes and others might be persuaded to get on one because they like you -- but you've got to build some sort of connection first. We don't care how many cars or motorcycles or boats you have. We want to know if you're a nice guy, can pick a nice restaurant or like your job.
Don't talk about how difficult your divorce was or tell us about your last 10 dates. Bitterness is not attractive. Don't talk about sex right away. Don't show us your "stuff" or brag about size, stamina, frequency or how fabulous you are in bed. Just don't. We don't want to talk about that before we've even met you...or on the first date.
If you take a woman out on a date, make the date special. Show you're interested by being on time, taking some care with what you wear and having a good conversation. If you're going to a nice restaurant, then wear a nice pair of pants and a real shirt -- no t-shirts, please. If it's Saturday morning coffee, a more relaxed look is appropriate. It's nice to offer to pay on the first date, but perfectly acceptable to let her share the bill, if she asks. Women like gentlemen and will appreciate good manners.
Respect her requests when it comes to the first phone call and the first date. Women often need to feel safe when meeting a new guy. If she wants to block her phone number or meet you at a local coffee shop at midday, be willing to show you care about her safety needs. That little bit of understanding can go a long way to making her feel good about you.
Dating takes work; it requires a little effort on your part (and hers too) to make sure things go well. If she's not special enough for you to put out a little extra then maybe you should think about why you're going out with that particular woman.
Women aren't as complicated as you think. We're looking for the same things as you. We want a man who's interesting to be with, who is polite and nice, fun to be with and has a positive outlook on life and wants a woman in his life. We like sex just as much as you do, it's not the first thing on our minds. Women are eager to be asked out. They're ready to find a great guy and you could be that guy!
Earlier on Huff/Post50:
10 Tips From The Better Business Bureau To Avoid Online Dating Scams
Find out whether the dating service does any background checks or fraud scans before a person's profile is posted.

Be cautious if the person claims to be recently widowed or says they're an American stationed overseas, possibly in the military.

Watch out if the person immediately asks you to communicate on an email or messaging system outside the dating site. Some dating sites monitor exchanges for signs of fraud, and a fraudster may be anxious to lure you away from the site.

Do a Google search on the person. You can even paste the text of the email, profile description, or pictures into Google and search to see if similar text, pictures or descriptions are used by others. Some criminals create multiple profiles and use the same information over and over.

Run the other way if the person hints that they are in financial trouble or have another sudden need for money. (This can occur after months of online chatting.) If the person asks you to wire money--such as by Western Union, MoneyGram or Green Dot MoneyPak--it more than likely is a scam.

Check the person's name in online databases of sex offenders, which are available in many states.

If you decide to meet the person, go to a place where there are large numbers of people and where you feel safe. Consider taking someone along with you.
Follow Walker Jones Thornton on Twitter: www.twitter.com/WalkerThornton