THE BLOG
Understanding the AIDS Epidemic in Africa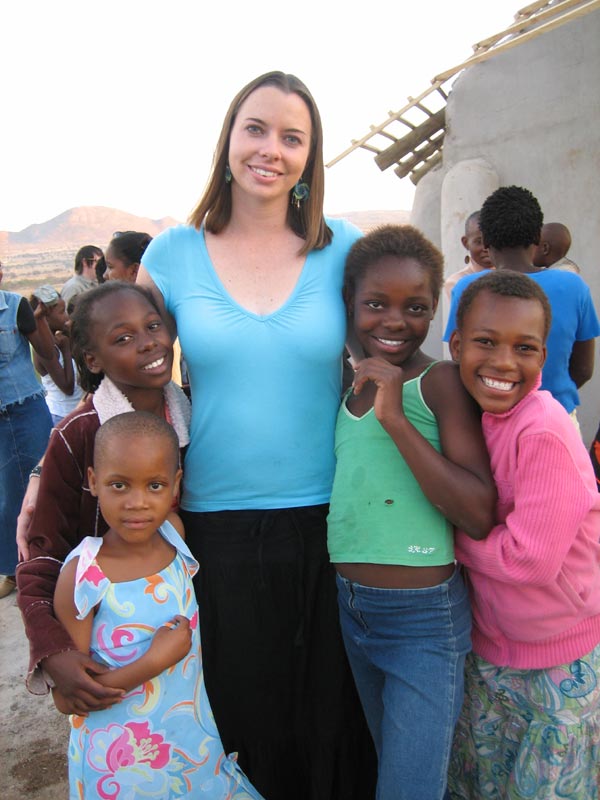 [Photo by: Wendy Cross]
Another World AIDS Day has come and gone. This day serves as a call to action to remember the millions of people in communities all around the world that are affected by HIV and AIDS.

However, AIDS weighs on my mind far more than once a year. It wasn't until four years ago that I even knew a person who had been impacted by AIDS. I had heard all of the statistics. I knew the severity of the pandemic, especially in counties such as Swaziland and South Africa with some of the highest prevalence rates in the world.

But the severity of the disease and the broader impact on life in affected communities was beyond my comprehension. That was until 2006, when I traded in my comfortable Los Angeles existence working in TV commercial production for a one-year volunteer stint in a rural South African village. My new home at NextAid's Community Center construction site was located in the rural township of Dennilton, Mpumalanga Province.

During my first year of living there, Dennilton had an estimated 30 percent HIV prevalence rate. This number, while astounding, still didn't fully resonate with me until I was able to hear the stories of the locals who were shouldering the burden of a village ravaged by the disease.
NextAid's pilot project in South Africa, where I was volunteering, was intended to provide a home to children and youth who had been orphaned by AIDS. While I was familiar with the term "AIDS Orphan", the gravity of these children's reality was not really fathomable to me until I found myself living among ten or so children who had lost one or both parents to "the disease".

One heartbreaking story after another is the reality of life in Dennilton during the time of AIDS. One boy, at age 11, had to take his mother to the hospital in a wheelbarrow where she later died. Ambulances and even regular cars are beyond the reach of most. A family of young teenage girls were living as a "child-headed household" in order to care for their younger siblings.

Among these countless stories, one can't help but wonder why? Why here? Why still? It wasn't for lack of awareness about the disease. Upon driving into the town of Dennilton, you are bombarded by a series of odd roadside billboards. Each of these signs promotes HIV prevention through some quirky slogan and graphic. Dennilton had an advantage over many rural South African communities in that it had a government hospital as well as a non-profit community clinic focused on treating HIV/AIDS. This clinic was privately funded by Dutch donors and received U.S. government PEPFAR funding. Several community-based organizations, including NextAid's local partner in the community center project, were active in addressing various aspects of the disease such as home-based care or school and church-based prevention campaigns.

As my year in South Africa went on, I asked a lot of questions in my attempt to understand why AIDS was so pervasive. I remember one of the first things that struck me about Dennilton was that there were more coffin shops than food markets in the town. Death was a booming business and in this town -- it is easier to buy a tombstone for a family member than to shop for nutritious and life-sustaining food.

Many of these examples reflect a system that promotes short-term, welfare-based solutions to a much bigger problem. I don't claim to have all the solutions, but I do know that if girls and boys received quality education and knew that there would be opportunities for decent jobs in their adult futures; and if women felt empowered to stand up to men; and if there were more ways for people to access nutritious food and be economically self-sufficient, we would be a lot further in tackling the AIDS pandemic in a holistic and sustainable way.
But no singular approach is sufficient for the magnitude of this disease. Without simultaneously working to uplift the community with empowering opportunities such as education, income-generation, and sustainable agriculture, all the billions of dollars from government and private donor funds will not be as effective as they need to be.

Decades from now, maybe and hopefully, AIDS will be an obsolete topic. But if we don't focus our efforts now on addressing root causes such as poverty and lack of education that are risk indicators for HIV/AIDS in developing countries (and in the U.S.), there will likely be another disease that will disproportionately affect the most disadvantaged populations.

It's not too late to do something this year. NextAid commemorates World AIDS Day all month long throughout December with a series of fundraising and awareness raising music events and an online campaign on Twitter and Facebook. For more information go to www.nextaid.org/wad2010 .