In 1999, when I created the premier lifestyle magazine and website (animalfair.com) I wanted to kick it off with a loud bark. We created and produced the first ever pet fashion show, Paws For Style, to raise money and awareness for animal rescue. A-list designers that have donned the dogs in creative attire for this one-of-a-kind canine charity event include Marc Jacobs, Gucci, COACH, Tommy Hilfiger, Betsy Johnson, and celebrity dog walkers include Hayden Paniettiere, Tina Fey, Hilary and Haylie Duff, Paula Abdul, Rob Thomas, and Hugh Hefner with his girls.
Since then I've never seen more dogs in designer garb than in the past few years, with such fashion luminaries as Roberto Cavalli and Ralph Lauren designing dog accessories, from Paris Hilton's Chihuahua, Tinkerbell dancing in tutus at nightclubs, to Tori Spelling's late Pug Mimi LaRue decked out in head-to-paw matching outfits. So is it right to dress up dogs, or not?
Grab that coat or vest when the cold winds blow, the rain pours or the snow falls - but leave it at that! Clothing serves well to protect dogs from being overly exposed to the sunlight and preventing sunburn in the summer, and is very beneficial for your pet when necessary.

Donning your dog in an occasional outfit at special occasions such as weddings or any charitable event doesn't harm, but clothes on canines are too often a "do-don't"! Your dog's sensitive skin is its most important organ, made up of necessary layers of cells, lubricating glands, blood vessels, nerve endings, and hair follicles that produce hairs, that protects canines form infections, parasites and prevents a loss of body moisture. Whew, got serious on you for a moment, but it's no joking matter!
When It's OKAY To Dress Up Your Dog:
• Wedding, especially if your dog is the ring bearer.
• Birthday, it's once a year!
• Red Carpet Event, definitely don't want to be underdressed
• Charity Event, especially when raising money for animal rescue
• Cocktail Party, Yappy Hour®!
• Holiday Party (Christmas, Halloween)
When It's NOT OKAY to Dress Up Your Dog:
• Breakfast/Lunch/Dinner
• Dog Park (except winter wear for your short haired dog)
• Hiking (unless it's Mt. Everest)
• Doctor's Appointment
• EVERY DAY
So whether you live in New York City or not, fly you and your dog (Continental Airlines Voted Cesar ® Five Dog Bone Award for most pet friendliest airline) to the Big Apple to help the Humane society at Animal Fair's 10th annual Paws for Style! You can bid on one-of-a-kind outfits for your pooch, from Bravo's Fashion show designer Keith Lissner's dog outfits with CRYSTALLIZED(tm) - Swarovski Elements or Roberto Cavalli's doggie couture! For more information go to www.animalfair.com.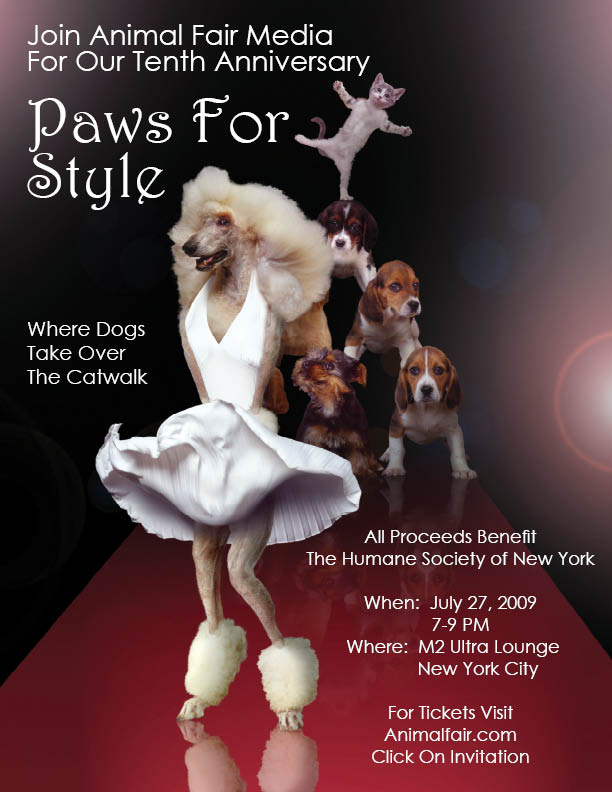 This Blogger's Books and Other Items from...
FOLLOW HUFFPOST