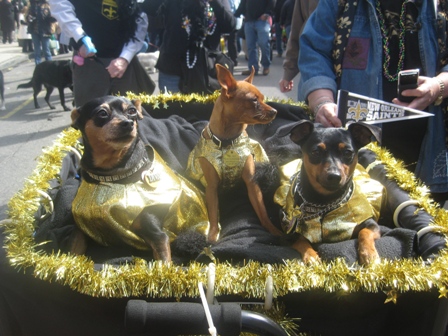 Everyone knows about the mystery and magic behind Mardi Gras in New Orleans (or what we used to refer to it in the Midwest as "Fat Tuesday"), but what about Mardi Gras' sister, canine-friendly bash? The Mystic Krewe of Barkus is Mardi Gras' sole canine-exclusive krewe, the equivalent of Bacchus (for humans), and this past weekend Lucky and I traveled to NoLa for all the canine festivities and spectacle marking the eighteenth annual Barkus. We couldn't think of a more perfect place to let loose and shake our tails than in one of our favorite cities, New Orleans, surrounded by dog lovers from all across the world.

This year Barkus was held on Super Bowl weekend, and with the Saints playing for the first time ever in the biggest football game of the year, Barkus followed suit with a fitting theme: Barkus Goes Tailgating: The Dogs Go Barking In, which meant Lucky was not scolded for doing her favorite thing: yapping. And there was plenty of yapping at Barkus 2010, with pups of all sizes dressed to the nines in their saintly New Orleans Saints tailgating apparel. And the outfits didn't stop at Saints apparel. Dogs dressed up in tasty tailgating apparel like hamburgers, real-life hot dogs and barbecues. Dogs and humans were both howling "Who Dat?" for the Saints, and everyone was howling "Who Dat Dog!" And "dat" dog was Lucky Diamond, Barkus' celebrity Grand Marshall.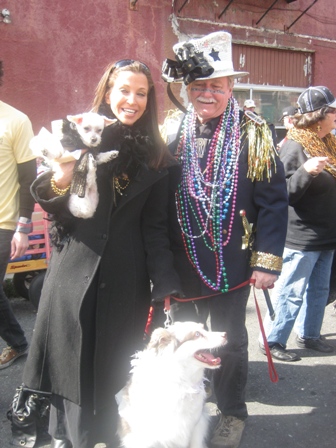 That's right! Following the footsteps of Bacchus (remember, the human Barkus) Celebrity Grand Marshalls such as Hulk Hogan, William Shatner, Tom Arnold, Larry King, Bob Hope, Steve Guttenberg and my all-time celebrity crush, Drew Carey, Lucky and I are were honored to serve as Barkus 2010's Celebrity Grand Marshalls. As Chairperson (and Chairdog) to Katrina Animal Memorial Project, we feel so blessed to have been part of another incredible fundraiser for the animals of New Orleans, who, as their memorial states, "will never be left behind again." Joining us was the unofficial mother of Barkus herself, Margaret Orr and a slew of over 400 Barkus members dressed to the nines.
The Krewe of Barkus was founded as a non-profit group in 1992 during a fan club meeting for WDSU Chief Meteorologist Margaret Orr. Less than two years later, the group was granted rights to prance, parade, and pound pavement in the streets of the French Quarter in the Big Easy. Each year the group picks a theme for dogs to don themselves in their finest garments and hit the streets a week prior to the official Mardi Gras festivities. Past themes have included: "Jurassic Bark," "Lifestyles of the Bitch and Famous," "Tails from the Crypt' and "Wizard of Pawz." A canine King and Queen of Barkus are also selected annually, the Queen always being a rescue or adopted dog, with all proceeds of the spectacle donated to local animal shelters.
Barkus 2010 kicked off Friday night with an incredible pet ball at the pet-friendly Windsor Court. Local dog-loving artist Matt Rinard, whose colorful sketches brilliantly depict the life and vitality of NoLa and its pets, decorated the ball with his colorful and original artwork. But Lucky and I kept the partying (and yapping) to a minimum for the main event: the official Barkus parade. And we were glad we did. The parade was the craziest scene of fanfare, pandemonium and pride we have ever seen -- very fitting for a city like New Orleans. And all this before the Saints won the Super Bowl!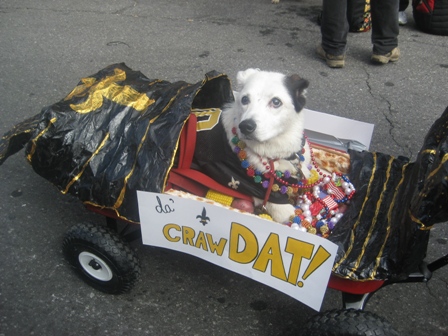 This year's King of Barkus, a Border Collie named Bleu, was described as a "rabid Saints fan" while the Queen -- who made her grand entrance via steamboat on the Mississippi -- had an awe-inspiring rescue story. Puppee, the Queen of Barkus, was found abandoned in a New Orleans home after Hurricane Katrina, and was sent to a shelter in Denver. A few years later Puppee returned to her homec ity only to lose her owner. But Puppee found a new family and rose to the height of celebrity as Queen of Barkus. Puppee and Bleu celebrated their royal titles by dining on lamb chops from New Orlean's upscale eatery, Galatoire's.
If you didn't make it to Barkus this year and still want to do your part to help the animals of New Orleans, donate to the Humane Society of New Orleans at HumaneLA.org.
For more information go to www.animalfair.com
This Blogger's Books and Other Items from...
FOLLOW HUFFPOST