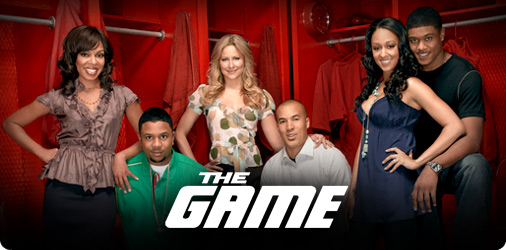 That's right BET has finally made a power move! It's been reported that cable network BET, (Black Entertainment Television), has acquired the rights to "The Game", a black sitcom created by Mara Brock Akil, about professional football players that originally aired on The CW and was canceled last year. This is a big deal people -- well, if you miss black television, that is.
BET, which has received constant criticism from the black community about derogatory programming that has included reality shows like "Frankie and Neffe" featuring stereotyped images of African Americans, seems to be attempting to make some changes that make sense. Not only is this a first for BET in terms of acquiring the rights to produce new episodes of a previously canceled show, but isn't this also the first time a black show has been canceled and brought back on a new network?
For any show to get canceled and picked up by another network is rare. The medical sitcom "Scrubs," which originally aired on NBC was canceled and picked up by ABC, is one of the only shows to ever get a second chance. But a "black" show getting another shot after cancellation is a major event in the history of television, particularly at a time when original scripted black programming is virtually nonexistent across network and cable channels. (I know reality shows have become one of the only means by which African American entertainers can get work these days, but "For the Love of Ray J" can I please get some quality black shows?)
I remember when The CW made the announcement that they were canceling "The Game," (a spinoff from another popular but canceled black sitcom created by Akil, "Girlfriends"), and "Everybody Hates Chris," opting to reformat, and thinking it was the beginning of the end for black TV. And all I could do was my best Esther Rolle impression, "damn, Damn, DAMN!" Hmm, it's so interesting that The CW's reformatting included doing away with black shows. (Nope, "America's Next Top Model" does not count as a black show. The host, Tyra Banks, is black-sometimes, but the show doesn't feature a predominantly black cast.)
Black sitcoms are what put The CW, which was formerly The WB, which was formerly UPN, on the map. Remember, when UPN began, it had a full roster of black shows featuring "Half and Half," "One on One," "Eve," and "Girlfriends," among others. (Except for "Girlfriends," they weren't the best shows but at least black folks had some work.) How soon they forget when black programming builds a network only for it to be banished in the effort to reformat. Unfortunately BET couldn't save "Girlfriends," too.
Why BET didn't make this kind of move to save "Girlfriends" when it was canceled remains to be seen. Could it have been a money issue? I imagine it would have been difficult to fund a weekly scripted show from revenue generated by commercials about ring-tones and male enhancement products. (The latter used to appear on the channel oddly right after TV evangelist, Joel Osteen's program -- yuck!) But apparently BET has finally gotten the resources (and people to make decent decisions) it needs to attempt to be taken seriously, as many in the black community including myself had given up on the channel and renamed it Black Embarrassment Television, choosing only to tune into award shows and yes, re-runs of "The Game."
Moves like doing away with news a while back, and allowing the likes of rapper Lil' Wayne to "spit" vulgar and sexually explicit lyrics while young girls danced on the stage at the 2009 BET Awards not only resulted in the network having to issue a public apology, but displayed its history of a lack of poor judgment and frankly, respect for the viewers. But hopefully the channel's acquisition of "The Game," which was one of the best black sitcoms ever, with stellar writing and spot-on casting, (and was executive produced by Kelsey Grammer of "Frasier"), is a major step in the right direction to make BET all it's always been capable of being, and redeeming its reputation with the community it targets.
Hopefully, or should I say prayer-fully this, among other developments like "The Mo'Nique Show," which has proven to be a big winner for the channel is the beginning of a new day at BET, with programming that not only entertains, but engages for the right reasons.
I have a feeling we'll still see various manifestations of low-brow ridiculousness from BET because it's a business and their bottom line is not primarily concerned with edification. But this latest development gives me just a little bit of hope that BET will continue to find its way and at the very least locate a balance between embarrassing me and entertaining me. Game on!