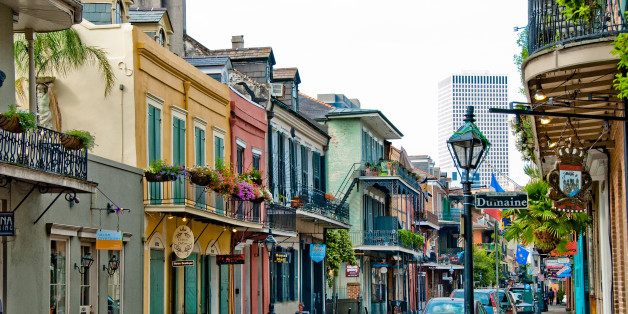 By Doug Brantley, New Orleans editor for Where®
Each spring bibliophiles and Brando buffs flock to the Tennessee Williams/New Orleans Literary Festival to pay homage to the late great playwright, who penned A Streetcar Named Desire in what he called his "spiritual home."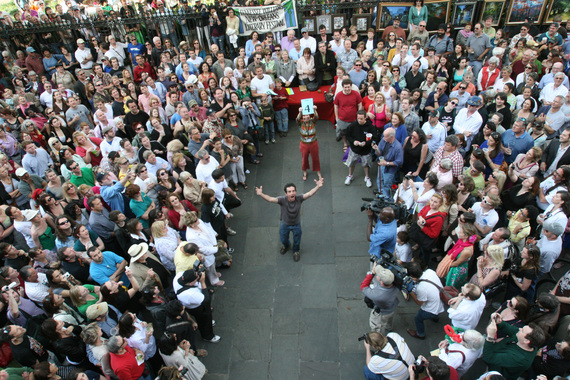 Pictured: Literary festival participants enter a whimsical competition to see who can best reproduce Marlon Brando's famed shout of "Stella!"--a scene straight out of A Streetcar Named Desire."
Williams is just one of many writers who found their muse in the city, which continues to inspire authors today. Even if you're not attending the festival (it starts March 19), you can grab a pen and notebook and get inspired yourself by following this one-day tour.
9 a.m.: Streetcar eggs
Start with eggs Stanley -- cornmeal-crusted oysters, poached eggs, Canadian bacon and Creole hollandaise on a toasted English muffin -- at Stanley, named for the male lead in Streetcar. The restaurant is located in the Pontalba Buildings (the nation's first apartment complex), where the Tenn Fest conducts its annual Stanley/Stella shouting contest from the wrought-iron balconies.
10 a.m.: Where Faulkner and Williams wrote
Williams completed the play just a few blocks away at 632 St. Peter Street. Send up a shout for "Stella!" before heading to nearby Faulkner House Books, where The Sound and the Fury author once lived and wrote.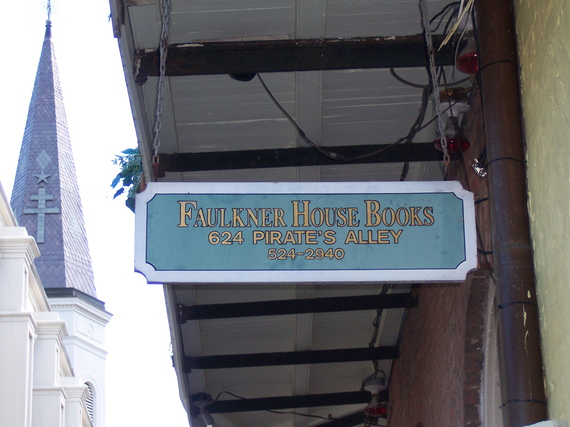 10:30 a.m.: Be scholarly
Visit the Williams Research Center, a scholarly offshoot of the Historic New Orleans Collection, which publishes the Tennessee Williams Annual Review. Though not named for the playwright, the Center is home to the world's largest private collection of Williams-related materials.
11:30 a.m.: Bicycling the French Quarter in the name literature
Hop on a rental from A Bicycle Named Desire -- located at the site of Stanley and Stella's fictitious address -- and cruise the French Quarter, from which Williams drew inspiration. Desire is the rental arm of the tour-driven Confederacy of Cruisers, a play on late local author John Kennedy Toole's 1981 Pulitzer winner. Tucked inside is Ignatius J. Reilly's gift shop, a nod to the main character in Confederacy.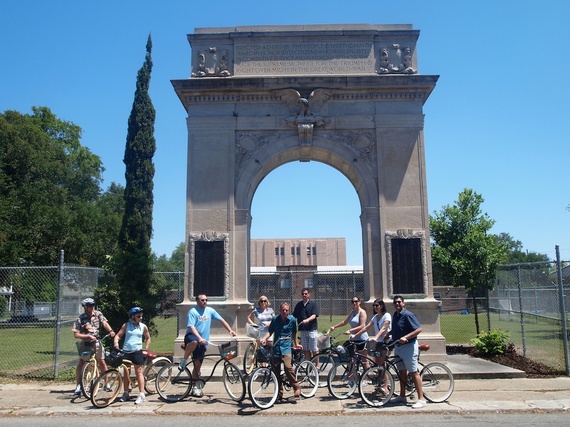 Pictured: Touring New Orleans with the Confederacy of Cruisers
2 p.m.: The cocktail Ernest Hemingway invented
Linger over a late lunch at Backspace Bar and Kitchen, where the menu and drinks are book-themed. Try a Whitman roast beef sandwich and a champagne-and absinthe-punched "Death in the Afternoon" cocktail, invented by Ernest Hemingway, whose 1932 classic shares the same name.
3:30 p.m.: The I.J. Reilly statue and Anne Rice's home
Head to Canal Street for a photo op next to Ignatius J. Reilly's statue under the old D.H. Holmes clock, now in front of the Hyatt French Quarter hotel (819 Canal St.). Then catch a streetcar up St. Charles Avenue, disembarking to follow the Goth groupies to vampire novelist Anne Rice's former home (1239 First Street).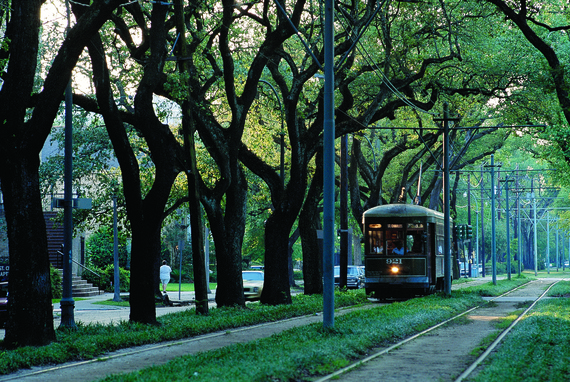 7 p.m.: Stella! (the restaurant)
Stella! will have you shouting the praise of stellar chef Scott Bowell, or follow in the footsteps of Stella and Blanche and have dinner at Antoine's, which is also the title of a 1948 murder mystery by Francis Parkinson Keyes. (Keyes' former Chartres Street residence offers daytime tours.) All booked? Try the recently revamped Marti's, one of Williams' favorite restaurants.
10 p.m.: The watering hole for authors
Raise a toast to Tenn at the Hotel Monteleone's revolving Carousel Bar (pictured below) with a Vieux Carré cocktail, which shares the name of one of his plays. Williams was known to go a few rounds there himself, along with Truman Capote, Eudora Welty and others, helping make the Monteleone one of only three literary landmark hotels in the U.S.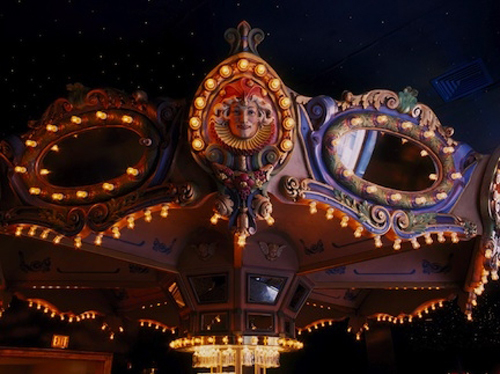 --
Find more tips and travel ideas at www.wheretraveler.com.
More from WhereTraveler.com:
Photo credits: ©Earl Perry, ©Confederacy of Cruisers, ©NewOrleansOnline.com, ©Kerri McCaffety/Hotel Monteleone