So you didn't get tickets to Lollapalooza. It wasn't even a "you snooze, you lose," situation -- those passes sold out in minutes, not hours. Thankfully, Chicago has so much more to offer in the way of live music festivals. Here are five of our favorite music-driven neighborhood fests that won't turn you away at the gate: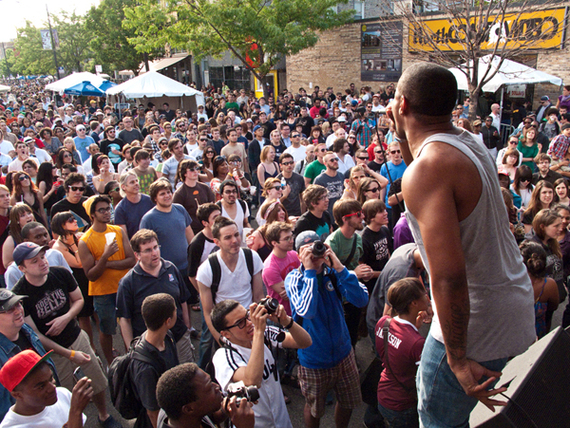 No doubt about it, the Wicker Park/Bucktown area is the place to be for great music festivals. First up: Division Street's 8th annual Do Division. With two stages, one curated by the edgy Empty Bottle concert hall, the other by Subterranean, the home stage for many of Chicago's rising stars, it's no surprise this fest draws in big names of rock. This year's lineup is looking fierce with dark headliners Bass Drum of Death and Screaming Females. Tip: Head to Empty Bottle after gates close for the night. Bands are known to put on free surprise shows after their festival performances. May 30 to June 1. Division Street between Damen and Leavitt avenues, 312.850.9390, www.do-divisionstreetfest.com

Belmont-Sheffield Music Festival
Though the Boystown neighborhood is no stranger to a raging festival (this the home of Chicago's Pride Parade and Festival), the Belmont-Sheffield Music Fest breaks the mold by making this neighborhood block party all about the music. Thirty years strong, the fest's lineup for 2014 features some of the city's favorite tribute bands, including Kashmir (Led Zeppelin tribute), Trippin Billies (Dave Matthews tribute) and Sixteen Candles ('80s classics--think Molly Ringwald and John Hughes films). Tip: Up for an after party? Head to Sheffield's Beer Garden, one of the city's best patio spots. June 7 and 8. Sheffield Avenue between Belmont Ave. and Roscoe St., 773.868.3010, www.chicagoevents.com
Wicker Park's eco-friendly festival brings out the earth lovers in all of us. Featuring environmentally friendly vendor booths and more recycling bins than trash cans throughout the streets, this is one fest that aims to reduce its carbon footprint. Headliners for this year are indie-rockers Guided by Voices and The Features, plus folk-rock psychedelics The Soil & The Sun. Tip: If you're bringing water from home, make sure you're using a reusable container. Plastic bottles won't be allowed at the fest. June 21 and 22. Damen Avenue between North Ave. and Schiller St., www.greenmusicfestchicago.com
Put on by the neighborhood's musical collective, the Old Town School of Folk Music, Lincoln Square's summer block party is already promising more than 60 live acts during its three-day run. Spread over two stages, expect an eclectic mix of World music, soul standouts, jazz standards, folksy strummers, drum circles and more. Surrounding it all are dance parties, open jam sessions, kid-friendly activities and food from some of the neighborhood's best-loved restaurants. Tip: Don't miss the drinks. This festival is a standout when it comes to serving a cold craft beer, often supplied straight from the Midwest. July 11 to 13. Lincoln Avenue between Montrose and Wilson avenues, 773.728.6000, www.squareroots.org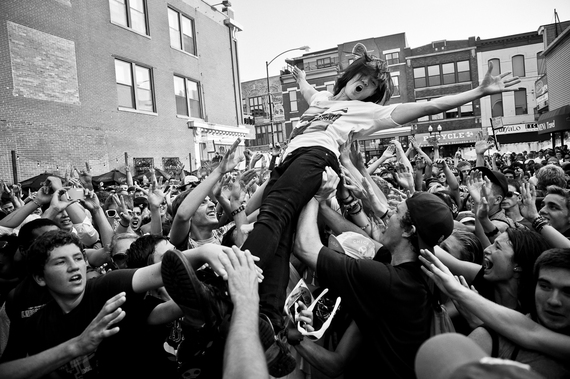 Once more, Wicker Park proves the place to be for live outdoor music. Wicker Park Fest in particular is known as a worthy competitor and "artist's budget" alternative to big leaguers Lollapalooza and Pitchfork Music Festival. This year's lineup is yet to be announced as of press time, but with last year's roster including Cults, Ted Leo and Roky Erickson, our expectations are high. Tip: Take a shopping break from the shows at Reckless Records, where you'll find rare LPs and newly pressed vinyls to take home with you. July 28 and 29. Milwaukee Avenue between North Ave. and Paulina St., 773.384.2672, www.wickerparkbucktown.com/fest
Photo credits: Courtesy Green Music Festival, Courtesy Do Division Street Fest, Courtesy Wicker Park Fest
SUBSCRIBE AND FOLLOW
Get top stories and blog posts emailed to me each day. Newsletters may offer personalized content or advertisements.
Learn more