Can we ever get enough of the magnificent pageantry and coveted celebrity-watching that surrounds a royal wedding? Although I pledged not to get caught up in the frenzy of media coverage leading up to the royal wedding of Prince William and Kate Middleton, there I was at 6:00 a.m., perched on the couch, coffee in hand, reveling in the wedding procession at Westminster Abbey. I confess to loving every minute of watching noble men in fine uniforms, a regal bride in white-laced elegance, privileged guests draped in diamonds and oh, those hats!
If you're already missing the excitement of England's Royal storybook wedding, take heart; the Principality of Monaco is in final stages of planning its own fairytale wedding. His Serene Highness Prince Albert II of Monaco will wed former South African Olympic athlete Charlene Wittstock on July 1, 2011. Like any royal wedding with an unlimited budget, the jubilation will last for days and this gala will include the entire population of Monaco. I can't imagine a more enchanting setting for a dazzling wedding celebration than the diminutive country of Monaco, perched high above the Mediterranean Sea.

Wikimedia CC by Lvelin Vraykov
Festivities begin at 5 p.m. on July 1, 2011, when Prince Albert will wed Miss Wittstock in a civil ceremony in the Throne Room of the Prince's Palace. Following a private reception for invited guests, there will be an evening of revelry hosted by the newlywed couple. Residents of Monaco are invited to the Harbor for their own reception at 8 p.m. followed by an invitation for all to gather at 10:30 p.m. at the Port for a free concert and unique light and sound show created by Jean-Michel Jarre.
On July 2nd, the couple will wed again in an open air religious ceremony to take place in the Main Courtyard of the Prince's Palace. More than 3,500 guests have been invited to witness the wedding on giant screens placed about the Palace. Residents and visitors to Monaco will also be treated to prime viewing spots as giant screens will be placed in prominent locations all around the city. Following the wedding, Prince Albert and his bride will journey throughout the principality on a processional route ending at the Church of Sainte Devote where the bride will lay her bouquet at the base of Monaco's patron saint. Then it's time for the official banquet and gala ball to be held at the incomparable Salle Garnier and the Terraces of the Casino. Finally, the midnight sky will sparkle with a dramatic firework display for the entire principality to enjoy.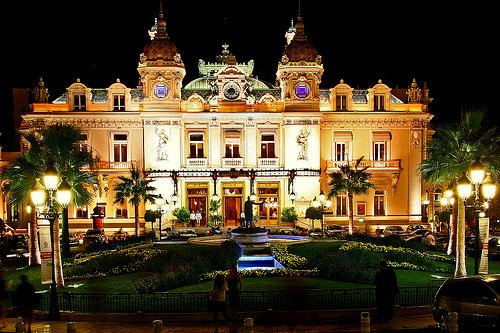 Flickr: tylerdarden1
Monaco is a dazzling destination for vacationers at any time or in any year, but the summer ahead promises to be truly magical. For more information on visiting Monaco visit the tourism bureau site at www.visitmonaco.com.
FOLLOW HUFFPOST