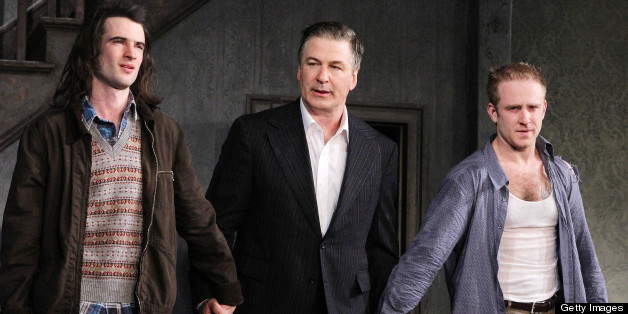 Whatever "artistic differences" Alec Baldwin may have had with his former co-star Shia LeBeouf over the interpretation of Lyle Kessler's darkly comic play Orphans, the version that landed on Broadway last night is considerably more comic than dark.
But if there is a noticeable lack of the menace that permeates Kessler's taut drama, the director Daniel Sullivan's low-key approach somehow all comes together by the final gripping scene and the end result is a satisfying evening of theater.
Anyone who saw the searing Steppenwolf production in 1985, however, may be confused at the start, wondering if they've wandered onto the set of a TV sitcom about two dysfunctional brothers, Treat and Philip -- one a knife-wielding mugger by trade and the other a retarded recluse who is afraid to breathe the air outside their north Philadelphia row house -- and Harold, their out-of-town house guest.
When Treat comes home from a hard day of robbing people at the point of his switchblade, he quizzes his young brother Philip about his own day of looking out the closed front widow. As Treat empties his pockets of the day's haul, the conversation flows between brothers like any domestic patter.
Later that evening, when Treat returns with Harold, a man he met in a hotel bar who is drunkenly prattling on about the Dead End Kids and his life growing up in an orphanage, there is barely a hint of the danger lurking beneath the surface. Even when Treat discovers a million dollars worth of stocks and bonds in Harold's attaché case and decides to tie him up and hold him for ransom, there is a palpable lack of tension onstage.
As it turns out, Harold is a Chicago gangster on the lam, and the question soon arises exactly who kidnapped whom. Harold is a charmer, and as he begins to compete with Treat for Philip's loyalty and affection, the comedy in Kessler's play takes center stage.
When Baldwin's Harold offers "encouragement" to Philip and full-time employment to Treat, it almost could be Jack Donaghy negotiating with Liz Lemon about the propriety of a skit on 30 Rock. Even when he's holding a gun, there is little in Baldwin's portrayal to induce the sense of fear that John Mahoney brought to the role in the storied Steppenwolf production, directed by Gary Sinise and with the estimable Terry Kinney as Treat.
If that soft interpretation was at the center of the dispute that led to LeBeouf's dismissal from the cast and his replacement by Ben Foster, it also brought the fresh approach to Orphans that Sullivan and Baldwin were clearly aiming for.
It is a tribute to Baldwin's considerable talents as an actor, that his Harold is a character of his own creation, different but no less valid than the traditional reading of danger personified, dressed in a silk suit and alligator shoes. There is an abstract Pinteresque quality to the role that Baldwin makes human, and one feels his Harold genuinely cares for both Philip and Treat, orphans like himself. It is a compelling performance than grows more credible as the play progresses and makes that final scene all the more moving.
The other revelation in this Orphans is a brilliant Tom Sturridge as Philip. When the audience first meets him, Sturridge's Philip crawls down a flight of stairs like Spider-Man, then ricochets around the stage like a pinball, leaping from stairwell to sofa to window seat, always moving, always playing with his fingers, always smiling. Like Harold, you just want to put your arm around his shoulder and give him a squeeze of encouragement.
Philip lives in fear -- of Treat and of the world outside -- hiding in the clothes closet that contains his dead mother's old fur coats, hiding his books and his one red shoe, hiding his entire limited life from Treat, content so long as the tuna and mayonnaise don't run out. If the heart of Kessler's play is a power struggle between Harold and Treat, the prize for which they compete is Philip's devotion. Treat has kept his hold on his brother through terror; Harold begins to win with promises of freedom.
The big question mark in the new Orphans is the role of Treat, a part that Foster, a film actor new to the stage, is still developing. For a character described as having a violent temper, Foster smiles a lot in the opening scenes and barely raises his voice as he fairly races through his lines. It's almost as though he, or Sullivan, can't decide whether Treat is a cold-blooded hood who actually enjoys knifing his victims or a caring older brother who only wants to protect his feeble-minded sibling.
SUBSCRIBE TO & FOLLOW CULTURE SHIFT
Level up. Read THIS and be the most interesting person at your dinner party. Learn more