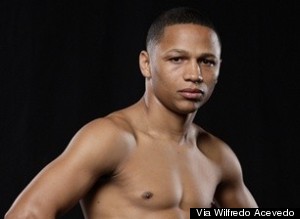 En la vida, tarde o temprano, todo llega a su fin. Ese es el caso del gran ex doble campeón mundial puertorriqueño Iván 'Iron Boy' Calderón (35-3-1-6 nocauts). Es triste ver el final de un boxeador como Calderón, quien en sus 11 años de carrera como boxeador profesional brindó el mejor boxeo técnico que se haya visto en los últimos años.
No poseía pegada, pero era un maestro dentro del ring donde ofrecía un recital boxístico. Como he mencionado en varias ocasiones, no soy partidario del boxeador que sólo se dedica a 'dar y que no le den', pero la realidad es que esa es la esencia del boxeo.
Sería impropio de mi parte no reconocer la grandeza de un boxeador, que aunque con limitaciones físicas, nos dio lo mejor de si. Siempre recordaremos los gritos de los fanáticos cuando gritaban ¡¡ Oleeeeeeeeee !! cada vez que el 'Iron Boy' Calderón hacia fallar a sus contrarios.
Sobre su carrera profesional inició la misma el 17 de febrero de 2001, donde obtuvo una victoria por nocaut técnico ante el mexicano Sergio Díaz. El 3 de mayo de 2003 obtuvo su primer campeonato mundial (peso paja) cuando derrotara al púgil nicaragüense Eduardo Rey Márquez, donde hizo 11 defensas.
Su segunda faja mundial (peso minimosca) la alcanzó el 25 de agosto de 2007 cuando venciera al excelente boxeador mexicano Hugo Cázares. De dicho título realizó 6 defensas.
Por otra parte, ahora que va a entrar a otra etapa de su vida tendrá la oportunidad de brindar sus conocimientos de boxeo a aquellos jóvenes que están comenzando sus carreras. Sería grandioso para Iván Calderón que uno de sus 'hijos' boxísticos llegue a campeón mundial y tener la dicha de decir: "A ese lo hice yo''.
A Ivan Calderón le digo: "Campeón gracias por todos los momentos hermosos que nos brindaste. Diste el máximo cada vez que escalabas un ring. No tienes que sentir vergüenza por tus derrotas, caíste como un buen soldado: 'Con las botas puestas'. Éxito y que Dios te bendiga''.
Mira qué opinan otros y deja tu comentario aquí
SUBSCRIBE AND FOLLOW
Get top stories and blog posts emailed to me each day. Newsletters may offer personalized content or advertisements.
Learn more