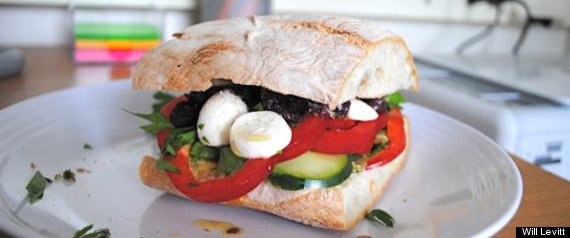 Some of you may have heard of the gourmet sandwich shop chain 'Wichcraft, originally from New York (it was started by Tom Colicchio, the judge on Top Chef). It's a pretty appropriate name for a sandwich shop, not only because its so clever of a name, but because sandwiches really are crafted. You do not just make a good sandwich. You craft it.
If I had to decide on a favorite food, it would be the sandwich. Nothing can better encapsulate so many flavors, textures and contrasts at once. What can be both crunchy and silky smooth, both toasty warm yet cool and refreshing, spicy and sweet all at once?
What can be the most satisfying, easy to make lunch or dinner in the world? What can be the perfect meal or the perfect snack? What can please a little kid or the most discerning epicurean?
Maybe it's because a sandwich is more than the sum of its parts. Good sandwiches are about making things work together. It's about the heat of that pepper, the crunch of that cucumber, the creamy cool wave of the mayo and the crunch of the toasted bread. Whether you have a dozen ingredients or two, sandwiches are about ingredient teamwork!
That doesn't mean its hard to craft a great sandwich. In fact, I'm sure you've done it many times! A peanut butter and jelly is a wonderful sandwich. Peanut butter and jelly work wonderfully together. One of my favorite snacks in the world is sliced cucumber, mayo, olive oil and salt and pepper on toasted whole grain bread.
But perhaps you've been wanting to reach further- to experiment with what goes between those two beautiful slices of bread.  Here is a quick guide to sandwich crafting, sure to get you on your way to one fabulous sandwich!
-Meats like smoked turkey, salami, prosciutto, bacon, grilled chicken, roast beef, roasted pork, barbecued meat,  fish, shrimp.
-Eggs! (Fry them, hard boil them, soft boil them, poach them) 
-Vegetables like sauteed or roasted mushrooms, asparagus, eggplant, avocado, sautéed greens like kale. 
-Beans, such as a garlicky white beans or chickpeas. 
-Flavorful tofu, which makes a fantastic sandwich center!
-Spreads like tomato relish, onion jam, fruit jam (goes great with meats).
-Produce like fresh fruit slices such as apple slices, figs, pears, peaches, etc, fresh tomatoes, sweet potatoes. 
-Cucumber slices, fresh lettuce, arugula or other greens, alfalfa sprouts (they're good!), fresh bell pepper, red cabbage, red onion. 
-Pickled vegetables. Don't limit yourself to pickled cucumbers. Things like pickled carrots and peppers are also delicious! 
-Coleslaw. 
-Mayonnaise! (try making it yourself, its easy and so good, though I do use Hellmann's quite often). 
-Soft cheeses like goat cheese, cream cheese, gorgonzola, etc. Or just melt some hard cheese. 
-Creamy salad dressing.
-Spreads like bean spread, olive tapenade, hummus, etc. 

Something Spicy...
-Hot sauce.
-Hot pepper slices like jalapeño.
-Cayenne pepper, pepperoncino, or other dried pepper products.
-Curry powder.
-Any kind of cheese.
-Fresh herbs like parsley or chives.
-Garlic, horseradish, etc.
-A squirt of lemon or a splash of vinegar
-Olives and capers.
And don't forget, good bread is key to a good sandwich!  So go get the ingredients (I'm sure there are already some in your fridge or pantry). Then think it, craft it, assemble it, maybe go grill it or toast it. 
And then don't forget to eat it, in all it's glory!
I would love you to share their favorite sandwich, simple or complex as it may be, in the comments below. What is your perfectly crafted sandwich? And feel free to add to the tips and ingredients in the list above with your comments! 
FOLLOW HUFFPOST