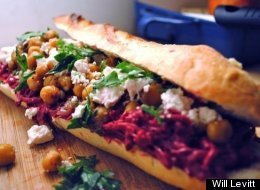 As far as I'm concerned, nothing is quite as satisfying as a sandwich in summer, eaten outdoors with a cold glass of iced tea. There's something about taking fresh summer produce and placing it between some good bread (and maybe a smear of mayo or goat cheese) that is simply irresistible. From the simple to the simply inspired, here are ten inventive recipes to satisfy your sandwich needs all summer long.
Eat up!
xo
Will Levitt of Dorm Room Dinner
10 Sensational Summer Sandwiches
If you're looking for something with big, bright flavors that go crazy when you bite into them, look no further. You've got the warm chickpeas (which you can replace with any bean), the zingy feta, the fresh and fruity fennel and the garden-fresh parsley. And it's all on the base of beet tzatziki, which, if you've never had, is really something special. Get the recipe!

This is a simple, "kinda elegant" version of chicken salad -- perfect for your next chicken salad sandwich, but also great on its own over some mixed greens. Get the recipe or see the video of me preparing this sandwich in a bow tie!

AKA An Eggplant Sandwich With A Whole Lot Of Attitude Roasted eggplant gets the lively addition of tangy yogurt sauce, baby spinach and tart pickled red onions. That's a whole lot of goodness -- not to mention attitude -- in one sandwich! Get the recipe!

Roast turkey, Gruyere cheese and Dijon mustard on grilled sourdough make for a classic combination. Serve it with some roasted radishes and arugula for a delectable summer lunch! Get the recipe!

Mofongo is a Puerto Rican dish of fried, smashed plantians served with meat or seafood and broth. For this adaptation, we fried and smashed some plantains and served it with a creamy, spicy sofrito of onions, peppers, chilis, bay leaves and sour cream, along with slices of avocado and lime. It's a juicy, complex sandwich with layer upon layer of bright, spicy flavors. Get the recipe!

Tofu makes a perfect centerpiece for a sandwich -- it's meaty, creamy, and flavorful (it's marinated first in red wine vinegar, soy sauce, garlic and ginger). It goes great with bright, crunchy vegetables like cucumber, red onion and arugula. And a little sriracha mayonaise tops it off. If you didn't think tofu does well in a sandwich, think again! Get the recipe!

This sandwich starts off, like many good sandwiches, with a spread of rich goat cheese. For those of you who thought you'd come across some vegan low-calorie sandwich, today is not your day. Then there's the kale, which is sautéed along with some crimini mushrooms. It's a hearty, earthy mix. On top, a just-not-quite-all-the-way-cooked-hard-boiled-egg. Yes, please! Get the recipe!

This sandwich is best with whatever fresh, crunchy vegetables you can find at the farmer's market. Just load up your shopping bag with some beautiful produce, put it on a toasted bagel, and you've got yourself one easy -- and refreshing -- summer sandwich. Get the recipe!

Bright, garlicky greens get the addition of creamy goat cheese in this light summer panino. Get the recipe!

When I was in college, I sold sandwiches at a local farmer's market, and this was one of the customer favorites! It really is a fabulous combination -- between the hearty cauliflower and rich roasted-leek mayonnaise, it's plenty substantial, balanced with bright, pickled carrot strips. Get the recipe!
For more original recipes, whacky videos of me making sandwiches in a bow tie, or a gossipy interview series with new and notable voices in the food world, check out the blog!
Will Levitt is a food writer and founder of the blog Dorm Room Dinner. He has contributed to Serious Eats, edible Nutmeg Magazine, Big Girls Small Kitchen and more. He currently lives in NYC, where he is a recovering mayonnaise addict.
Follow Will Levitt on Twitter: www.twitter.com/@WillLevitt