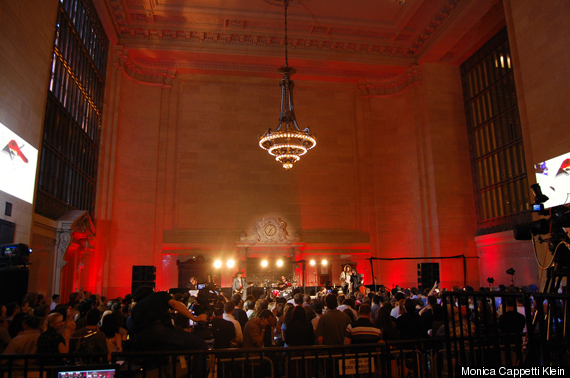 Last night at Grand Central Terminal, American indie rockers Band of Horses propelled hundreds of New Yorkers into their weekend with a free show sponsored by the AOL Pop Up Series. Coming off the release of their latest album, Infinite Arms, the band took the occasion to showcase their new music and to prepare fans for their sold-out show at the Williamsburg Waterfront on Saturday, June 19.
Hundreds of Band of Horses aficionados lined up outside the 42nd Street entrance of Grand Central with hopes of gaining admission to the tightly secured event. Only a limited amount of VIP passes were available; those who had them got a much better view, while the rest were left behind the press section, clutching their free posters and straining their necks to get a good look.
The excited crowd was very much ready by the time the band took the stage at 6:30 PM. Lead singer, Ben Bridwell, explained that the band had played a show in Copenhagen the night before and, "Right now, life kind of feels like it's on acid. But I've got a feeling we'll pull it together."
And pull it together they did.
Considering the unusual venue, everything sounded fantastic acoustically; credit is owed not only to the band, but also the large technical team behind them. The band started off with some older songs, before getting into their newer stuff, providing good energy throughout. And so, while it was too early for dancing, gentle head nodding and toe tapping abounded.
A highlight of the night was a sweet and soulful, acoustic rendition of "Infinite Arms", the title track off their most recent album. Featuring guitarist Tyler Ramsey as the lead singer with Ben Bridwell on the back-up vocals, it was resonant with an intimacy that was otherwise lacking in the less-than-intimate Grand Central background.
The only disappointment of the evening came towards the end of the show, and, unfortunately, it was one of the band's more popular songs, "No One's Gonna Love You." It's hard to say what exactly went wrong here, but Bridwell was off tune and the band out of rhythm in what might have amounted to the first and only showing of jet lag the whole evening.
However, the band managed to pull it together in time to end the night with their biggest hit, "The Funeral". The band sent their audience off excitedly into the New York weekend, which, if they managed to get tickets, might have been spent with even more Band of Horses.
SUBSCRIBE TO & FOLLOW THE MORNING EMAIL
Start your workday the right way with the news that matters most. Learn more