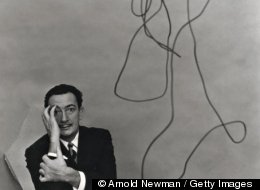 During the 20th Century, there were few portrait photographers as productive, creative, and successful as Arnold Newman.
For almost seven decades Newman applied himself to his art and his craft, never for a moment losing his zest for experiment. Painters, sculptors, photographers, architects, musicians, scientists, statesmen, poets, playwrights, novelists, politicians, and statesmen sat for him. His work was published internationally in the most influential magazines of the day, and he was much interviewed, quoted, and respected.
Several major solo exhibitions paid homage to his achievements during his lifetime, and his work can be found in many of the world's most prestigious photography collections. No historical overview of portraiture would be complete without one or two Newman masterpieces, nor could any general history of the medium safely leave out his superb studies of Stravinsky, Mondrian or Graham.
Newman has been called "the father of environmental photography" because unlike most or his colleagues, who preferred to work in their studios, he hungered to get out into people's homes and places of work. He particularly loved artists' studios, with all their clutter, but he was equally adept in boardrooms, classrooms, and private homes. But Newman disliked the "environmental" label, feeling it didn't do justice to his work, which could also be highly symbolic, strikingly geometric, and vividly graphic. He asked critics to ignore labels, and judge his portraits simply as they would judge any photographs.
Newman was also a great teacher, and he loved to share his knowledge and skills with aspiring photographers, winning many over to the cause. As with all great artists, his pictures have the quality of seeming effortless and spontaneous, but in fact they were the result of careful prior consideration, even if they left open to chance something entirely unforeseen which would spice up a picture (such as the unexpected background appearance of Edward Hopper's wife during a portrait session in front of his house). Newman prepared for his sessions by reading up of his subjects' achievements. And he applied this characteristic rigor to selecting the best of his "takes", cropping them precisely, and then printing them with supreme skill.
Newman had trained as a painter, and brought that training and sensibility to the making of great portraits. But he had come early on the realization that photography had its own unique terrain, where painting could not tread, and he blazed a path forward with panache.
William A. Ewing is the author of Masterclass: Arnold Newman [Thames and Hudson, $60.00].

Arnold Newman's portraits
Newman spent many long hours with Picasso. He knew what a privilege it was, and he was determined to portray one of the greatest artists of the 20th Century in a fresh light. He took dozens of shots of Picasso in this pose, waiting to capture him at the perfect moment.

This picture is exceptional for Newman. It was taken on 35mm film at an intimate gathering of friends, and catches the actress in conversation with the poet Carl Sandburg. Disheveled, unaware of the camera as she whispers a thought to Sandburg, the portrayal is light-years apart from those we are used to of Monroe, where sexual allure is paramount. The grain which results from the blowup of a portion of the frame adds to the feeling of dishevelment, which Newman believed was an apt metaphor for the emotional torments he knew she was then suffering.

A tour de force--a formal portrait that utterly disguises its carefully composed arrangement! Arnold Newman has managed a group portrait of Kennedy and his cabinet which, although "posed" in the larger sense, comes across as a snapshot of an informal moment. We feel privileged to have "walked by" at this moment. We sense the dynamism of his young administration. Taken in 1963, the photograph is all the more powerful because Kennedy was shortly to be cut down in his prime.

Brandt's elegant pose suggests a photographer with an intense inner vision. He does not need to be seen, as in conventional portraits of photographers, with a camera to his eye. Instead we are allowed to share a moment with him in the privacy of his home.

For his portrait of the writer, Newman preferred a minimal treatment. No books and bookshelves, no pen, no paper....only an imposing figure, full of confidence and poise.

We are used to seeing the artist portrayed in an impish, lighthearted fashion, standing before his paintings. Newman captures Hockney in an altogether different light, as a serious, reflective, and intensely private man.

Few Newman portraits resort to such uncompromising symmetry and frontality, a fitting metaphor for a bold young artist at the peak of his career. Hare's intensity is such that he could almost explode the frame! Hence the "cool" and restrained space above his head.

Newman loved working with artists best of all, and often they entered into the spirit of portrait making like a game. Dalí makes a gesture in concert with the sculpture, and Newman captures the split second perfectly. Few portrait photographers would have the audacity to make the subject so small relative to the overall picture. However, the strategy actually intensifies our interest in him.

Many of Newman's best portraits have a powerful sense of geometry. Newman chooses to show Graham not as a lithe dancer, but as a monument of the dance world.