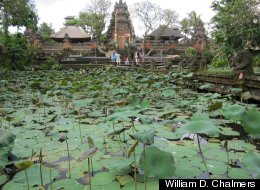 Like many, I caught the travel bug before I went to college and have since been lucky enough to have had the opportunity to travel far and wide for the better part of 35 years. Family and friends always asked me the identical question: "Where is your favorite place?"
"The place I just returned from" has always been my reply as my memory banks continued to expand over the years.
About a decade ago, National Geographic Traveler magazine did a little profile on me and (erroneously) bestowed upon me the highly-subjective title of the "world's greatest traveler." I never took the silly title too seriously, but it has opened a few doors and scores me a drink or two in exotic locales!
Since then, I have eagerly given travel pep talks in different countries and happily submitted to hundreds of media interviews; but that same bloody question persists: "Where is your favorite travel destination?" My reply continues to be the same: "The place I just came back from" -- until now!
While I won't divulge my truly favorite places -- lest they succumb to and suffer from either the so-called Woody Allen Effect or a dreaded Year in Provence-like backlash (aka Loving it to Death Syndrome) -- here are my seven somewhat off-the-radar secret destinations that I love visiting over and over again:
Seven Secret Destinations that will make you Smile!
Ubud (Indonesia) is located upcountry on the sweet-smelling island of Bali set amongst the terraced rice paddies and Wos rivers ravine at Campuan. It has become much busier over the years since my first visit -- hasn't every place! --but the charm remains for me when I wander off the beaten path and visit hard to find galleries, hike along rice paddy ridges and let the hours while away in a favorite Javanese-style Hindu temple or garden cafe.

Bagan (Mynamar/Burma) is a magnificent ancient city where over 2,200 temples and pagodas (now basically ruins) once stood along the mighty Irrawaddy River. It's located far enough from the capital, Yangon, to feel utterly isolated from the hectic big city going-ons in this yearning-to-be-free nation. Bagan affords jaw-dropping panoramas of golden spires, colorful frescoes and giant Buddha statues when sitting atop ancient Buddhist stupas or when taking leisurely strolls along the river. It is an archeological wet dream, more amazing in my humble opinion than either Angkor or Borobudur. People still travel the old-fashion way here -- horse carriage! I like to rent a bike and create my own personal tour, hang with monks eager to understand the peculiarities of the West and visit local artists.

Deià (Spain) is a sublime small Mediterranean coastal village on the busy island of Majorca. Whether I am walking to the beach cove through olive trees, down dusty roads to get my morning coffee, or just chilling out in my hammock. I have great memories of Deià. (Apparently a few notables have found it as nice as I do, including: Richard Branson, Michael Douglas, Mick Jagger, Mark Knopfler and poet Robert Graves who died there -- happily no doubt!)

Mendoza (Argentina) is a laid-back town with tree-lined streets and a surrounding area that conjures up Napa Valley like it used to be -- but with the snow-capped Andes as background! A walker-friendly town full of plazas, outdoor cafes, airy parks and late night alfresco dining options. It is a fresh and creative environment to be in. Me? I like to indulge in siestas after visiting some local bodegas (wineries) before going out (late) to get some Argentinean beef asado (roasted) and their famous Malbec wine from a parrilla (grill) restaurant, followed by a taste of gelato. For a coffee to die for try a dulce de leche espresso at Cafe Havanna!

Sidi Bau Said (Tunisia) is a seaside village overlooking the Bay Tunis littered with old traditional houses, shops and galleries. The colors white and blue predominate the laid back, exotic, amazing climate, drop dead gorgeous Mediterranean beaches, authentic souks, world heritage sites and now apparently democracy following the Arab Spring (it began here!). Best time to visit is spring and fall, when it's both not too hot and not too busy. Sleeping till noon, buying art, taking a photo safari, sipping Arabic coffee, eating grilled seafood and spending hours talking with locals are but a few of my favorite things.

Ambergris Caye (Belize/British Honduras) is a pencil thin 25-mile long island located in the Caribbean Sea along the Belize Barrier Reef. It is ringed by sandy white beaches and mangrove swamps and a snorkelers paradise. I enjoy just hanging on the beach, sitting on a dock drinking rum and fishing, morning bike rides, late night swims, eating seafood and dancing the night away at my favorite beach bar. I just love the rhythm and vibe of the place. FYI: It is always best to arrive by boat versus small plane.

Luang Prabang (Laos) is a sleepy village sitting atop a temple-topped hill above the Mekong river with a mix of Lao culture and French colonial remnants. It may in fact be too cute for its own good with golden-roofed wats, amazing murals and tiled mosaics mixed in with the surrounding verdant greenery and rugged mountains. (The entire city is a UNESCO World Heritage Site!) Pleasure here derives from attending dawn alms ceremonies then visiting the morning markets, swimming at one of the nearby waterfalls or hiring a river boat to sacred caves, taking in the nightly sunset rituals followed by late night dinners.
PS: My favorite travel destination in the whole world remains Bob's dock.
Follow William D. Chalmers on Twitter: www.twitter.com/@wmchalmers