The current show of Katherine Bradford, now up at Steven Harvey Projects, features paintings, sculptures and gouaches, all on the theme of ships: mostly ocean liners and very often of The Titanic. Bradford's handling of her chosen subject matter deflates the heroic and grand tragic associations this subject typically conjures, suggesting instead the human frailties, struggles and joys of our everyday human existence. The typically small scale of her otherwise colossal topic feeds into the humor, play and awkwardness of her poetic associations and juxtapositions.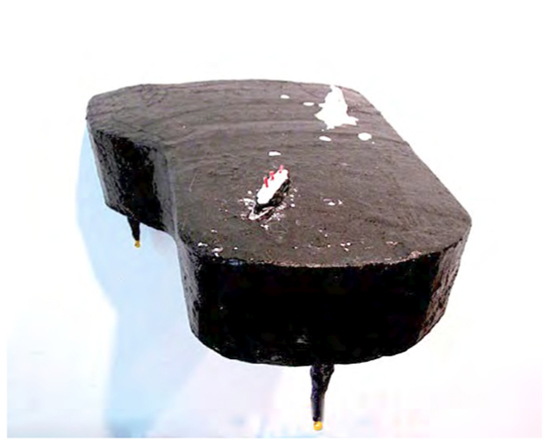 "Titanic on Piano," 2012 paint on cardboard with plaster, 12x13x14"
"Titanic on Piano," made of paint on cardboard with plaster, juts abruptly from the wall: the piano's spindly legs dangling uselessly in the air, and a small Titanic and iceberg gracing its black-sea top. One can almost hear the plink-plinking of the dramatic score as the ship sails blithely toward its fate. Bradford stated that the association of piano and Titanic emerged from her experience that if one draws an ocean liner badly it looks like a piano. Others of the sculptures -- ship hulls likewise mounted to the wall -- resemble slices of black cake with red and white icing with fat stack-candles stuck on top. The most diminutive of the sculptures, tucked away on a desk in the back, has a tiny ocean liner resting on a piece of arced cardboard that could represent a wave or a skateboard ramp.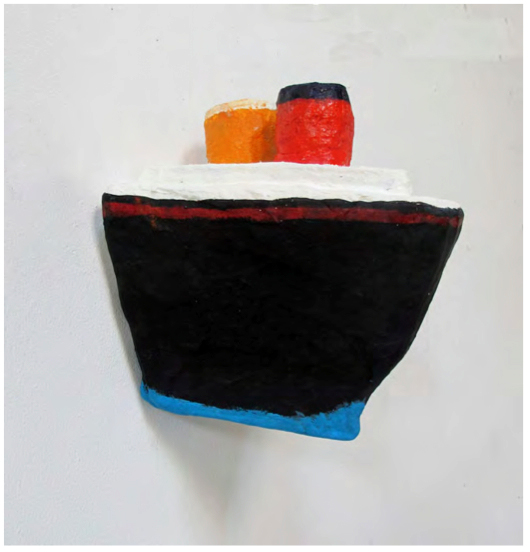 "Hull," 2013, painted plaster, 8x8x7"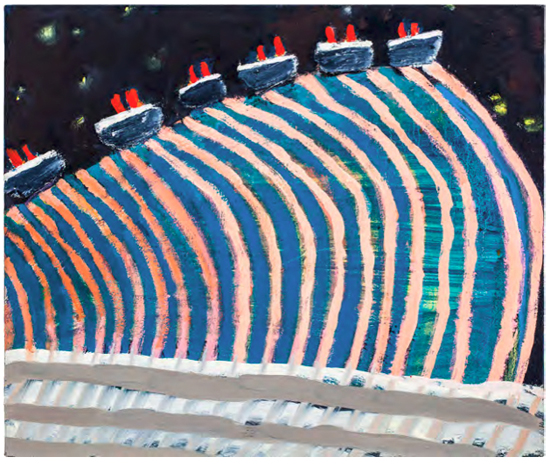 "Mile High Liners," 2012 oil on canvas, 17x20"
"Mile High Liners," a 17x20" oil on canvas, extends the arcing wave motif, but bends the tsunami now into an abstraction of shaky, raw pink, blue and gray lines that recall the outsider artist William Hawkins in the boldness of their handling. A string of six tiny ocean liners that perch along the ridge of the wave return the viewer to the painting's marine subject. Bradford was originally an abstract painter and her fluidity in the language of modern abstraction is always near the surface of her work. In many of the small paintings, ocean and sky shapes assert themselves as yellow, orange, pink, red, blue and black modernist rectangles.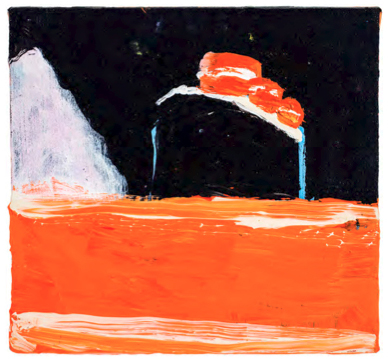 "Titanic Orange Sea," 2012, oil on canvas 10x10"
On the other hand, "Four Masted," a boldly silhouetted ghost ship, strikes one as closer to the work of the visionary Albert Pinkham Ryder, but here the ship hovers trembling above the sea and pier against a glowing mauve sky.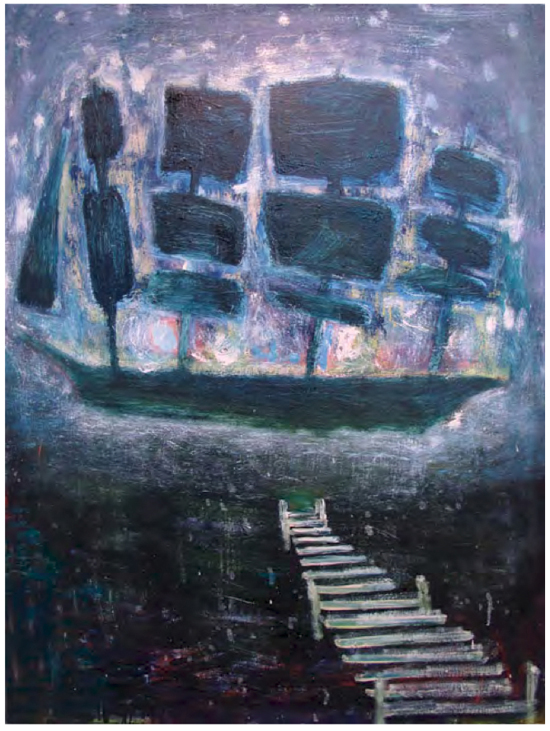 "Four Masted," 2013 oil on canvas, 40x30"
Bradford's willingness to move freely between painting genres and schools leads to a sense that she is essentially being profoundly herself and that she has forged these parts into her own visual language, something quite rare and difficult to pull off. One of the most distinctive qualities of this language is the tenderness implied by both the subject and the handling of her material. It doesn't seem like too much of a stretch to imagine the ship as a stand in for the artist's own journey, for the inevitable failures, struggles and destructions of the creative process, and also of the human capacity to push forward finding humor in life.
Katherine Bradford is represented by Edward Thorpe Gallery, 210 11th Ave # 601 New York, NY 10001 and all images are reproduced courtesy of Edward Thorp Gallery.
Katherine Bradford: Small Ships, is on view at Steven Harvey Fine Art Projects, 208 Forsyth St New York, NY 10002, until October 13, 2013.
SUBSCRIBE AND FOLLOW
Get top stories and blog posts emailed to me each day. Newsletters may offer personalized content or advertisements.
Learn more