World AIDS Day offers us a moment every year to assess how far we've come in the fight against HIV/AIDS and to clarify and quantify the challenges ahead. Since the early 1990s, I have supported the efforts of the Elizabeth Glaser Pediatric AIDS Foundation, which works around the world to prevent the transmission of the virus from mothers to their babies, and to provide care and treatment to HIV-positive children and families. While we've virtually eliminated new cases of HIV in infants in the United States, globally the need is still great. Worldwide, there are more than 1,000 children around the world infected with HIV every day, the vast majority in sub-Saharan Africa.
Despite the enormity of the problem, organizations like the foundation and others are making real progress. In 2008, 45 percent of HIV-positive pregnant women worldwide received the services they needed to prevent mother-to-child transmission (PMTCT) of HIV, up from just 14 percent of women in 2005. On a recent trip to visit the foundation's programs in Uganda -- on the front lines of the fight against HIV/AIDS -- I was able to see just what this progress looks like.
I met with the impressive foundation staff there -- almost all native Ugandans -- who work alongside the health ministry in large urban hospitals and tiny rural clinics. They train doctors, nurses, midwives and lay counselors to make HIV prevention and treatment programs effective and sustainable.
At the two health clinics we visited -- Kawolo District Hospital and Mukono Health Centre, both near the capital of Kampala -- I met children who looked healthy and well cared for, likely a result of the hard work of the clinic staff and the lifesaving medication they're receiving.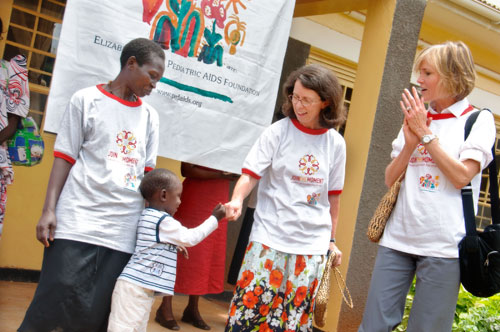 Willow (right) and Foundation President Pam Barnes meet a mother and child at a Ugandan health clinic.
Josephine, an HIV-positive 16-year-old, proudly told us, "I know I look good! Just look at how clear my skin is." Josephine is absolutely right. She does look good, but just a few years ago before more widespread access to treatment, her robust appearance would have been a rarity.
Here, I also met mothers living with HIV who have given birth to healthy, HIV-negative children because of the preventive treatment they received during pregnancy and delivery. And those moms, again thanks to the availability of lifesaving drugs, leave the maternity ward strong and healthy enough to go home and care for those newborns.
In Africa, the stigma surrounding the disease is still a formidable obstacle. Women who report their HIV status are often beaten or abandoned by their husbands, and ostracized by their families. Yet here I met husbands and wives working together as peer counselors to teach others about living with HIV -- a sign that efforts to erase the stigma are taking hold.
At the clinics I visited, we also delivered "mom and baby kits" -- small packages of supplies including basic medical items for childbirth like rubber gloves, gauze, and plastic sheeting -- as well as onesies and blankets for newborns. They were assembled at the foundation's Los Angeles Kids for Kids fundraising carnival this summer -- a joyful day where families come to enjoy rides, games and incredible food provided by some of LA's best restaurants. This year, we also had a large booth set up for people to create these care packages to send to the women who enter foundation-supported maternal care facilities. We were amazed at the crush of families, eager to reach out and lend a hand. The children, in particular, loved creating personal messages to tuck inside with the supplies.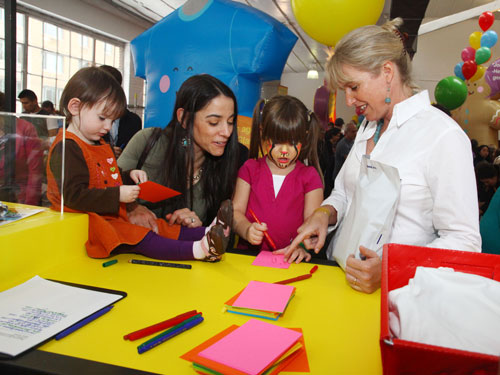 By our standards, the kits are simple, even inconsequential. But in resource-poor settings like these clinics, which have neither electricity nor running water, they provide critical necessities. When I delivered one to a mom in early labor, the nurse was able to use the sterile supplies for her delivery. Even the simple baby items are rare commodities here where women bear an average of seven children each. "You have no idea what new, clean clothes for a baby means to these women," one of our counselors told me.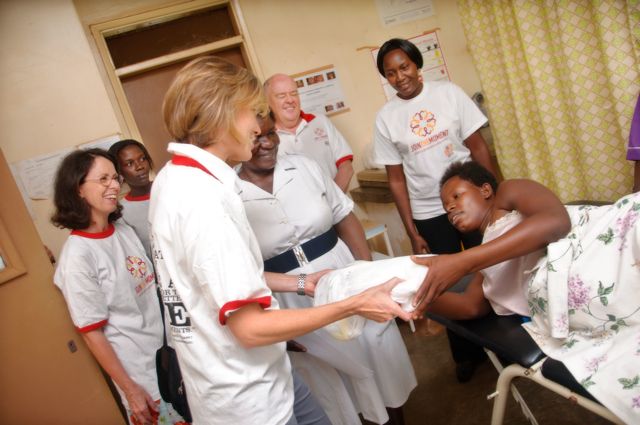 Willow presents a kit to a mother in early labor.
But just as important as the basic supplies they provide, these kits are a powerful symbol of the support that we're providing to moms and children in need from families thousands of miles away. It was a rare privilege to be able to deliver them personally. And it was a reminder of the powerful connections this global pandemic has forged among people all over the world as they share its suffering, and join together in its fight.
So often I hear the question, "We have so many problems here in this country, why are we sending all that money and those resources overseas?" It's true that as a country we have much work to do to insure all our children and families have food, a safe place to live and access to medical care, just to cite a few critical needs. We can and should be doing all we can to help our own citizens.
But when I hold an African baby in my arms, as I did with one of these day-old twins at the maternity ward at the CC clinic just outside Kampala, I can't help but ask another. Why shouldn't this child have the same access to lifesaving preventive treatment, medicines and care as my own child? Or yours?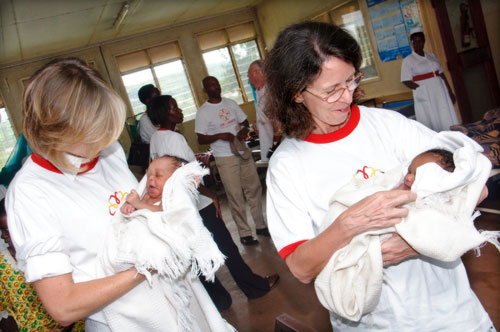 Willow and Foundation President Pam Barnes hold newborn babies at the health clinic.
What I saw in Uganda was living proof of how far we've come in the fight against HIV. But it was also a reminder of how far we have to go. The U.S. government and the global community have committed to nearly doubling the percentage of HIV-positive pregnant women who receive PMTCT in the years ahead.
We can do it. We have the tools we need. Ordinary Americans -- individuals like you and me -- along with the U.S. government are lending a hand, reaching across continents to help create a generation free of HIV. Keeping all children -- not just yours and mine -- HIV-free would be a legacy we could all be proud to share.
If you'd like to join us in this effort or learn more about the work of the Elizabeth Glaser Pediatric Aids Foundation, click here: www.pedaids.org.
FOLLOW HUFFPOST