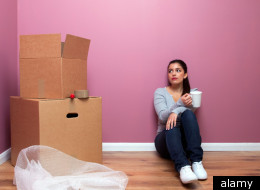 The moment when the novelty of holiday parties and stacks of brightly wrapped gifts gives way to sober resolutions to become somehow better in the new year ahead offers a great opportunity to consider how well we handle one of life's most important challenges: dealing with new things and changes.
To understand your own response to new things, you first need to know a little about Homo sapiens's unique "neophilia"--an affinity for engaging with novelty and adapting to change that distinguishes us from all other species.
In the extraordinarily volatile African environment where we evolved, in which great monsoons alternated with catastrophic droughts, human beings survived by developing a genius for coping with change and engaging with, learning about, and creating new things. This neophilia has fueled our progress from hunter-gatherers through the agricultural and industrial eras into our own information age.
Most of us are moderate neophiles, but to survive and prosper, a population also needs some individuals who react to novelty in more extreme ways that either protect us from danger or increase our resources. About 15 per cent of us are neophobes, whose hyper-sensitivity to the risks inherent in new things can shield them and us from harm and loss. Another 15 per cent of us, however, are adventurous neophiliacs who, like the late Steve Jobs and maybe you, Oprah Winfrey, see novelty and change mostly as sources of potential rewards. Their drive to explore, create, and experiment excites them and often benefits us, too, but their restlessness and low boredom threshold can also addict them to the next big thing and threaten their safety, temperance, fidelity, and other good behavior.
Here are some signs, as outlined in my new book, "New: Understanding Our Need for Novelty and Change" (The Penguin Press, 2012, $25.95), that you might have neophiliac tendencies and the potential to get hooked on novelty and change. These might also suggest some New Year's resolutions that could work well for you:
Genes account for about 50 percent of the differences in our obvious and enduring attitudes toward newness and change--particularly those involved with the brain chemical dopamine, which makes you want things, especially new or pleasurable ones. Whenever you encounter something that's enjoyable, like a glass of wine, or intriguingly novel, like a glamorous stranger at a party, a spritz of dopamine jacks up your level of arousal, focuses you on that target, and mobilizes your explorative, go-for-it response. That's especially true for neophiliacs, who are likelier to carry variants of dopamine genes that strongly incline them to pursue novelty and rewards.

Neophiliacs take more risks than other people do for two reasons. First, they have a cavalier, that-won't-happen-to-me attitude about any dangers associated with their exciting if not downright hair-raising pursuits. And even when they don't underestimate the hazards involved in, say, their excessive love of speed on the ski slope or highway, they're willing to proceed anyway, because compared to the average guy, they also anticipate that the activity will provide them with more pleasure or other rewards. Tooling down the highway at 90 m.p.h., they both discount the chances of an accident and enjoy the wind in their hair.

All of us sometimes overindulge in electronic stimuli, but some people text behind the wheel, refuse to go offline in planes, and game at the expense of real life. Deprived of their gadgets, they show the anxiety, discomfort, and distraction that bespeak compulsion or even worse. Definitive research is needed, but many scientists consider an addiction to information to be highly plausible. The problem is mostly associated with drugs, but it's quite possible to be hooked on certain thrill-inducing experiences, from risky sex to compulsive shopping to extreme sports. Many experts see particularly strong similarities between information obsession and the addiction to gambling.

Neophiliacs are inclined to go overboard with food, alcohol, and drugs. The conventional wisdom portrays thrill-seekers as male test pilots or big-wave surfers, but there are many women of this bold stripe. Exhibit A is the party animal who's easily bored and craves new experiences, friends, and lovers. She's likelier to gamble, speed, and smoke, as well as drink and/or eat too much. Her degree of overindulgence greatly depends on how her nature--her temperamental neophiliac tendencies--has been shaped by her nurture, or the life experience that develops character.

Neophiliacs are natural explorers. About 50,000 to 40,000 years ago, many of our ancient forebears left our African cradle for Europe and Asia. (Later groups reached North America between 20,000 and 15,000 years ago and South America between 15,000 and 12,000 years ago.) Some scientists maintain that these heroic explorations were fueled by our increasingly sophisticated culture--especially the sharing and building of knowledge. Others, however, ascribe the great migrations to an increase in explorative neophiliacs, generated by mutations in dopamine genes that accumulated in response to a crisis such as extreme drought. Flickr photo by puddy_uk

Neophiliacs are impulsive and extravagant. If they spot a "Sale" notice on their favorite website or store window, they're ready to splurge whether they need something or not. Like Mark Twain and Mike Tyson, however, these big spenders can make fortunes only to lose them. Their hair-trigger temperament can serve them well as entrepreneurs, Navy SEALS, or pro athletes. In their personal lives, their can make for needless friction and volatile relationships. Flickr photo by juggernautco

To survive, you must be aroused by the new and different. To be efficient and productive, however, you must focus your finite attention on those novel things that matter and screen out the rest. Just as arousal alerts and orients you to new things, adaptation helps you filter out the unimportant ones. Neophiliacs' arousal-adaptation response differs from the norm in both sequence and strength. They're excited by a new stimulus faster and more intensely, but they're also quicker to get bored with it and be ready for more. This arousal-adaptation pattern can jeopardize marital fidelity and job security, but it can also spur great achievement.

Neophiliacs' lives may be riskier, but they can also be very productive--and in more ways than one. From an evolutionary standpoint, success lies in surviving to reproduce, and neophiliacs are well represented in the population. Because their thrill-seeking extends to the boudoir, they have the potential to leave lots of genes behind. After all, along with the prudent and sensitive, society needs bold entrepreneurs who generate start-ups, firemen who race into burning buildings, and ER doctors who stay cool in bloody crises.

Personality psychologists like to say that the only difference between thrill-seeking cops and robbers is their different upbringings. Scientific studies of behavior, which tend to focus on problems, have often linked extreme novelty-seeking to a propensity for substance abuse, risky sex, and other negatives, but the trait strongly correlates with antisocial behavior only in those individuals who have serious character flaws or personality disorders, such as psychopathy. A poorly nurtured neophiliac who lacks discipline and self-control is a very different person from one who has been raised right and can govern his or her impulses and tendencies to take risks.