Program Note: Tune in tonight to hear more from Lt. Daniel Choi on AC360° at 10 p.m. ET.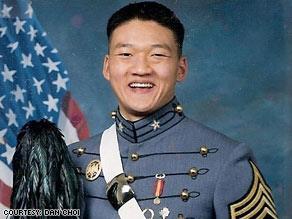 Lt. Daniel Choi is an Iraq combat veteran and a West Point graduate with a degree in Arabic.
Open Letter to President Obama and Every Member of Congress:
I have learned many lessons in the ten years since I first raised my right hand at the United States Military Academy at West Point and committed to fighting for my country. The lessons of courage, integrity, honesty and selfless service are some of the most important.
Read more on CNN / Anderson Cooper 360°
SUBSCRIBE AND FOLLOW
Get top stories and blog posts emailed to me each day. Newsletters may offer personalized content or advertisements.
Learn more