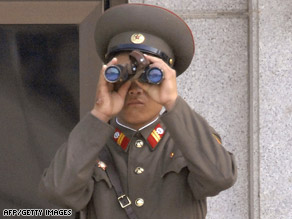 A North Korean soldier scans the southern side of the border at Panmunjom along the Demilitarized Zone.
Paul Carroll
Special to CNN
Reports of North Korea conducting a second nuclear test Monday have caused predictable alarm bells to ring in Washington, Beijing, Seoul, Tokyo and around the world.
Pyongyang's action has rightly been condemned as a breach of international law, which it is because it violates U.N. Security Council resolutions passed in the wake of its earlier test in 2006.
But it is important to focus on two things in the aftermath of the test. First, what
Read more on CNN / Anderson Cooper 360°